Bad decision? (rant)
11-02-05, 05:44 PM
Join Date: Jul 2005
Location: usa
Posts: 5
Upvotes: 0
Received 0 Upvotes on 0 Posts
Bad decision? (rant)
---
Need some comforting... So after hurricane wilma hit we lost power at home for 6 days came back we're happy as xxx then after about 4 hours we hear a loud click coming from the blower unit, I go and check it and the blower isn't blowing. So i'm like ok this has happened before it usually was a tranformer inside the unit. My step dad calls some a/c technicans that supposedly are good ( refered by a friend).
The technicians come in yesturday in the morning start probing the unit with the multimeter. Says its probably the transformer. He goes out to his van, comes back says he doesn't have one for the unit. Then starts the xx. He says that our unit ( Carrier 3 1/2 ton) is too sofisticated that the blower has too many wires and that we should replace the blower with a 4 wire blower. Ours had 16 wires. Starts saying that these units suck that they tend to break a lot and all this xxx. I'm thinking to myself how did this turn from just being a tranformer problem into changing the blower motor. So my step dad asks me what should we do. I automatically tell him that we should wait and check with someone else, he gets all stupid saying he doesn't want to wait etc etc. Well He gives these goons the green light to do what they need to do. I'm xxxx and I left.
I come back home later that night and they've replaced the whole freaking inside unit. Its a Gibson 5 ton. I'm xxx cause this thing is loud as xxx blows way too much air. Looks smaller than my carrier so I assume its going to cool less cause it has less coil surface area. I mean am I wrong to thing that these guy's just ripped us off? Is it really necessary to replace a whole unit if just the blower went? This thing cost $505 bucks not including labor. I've never even heard of this Gibson unit is it any good. And I just read in another post that having a bigger unit doesn't necessarily mean it will cool more. And my house is about 1900 Sq ft if not less. Is this unit appropriate for the house? and what do you guy's think was the real problem with my unit.
What are your thoughts on this?
---
Last edited by Abolish; 11-02-05 at

08:44 PM

. Reason: Bad language, this is a family site!
11-02-05, 08:05 PM
Sounds like you had a variable speed blower, and it may of been something simple that could of been replaced..

I would of gotten a second opinion on this as well.. Guess it's too late! ;-(

I wouldn't pay the bill since you didn't give the Ok or signed any papers.
11-02-05, 08:07 PM
if i understand you right you just got a new 5ton system for 505.bucks thats a great price for a new system thats a no loss any way you look at it and from what i see about the unit you have a good waranty as well as far as brand goes just because you never heard of it dosnt make it bad . most of them you pay for name . but the gibsons been around for 20yrs so there most likely not going any were soon.
11-03-05, 05:53 AM
I think you will have nothing but problems now.. Going from 3 1/2 tons to 5 tons!? that's a HUGE jump in tonnage in A/C!

You will NOT be comfortable anymore.. Over sized equipement will short cycle, short cycle means no humidity removal. Duct may not be sized for it, will be noisey (You already said it is), may freeze up on you... and system life will be short.
11-03-05, 11:10 AM
If they replaced the indoor unit, and the indoor coil with a 5 ton model, and didn't change your condenser then the thing is not gonna work right anyway.

Indoor coil will stay full of liquid refrigerant due to the metering device allowing 5 tons worth of it to pass instead of 3.5.

I would say within the next year or so you compressor will be shot also becuase it will be getting a good drink of liquid refridgerant.

The people that did this to you are probably hopeing that since they gave you a new unit inside so cheap that you will call them back and then they can replace the condenser with the match to the inside unit they forced on you.

Just remember that when the mold starts showing up that you can sue the heck out of them and win.
12-20-05, 08:14 PM
Dude You Just Got Punked!!
You had a high end Carrier unit with what they call a verrariable speed motor.
Yes they are very sophisticated, So sophisticated that the guy that came to your house had neither the tool's nor the knoledge to diagnose the problem. "A man's Got To Know His Limitation's" What he should have done was to be honest with you and told you that you needed to contact a Carrier certified dealer for service. You had a Ford mechanic trying to service your Lambroughini, and when he realized he did'nt know what he was doing he just sold you a Chevy instead.
Did he leave the Carrier unit with you? What State is this in? What agency regulates his license?
I don't know what the total bill was but you just paid that to have your top of the line system screwed-up.Get it streightened out and see about recouping the cost from the first guy. I don't know how close you & step-dad are but this is probably worth hurting his feeling's over. He'll get over it.
03-24-08, 11:25 PM
Join Date: Jul 2005
Location: usa
Posts: 5
Upvotes: 0
Received 0 Upvotes on 0 Posts
Hey guys I'm back! Sorry for bringing up my 2 year old thread but I figured since it is related to the same unit I might as well let everyone see the background to my story once again.
Anyways it seems as if shank was right. After two years the compressor is starting to go. Well before I start assuming things let me give you a run down of what happened this past week.
At the beginning of the week the A-Coil started to condense a lot of water and started to drip onto the filter. Now this had been happening every so often since they replaced the air handler 2 years ago. I'd say maybe every 2 or 3 months, and it would only be for a short while and then everything was fine. (god I wish I could grab the guy that installed it by the neck).
Alright so back to this past week. It started to happen at the beginning of the week but it kept on dripping. I made sure the drain for the pan wasn't clogged thats when I found out the water was coming down from the middle and top of the coil. We dried up the water and went on our merry way.
On Easter I had noticed that the A/C had been running for a while and also had noticed that it sounded different. I checked the vents and there was barely any Air coming out. Thats when I opened up the Access panel for the A-Coil and find it had Frozen over completely Looked like a big hunk of Ice. Now i've been reading and it seems that usually when that happens is that there is low pressure of freon so it brings down the temp of the coils lower so it freezes the moisture accumulated on the coil. (Please correct me if I'm wrong).
Let it thaw out. And since then it has not been cooling as it usually does.
My step father called another a/c tech to come out today. Thank god it was not the same guy that ripped us off with the new unit.
So the tech says that there's a bad leak in the compressor coils in the outside unit. Said that it cannot be repaired that we would have to replace the entire unit and recharge the unit. $700+ He as well noticed that the unit inside was not designed for the outside unit because it was so big.
What should I do? Is this guy trying to take us for a ride like the previous guy? Could he try just charging the system see how long it lasts? Whats the charge for that? Is his 700+ price tag to replace the unit out of the norm?
I'll show you guys the info on both the new inside unit and the outside unit how bad was it to mix these both systems? I know it was an issue to begin with 2 years ago. But what are the adverse effects of having this big Air Handler with the smaller Compressor. I'm not even sure if the inside unit is really 5 tons. Perhaps thats why the A-Coil produces so much water?
Air Handler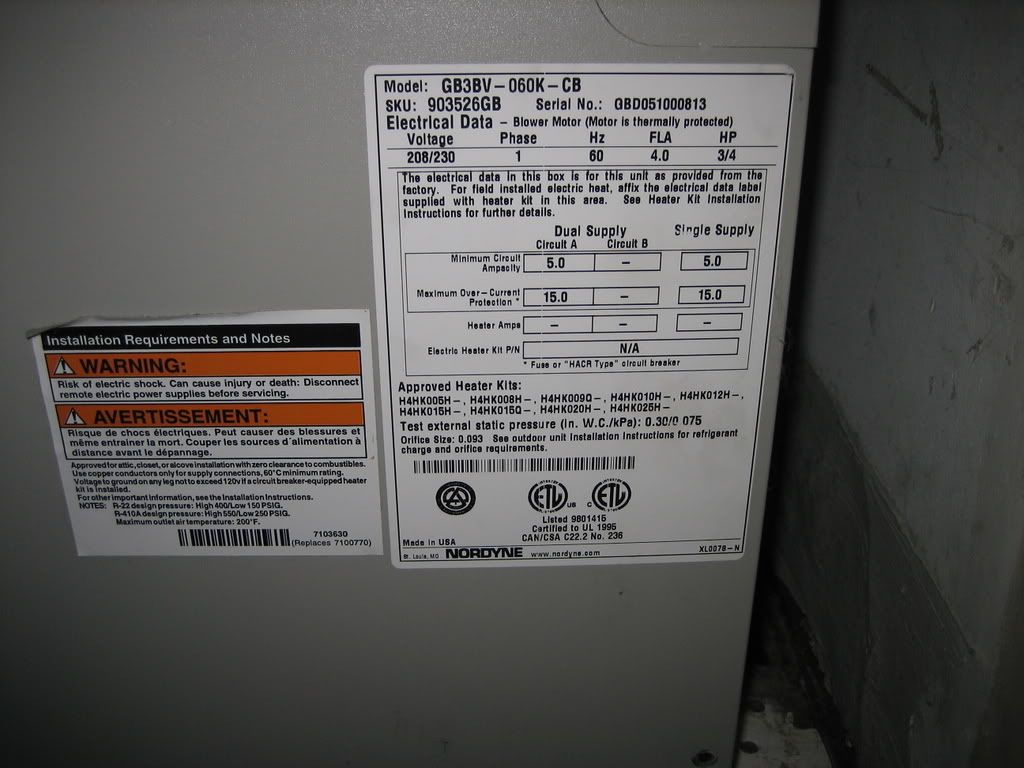 Compressor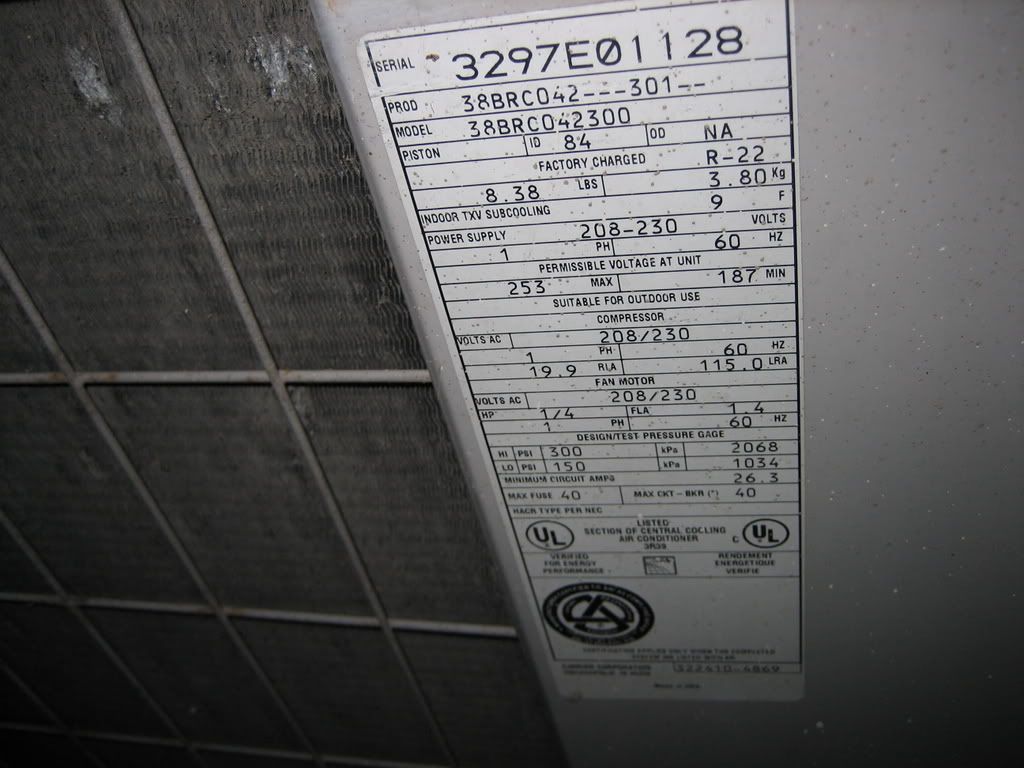 Again sorry for the long post and bringing up my old thread.
I appreciate your comments.
Thanks
Chuck
03-26-08, 08:49 AM
Join Date: Jul 2005
Location: usa
Posts: 5
Upvotes: 0
Received 0 Upvotes on 0 Posts
5 Years 3 Units later....
---
Well scratch the above. The guy somehow convinced my step father to change the entire system. Inside and out. I know this was the right thing to do but they still didn't consult anything with me. I find out its a goodman system. Now i've heard some bad stuff and good stuff about these around the forums.
Some say they are bottom of the line units. Some say it doesn't matter as long as its installed properly.
I just Can't believe we went from an awesome Carrier unit to this thing in a matter of 5 Years... Sigh..
I'd still like to know how badly mismatched my old system was. If anyone can take a look at the above pictures.
I guess i'll post pictures of the new inside unit and outside unit, when I get back home tonight.
I'm so disappointed with their decisions...
03-26-08, 08:59 AM
Hard to tell how bad it was. If they used a new 5 ton coil on the 3.5 outdoor unit then liquid feedback probably killed the poor thing.

Goodman is a fine unit. Not top of the line but still comes with a great warranty and if properly installed and maintained you will get many years out of it.
03-26-08, 10:28 AM
I agree with Matt..

Are they now putting in the right size equipment into the home, by doing a Manual-J?

I hope so! You've been burt already, and saw what happens when it's not matching.
03-28-08, 08:52 AM
Goodman and R22
---
My Goodman is still working well since I bought my house in 2000. Knock on wood. The R22 when setup correctly would cooler better IMO but now I am curious what kind of coolant the new unit will be using????
03-28-08, 02:02 PM
Join Date: Aug 2002
Location: Mountain Williams Missouri
Posts: 17,505
Upvotes: 0
---
The R22 when setup correctly would cooler better IMO but now I am curious what kind of coolant the new unit will be using????
New freon is called R410a. Can need bigger lines. If a leak in the set up .Cant add to it . it should all be pulled out . Then all new R410a put back in. FUN FUN FUN
04-13-08, 08:05 PM
I have a question about the last reply. I myself have no exp with the new R-410a, but I thought it was the one blend that could be vapor charged. My question was Is it recomended or necessary to have to recover all the refrigerant 410a and replace with a virgin when a small leak is detected.