Armstrong compressor won't start
05-26-10, 06:34 PM
Armstrong compressor won't start
---
It's that time of year!

Tried to turn on the whole house A/C tonight and it's not working. Inside stuff (blower motor in furnace) works fine. Outside unit is an Armstrong Concept 1000 compressor. Maybe 15 years old. It hums loudly, but nothing happens (fan motor doesn't start, air inside house doesn't get cool, coils in outside unit don't change temp).

I can turn the fan motor by hand so I don't think the fan motor itself is seized/stuck. I don't know how to tell if the compressor itself is working, or if it's just the fan motor that's not responding. Wondering if it could be something simple - contactor, relay, solenoid?

Please advise on a troubleshooting direction with this or let me know if there's any info missing that would help diagnose the problem. I know very little about HVAC but am generally a handy person so I'm hoping I can figure this out with a little bit of direction.
05-26-10, 07:59 PM
Join Date: Oct 2009
Location: Texas
Posts: 7,425
If you hear the compressor humming (3 to 5 horespower compressor, not just a buzzing contactor) and the fan does not run, it is probably only your capacitor.
Many meters can measure capacitors...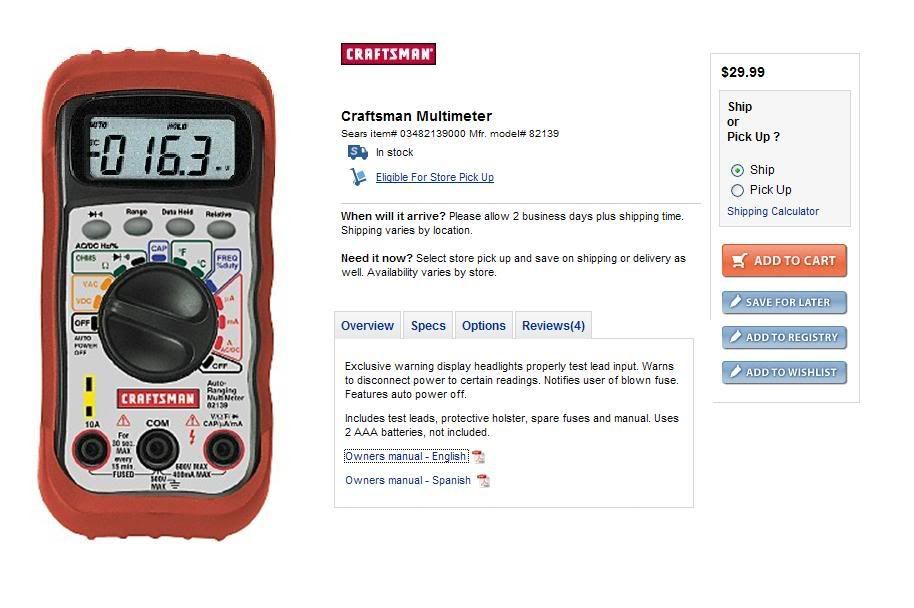 If you decide to replace your cap, match voltage and microfarad. This is a 5uF 370VAC example...
You may also have a dual capacitor that serves the fan motor and compressor. This is a 5uF, 40uF 370VAC example. (The top should not appear swollen)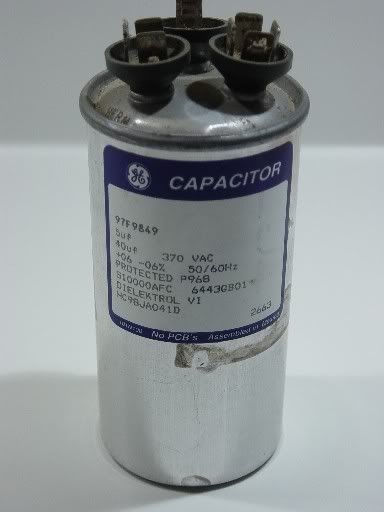 Wiring the new cap correctly is very important with dual caps.
Caps can hold a charge for a few minutes after removing power. Be Safe.
05-27-10, 07:40 AM
Thanks for the detailed info. I'll look for the cap(s) and test them, I have a multimeter with a capacitor test function on it.

The buzzing is pretty loud - like, I can hear it through an open window around the corner from where the unit is located.

Assuming I identify a dead cap, are there preferred online vendors for these parts?
07-05-10, 05:30 PM
Hello folks,

I FINALLY got around to looking at the unit today. The cap is definitely toast. Sadly, there is no label on it to indicate the capacitance and voltage, and when I test it with a multimeter I get meaningless numbers (because it's toast!) So, I'm not sure how to determine what size cap I need.

It's a three-pole (dual) cap. On the motor, there is a label that specifies a 5uF 370v cap, so at least I know what that "half" of the cap should be spec'd for. But I can find no such info for the compressor side.

Can anyone direct me to a method to determine the proper rating for the cap? I tried googling the model number for the unit with no success. FWIW the full model number is SCU10E18A-1B. There are no Armstrong dealers in my area to ask. I did find one website that claims to have the OEM part in stock, but no specs are given and they want like $155, whereas "generic" caps from other HVAC websites seem to be in the $50 - $80 range, at most. So I'd rather go the generic route, if I can determine the proper rating.

I see caps with 5uF, 370V ratings for the motor size and anywhere from 20 - 50 uF for the compressor side. How critical is the value? If all fails, would it be reasonable to just try a cap near the middle of the range? Or should I default to the larger or smaller end of the range?

Thanks again for the help.
07-05-10, 06:22 PM
07-08-10, 01:24 PM
Well, I ended up calling vendors until I found one who could look up my compressor model number and confirm that I needed a 30/5uF 370v cap, and then I bought one. Put it on a few minutes ago, and HURRAH! It worked! The compressor fired up and I have frosty cold air at the vents inside.

Thanks all for the troubleshooting advice.