Replacing a thermostat with a different brand
11-06-10, 03:03 PM
Join Date: Nov 2010
Posts: 3
Received 0 Votes on 0 Posts
Replacing a thermostat with a different brand
---
I want to replace an old Lennox 36G6901 thermostat with a Trane Taystat570 Unfortunately the terminals are not coded the same. Could anybody help please and tell me which wire goes to which terminal on the Trane?

Lennox Layout: ----- Trane
Y Blu wire ----- G wire color?
R Black wire ----- B wire color?
F Green wire ----- R wire color?
M Red wire ----- Y wire color?
L Black wire ----- F wire color?
A Pink wire ----- W wire color?
Y Orange wire ---- X2 wire color
X Yellow wire ---- O wire color?

AGAIN, I WILL APPRECIATE ANY HELP ANYONE IS WILLING TO GIVE ME. THANKS
Sponsored Links
11-06-10, 03:36 PM
Lennox Layout: ----- Trane
Y Blu wire ----- W
R Black wire ----- O
F Green wire ----- G
M Red wire ----- Y
L Black wire ----- F
A Pink wire ----- tape off
Y Orange wire ---- Thought old Y was blue?
X Yellow wire ---- B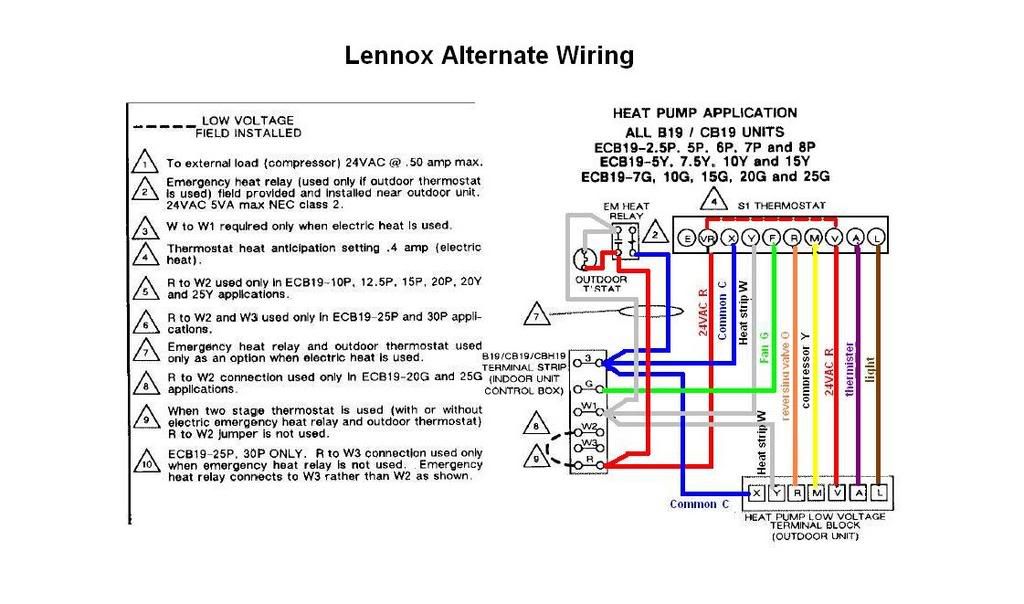 11-07-10, 03:12 PM
Join Date: Nov 2010
Posts: 3
Received 0 Votes on 0 Posts
Dear Houston204
appreciate so much your reply, but I am not able to read the diagram ou sent. Would you be able to indicate which wire color goes to which terminal letter on the Trane?
Thank you so much.
11-07-10, 05:49 PM
What color wire(s) was at the old Y terminal? Orange, blue or both?
wire ----- Trane thermostat terminal
Blue wire ----- W
Black wire ----- O
Green wire ----- G
Red wire ----- Y
Black wire ----- F
Pink wire ----- tape off
Orange wire ---- Thought old Y was blue?
Yellow wire ---- B
11-09-10, 09:29 AM
Join Date: Nov 2010
Posts: 3
Received 0 Votes on 0 Posts
On the old Lennox terminal the wire color on the Y terminal is Orange
The Blu is connected to the V terminal.
Thanks
11-09-10, 10:01 PM
Okay, blue is 24VAC (R)

wire ----- Trane thermostat terminal
Blue wire ----- R
Black wire ----- O
Green wire ----- G
Red wire ----- Y
Black wire ----- F
Pink wire ----- tape off
Orange wire ---- X2 & W
Yellow wire ---- B
Posting Rules
You may not post new threads
You may not post replies
You may not post attachments
You may not edit your posts
---
HTML code is Off
---