How do I get good cooling in a cottage--a sectioned-up space?
07-21-11, 09:44 AM
How do I get good cooling in a cottage--a sectioned-up space?
---
I have a small cottage (about 500 sq. ft.). About 2/3 of the floor space is the original cabin, with the other 1/3 being a newer addition on the side that's now the living room. There's a 32" open doorway between. This divider makes it hard to get good air circulation and I'm concerned a single large window AC unit might not reach far from where it's mounted. The cottage is heated by thru-wall space heaters so there's no central system to add on to.
Other options I'm considering are:
2 window units, 1 in each space. Cheap for sure but hate to give up 2 windows.
Split system with 2 zones. Pricey for a summer cottage but may be worth it for the control and the quiet operation. Also the heat option is attractive.
Attic-mounted ductless. I haven't found much info on these & don't know if there's a DIY version available, or the price.

Are there any other systems I maybe don't know about? A co-worker suggested a ceiling-mounted unit like in a camper but I don't know...

What y'all think? Should I just stick in window units? This does seem price and frequency-of-use appropriate for a summer get-away.
There is ONE spot on the outside wall where I could install a window unit in a hole and it would directly face the inside doorway. If I could find a big-BTU unit (220V is OK) that would fit between the studs this might be the best solution. I'd hate to cut a big hole in the wall only to be disappointed in performance.
07-22-11, 10:31 AM
Where do I find info on attic-mounted hose-ducted AC units? I've heard these discussed on radio home improvement shows but what I'm finding on the 'net isn't quite what I thought (big, expensive, huge capacity).
As far as encouraging an expert to contribute to this discussion I've created a little sketch: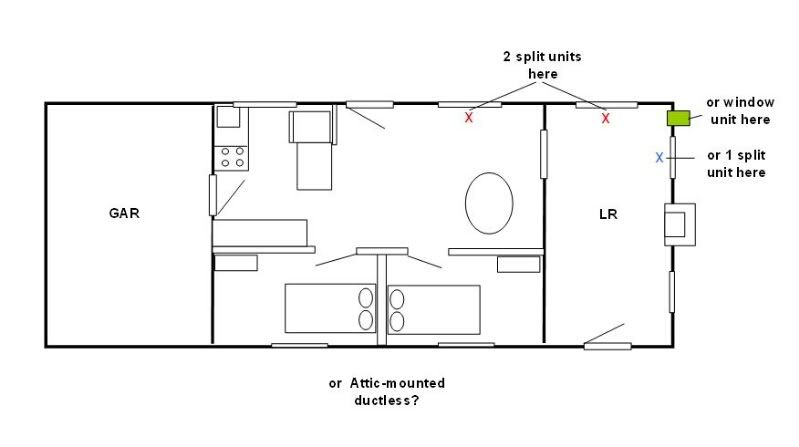 07-22-11, 10:46 AM
I'm no expert in this area and can't answer your question about an attic A/C, but this is what I would do if I were in your situation.
I'd put in a window unit in the larger area (the 2/3 space), large enough to cool both areas, and set a floor fan in the living room area to draw in the cool from the larger area.
This is pretty much what I do in my house and I only have a 30" doorway between rooms. Works well IMO.
07-22-11, 12:14 PM
I thought of the fan as well.

We have some units which are split level and about 750 sq ft on each floor and all they have is a 240 v wall unit upstairs which cools the whole unit just fine.
07-23-11, 09:02 AM
I'd like to do more research on an attic unit before I make a decision. What is this type called? I thought they were "ductless" but googling those turns up only split systems with on-wall evaporators.
07-23-11, 10:10 AM
Here almost all air handlers for regular central ACs are in the attics. It's not a special type. You mentioned hose instead of ducts so maybe you mean the high air flow rate ones that use small easily fished ducts. From what I have read they are louder because of the higher pressure air flow. I don't know the proper name for those though.
07-25-11, 10:03 AM
That is the kind I want to look into. I thought they were popular choices for homes with radiant heat instead of forced air? Can't believe how little I've been able to find on the 'net so I figure I'm just asking the wrong question (using wrong keywords in searching).
I did find a couple examples of some fine redneck engineering where a window unit was put up in the rafters with a home-made plenum & dryer flex hose attached to the front. I don't think that's the right way to get it done
07-26-11, 07:10 AM