Fasco D-7909 Condenser Fan Wiring
08-11-11, 01:17 PM
Join Date: Aug 2011
Location: USA
Posts: 4
Fasco D-7909 Condenser Fan Wiring
---
Condensing Unit is a Hile, HAC448GKA5
Replaced old motor - (Emerson K55HXHEB-8584) with 4 wires but only 3 were used.
Red
Black
Brown
New Motor - Fasco D-7909
Problem: The wire colors are:
Brown
Brown/wht
White
Black
The first thing I did was hook up Black and white wires. I had 2 browns so I only hooked up one to cap. Everything ran fine until the motor overheated and shut off in about 15 minutes.
The next step I routed both brown wires to "C" & "F" on the cap.
I then removed the red wire that had been connected to "C"
No change to the blue wire on "H".
The motor does not fail on high heat any longer but I can't keep a finger on the motor more than 2 seconds.
Is my wiring routed correctly?
Sponsored Links
08-11-11, 02:27 PM
white and black to both sides of the contactor. Browns should go to each side of the new capacitor rated for your new motor.
08-11-11, 04:03 PM
Join Date: Aug 2011
Location: USA
Posts: 4
On terminals "C" & "F" the 2 brown wires are the only wires on those terminals - Right?
Also, is it normal for the motor to run that hot?
08-11-11, 04:18 PM
You need a capacitor just for the fan motor. Should be be like a capacitor. 5mfd
08-11-11, 05:25 PM
Join Date: Aug 2011
Location: USA
Posts: 4
hvactechfw,
Sorry I'm not coming through clear with my question. I already have a new cap purchased separately from the motor. But the wiring configuration is my question. There was already a red wire on "C" terminal of the cap that went to "T1" of the contactor. Do I use that red wire or remove it?
If I discard the red wire, what I would have is the 2 browns on "C" & "F" and the blue on "H" that goes to the compressor. Is this right?
Also, I don't think the motor should be running so hot that I can't put a finger on it for more than 2 seconds!?
08-12-11, 04:49 PM
IF you are using a Dual-run capacitor for both the compressor and fan motor it wires as follows: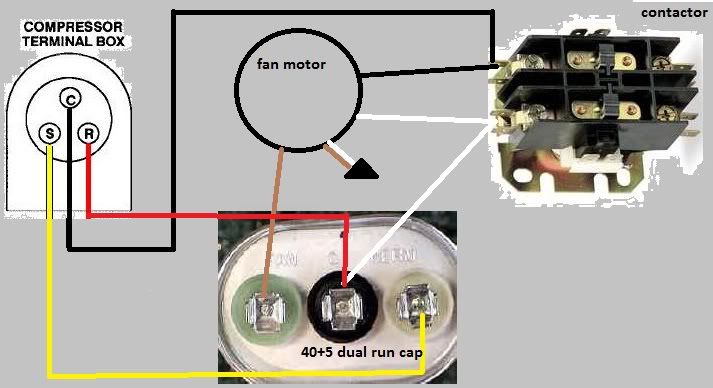 Brown/white is capped off. If you got a new capacitor when you replaced the motor. Make sure that the capacitor is sized properly for the new motor.
08-14-11, 10:41 AM
Join Date: Aug 2011
Location: USA
Posts: 4
hvactechfw
Followed diagram, works good.
Motor is still running hot but I don't think it is an issue with wiring. I'm not going to be concerned with it unless it starts tripping on high heat.
Thanks for your help and good info
Posting Rules
You may not post new threads
You may not post replies
You may not post attachments
You may not edit your posts
---
HTML code is Off
---