lines blocked again!
08-13-11, 05:43 PM
lines blocked again!
---
Hi-

I have lived in this house off and on for about 5 years now and have finally come to terms with the apparent fact that the drip lines for my a/c unit in the attic will clog every year and I will have to pay somebody anywhere from 150 to 300 to clean them out.

My understanding is that first the water (condensation?) runs into a pipe that connects to the sewer line in the bathroom below. Once that blocks then water runs out through a pipe that drips down my roof and onto my patio. Once I see that water dripping I know I have to call the a/c guy because that line will plug in no time and then oh boy!

The last time the guy came out I asked if there was a permanent solution to this problem and he game me a rather snotty reply about how I just had to be willing to pay to maintain my unit. Fine. The problem is that I already did this once this year! This is the first time I will have to do this twice and that is really going to hurt my pocket book.

My question: Is there really no way to make this blockage not happen?
08-13-11, 06:18 PM
Its time to play "Do It Yourself" For this part your going to need a pair of pvc cutters, a 3/4 pvc coupling, a bucket and some pvc glue. Go to the line that always clogs up. Cut it with the pvc, as close the the furnace as possible but make sure its after the pea trap if it has one, drain water into bucket. blow on pvc with mouth until it clears, put glue on coupling and coupling in place. cost = 20 bucks. and now u can do it every time it clogs.
08-13-11, 06:31 PM
I'd replace the rubber hose connecting the 3/4 inch ac drain to the ptrap under the sink. Verify that the evaporator coil is clean and add a clean out to allow you to pour some bleach in the drainline. Check to see if the slope of the drain can be improved, if it can, replace the drainline.
08-13-11, 07:07 PM
That putting my mouth on that drain pipe is not going to happen! I am a little afraid of the attic but tomorrow I will go up there and take some pictures and post them here. Hopefully you guys will not mind having a look and telling me what is what. I have heard mention of pouring bleach but it was never clear where I was to pour it.

Thanks for the replies! I feel there is hope after all....
08-24-11, 01:16 PM
I'm sorry that it has taken so long to post pictures and reply. I dread going up in the attic and have temporarily remedied the problem the only way I know how and that is switch the thing off from time to time. Living in south Texas that is not an easy choice to make! I don't have the money to call the a/c company out again this summer.
Houston: I don't really understand the parts in your picture. From what I can see I don't have a trap in the pipe leading to the bathroom drain. I know that I have a gas heater and I am guessing a horizontal application. The big box is horizontal.
I have two pictures. My understanding is that pipe A drains down in the bathroom below. When it clogs then water drains onto patio from pipe B. C is just the pipe that connects to A. What I would like to know is do I pour straight bleach into the big black pipe that A goes into? How much should I pour in and will that unblock the pipe? Any advice would be appreciated!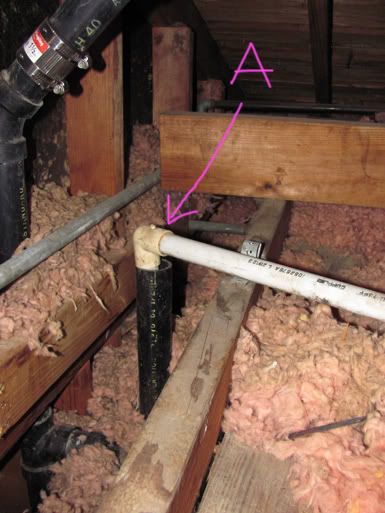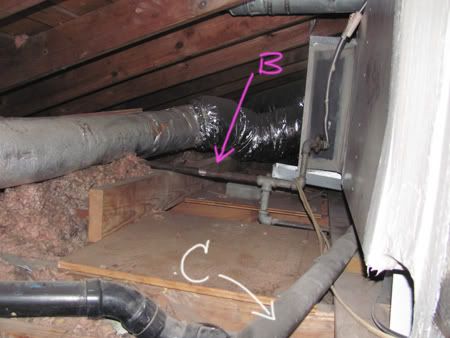 08-24-11, 08:00 PM
Your B appears to be the natural gas (or LP) pipe to your furnace.
The slope of your secondary pan indicates that the secondary drain is on the other side of the evaporator coil.

I cannot tell what your C connects to on either end. Is it the 3/4 inch pipe (shown with pipe insuation) that you show in A?

The large black pipe that your A connects to is a plumber's hub. A ridged connection shoud be installed here to prevent backups from damaging your ceiling. My material list for this would include...
1 1/2" coupling, 1 1/2" x 3/4" bushing, 3/4" tee, 3/4" coupling, 3 foot of 3/4" pvc, primer, wet location pvc glue (the blue stuff), something to cut pvc pipes and a 3/4" pvc ball valve. the black pipe would probably need to be cut back an inch or so before the 1 1/2" coupling was glued to it.

Your A pipe (primary drainline) should have at least one inch of drop for every 10 foot of horizontal length for proper slope. Horizontal drain pipes with no slope will grow slime and back up regularly.
08-26-11, 03:39 PM
Thanks for replying Houston. yes C connects to A. There is a slope on the A pipe. I don't know exactly how much. I used a level and the bubble went all the way to the side. I would guess that there is definitely 1 inch per 10 foot. There is a section in the middle that somebody has propped up with some bits of wood to get rid of a dip that would be there if the wood wasn't. What would be the reason for the insulation that covers part of the pipe?

I will work on a diagram of what I think you are suggesting and also trying to figure out the slope.

Question: Is the plumber's hub where I pour the bleach or will that not help at this point. I am guessing that the blockage is in the horizontal pipe A. Can I replace that pipe with a wider pipe or is that a bad idea? I am thinking that I will have to hire somebody to do this work but I do want to understand what needs to be done so that I can finally fix or at least improve this situation.
08-26-11, 07:15 PM
http://i151.photobucket.com/albums/s...talfurnace.jpg
Old drainlines can develop a buildup of sediment over the years. Replacing the drainline may not be a bad idea if it regulary backs up.