Understanding a water source heat pump graph of temperatures
06-24-12, 05:35 PM
Understanding a water source heat pump graph of temperatures
---
We have a new water source heat pump in our condo that's had four High Pressure shutdowns in the last couple of months. The first one was caused by an error by our engineer which resulted in very high temps, so I bought a temperature logger and have recorded the closed loop in, closed loop out, and air temp out every minute since then.
The closed loop in temperature has stayed within spec, so it's got to be a water flow issue. (And other buildings in our complex have had such problems in the past.) So I'm trying to figure out if I can tell anything about water flow based on the temperatures I have.
I've made a graph:
https://dl.dropbox.com/u/7300977/HeatPump.png
of the closed loop water in temp and out temp for a week or so. Notice the normal pattern of the IN (pink) at the beginning and end of this period: the temperature rises for about 10-15 minutes, then drops, then rises. But then June 20-22, it suddenly changes up and wanders up and down slowly. (The logger is only accurate +/- 1 degree F, so the curve might even be smooth with just reading noise to make it slightly jagged.)
Could that be a period of low water flow? The High Pressure errors have been irregular: 21 April, 28 May, 08 June, and 22 June.
The blue is the OUT water, which jumps up each time the compressor kicks in. The dotted vertical line is where it looks to me that the compressor tried to kick in and failed. The horizontal dotted line is 77 degrees, which is where we keep the thermostat often.
Can I tell anything from this graph, or is it just "one of those things" where the system as a whole acted differently for a few days.
Sponsored Links
06-25-12, 05:30 PM
On the geothermal systems on which I work, we try to maintain 10-12* difference between incoming & outgoing water temps. It's hard to tell from your chart but it doesn't look like you are close to that.
The higher the flow rate, the less temperature difference you get. Do you have a flow meter on the system?
06-26-12, 12:13 PM
Thanks for your insight.

We don't have a flow meter. I had the guys who installed it out today and we did a quick-n-dirty test of water flow by disconnecting the IN and putting it into a 5 gallon bucket, and we got something like 4 gallons in about 20 seconds, which should be sufficient (the unit requires 9.5 GPM). The guy says that the factory (McQuay) says that there should be an 8-10 degree differential in a water loop like this, and your experience with geothermal is a good confirmation. We've never gotten more than 5.4 degrees F differential (according to my logger). Weird.

I guess it's possible that there's a constriction on the closed loop OUT from our condo unit that's causing back pressure so we're not getting as much water flow through the system as the IN would suggest?

UPDATE: The building engineer stopped by and tried throttling the out water (primitive test with the ball valve) and was able to get the temperature differential to 8-10 degrees. He suggests we could do this on a permanent basis by installing a throttle valve on the out, to adjust it down until we're getting closer to the 9.5 GPM, as indicated by a 10-degree temperature differential.

This seems a bit weird, though. The water flow could actually be too fast? As a layman, I'd have thought the GPM was a minimum and anything over that would be okay. (Unless, I guess, it's so fast it's creating a vacuum at some points, which might trap air bubbles?)
---
Last edited by wfolta; 06-26-12 at

02:31 PM

.
06-26-12, 05:50 PM
Join Date: Oct 2009
Location: Texas
Posts: 7,425
If the coaxial is only rated for 3 GPM per ton, exceeding this will cause increased wear. (Per my Water Furnace instructor)
Climatemaster and Water Furnace provide gpm charts in their manuals that can assist calculating gpm when pete's plugs are installed in the water piping entering and leaving the heat pump. Do you have your manual?
That bucket test can easily introduce air into the loop.
Did they use a purge pump after it?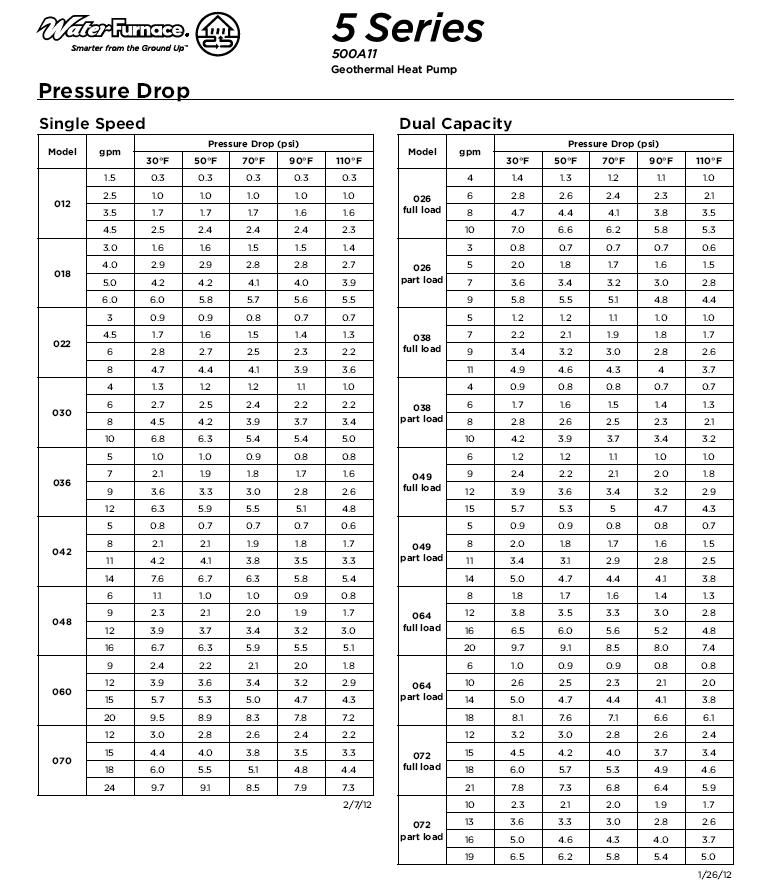 06-26-12, 06:32 PM
Thanks! I have the manual, and will check for a similar chart. I think we'll probably be installing a throttle valve to restrict the GPM. The building engineer recommended throttling the output, and I can see how throttling the input might introduce some kind of vacuum effect. Or maybe that's not the case. If we do throttle the output, I imagine that would increase the pressure within the heat pump.

It's all a bit tricky when working within a building, which would normally be more of a commercial installation than residential. We can't really modify the closed loop, just our little offshoot.

Not familiar with pete's plugs, I'll have to look that up and mention them next time. (They really are a good company, and very responsive, though have less water-source experience than air-source.)

The building engineer says that the closed loop has a purging system up on the roof (where the boiler and air chillers are).
06-26-12, 08:17 PM
Join Date: Oct 2009
Location: Texas
Posts: 7,425
It's a pressure temperature port "PT Port". When used with the heat pump manual, a digital thermometer and a digital pressure gauge you can calculate the heat of rejection (cool mode) and heat of extraction (heat mode) in BTU.
HCi Products
06-27-12, 07:10 PM
Too much water flow will, as Houston said, cause premature wear on the coaxial heat exchanger coil. It will also cause a low temperature difference between the in & out temperatures. This is due to the fact the water doesn't have enough time in the coil to absorb or reject heat (depending if you are in the heating or cooling mode).
07-04-12, 07:48 PM
So I want to throttle the water flow at the return, until the temperature differential between source and return is about 8-10 degrees F? Will throttling on the return increase the water pressure inside of the exchanger and thus also cause problems? And will this make it more or less likely that we'll get air bubbles in the system? (Which apparently caused the High Pressure shutdowns.)

Thanks so much for your great advice!
07-07-12, 10:25 AM
Wish I could edit or delete posts.... Let me clarify/summarize, and let me know if it seems correct...

High water flow can cause wear, so I should decrease it. I can't control the building's water flow rate, so I can throttle the source or return from my unit. I've been advised that it would be better to throttle the return.

With the equipment I have, that would involve closing the condo's ball valve a little while watching the source and return temperatures, with the compressor running. With the unit cooling the condo, I should adjust for about 8-10 degrees differential (currently about 4.5 degrees), which is not as precise a way to adjust it as other methods, but it's simple and brings the differential into the usual/normal range for closed-loop installs. (I should expect the differential to be about 75% of that when heating.)

In terms of throttling the return, it seems to me that this would increase the pressure inside the unit, which might be a little bad but would be better than a permanently high water flow. Is that correct? Would you also recommend throttling the return? Might it also decrease the odds of air bubbles being created or getting stuck in the unit?

This whole exercise goes back to irregular High Pressure shutdowns of our heat pump. (We just had another this morning, so we've had them: Sat Apr 24, Mon May 28, Fri Jun 08, Fri Jun 22, and Sat Jul 07.) The supply water temp has not gone too high, and neither has the return temp. We've tested water flow once, and by a "bucket test" determined it's about 12-13 GPM, clear water, whereas the spec for the unit is 9.5 GPM. The manual does give some cooling/heating specs with examples of 6.5, 9.5, and 12.5 GPM.

So it doesn't appear that the water temperature, flow, or clarity is an issue. The manufacturer suggests that the failures are too irregular to be a problem with sensor, circuit board, or compressor. The freon pressure is also within spec.

With that in mind, the manufacturer suggests air pockets in the closed loop. The condo building has equipment to remove air, and I'm assured it works properly. All High Pressure failures have apparently occurred in the early morning. (I say "apparently" because we only have when we wake up and sense it's not working, plus my monitoring of the source/return/air temperature that indicates then the compressor is running. We don't actually know when the unit shut down.)

No one else that I know of is having a similar problem, so that suggests a defect in our heat pump. On the other hand ours is probably the newest and highest-performance heat pump in the building -- many are 10-year-old units -- so perhaps it is more sensitive to some conditions that don't bother other units?

Thanks again for your insights!
07-08-12, 11:15 AM
Restricting the water flow on the return side is the preferred way. It slows down the flow without creating turbulence. The high pressure shut down is not due to high water pressure but high refrigerant pressure which should drop as more heat is going to be absorbed by the water.
07-08-12, 06:17 PM
I've heard a ball valve isn't the optimal device for throttling the water flow, but the condo Association has one on the source and one on the return, so the units can be worked on. (And the Association's responsibility ends at the valve, as well.) If I use that to throttle the return, could that end up causing problems with the valve?

If I somehow wear out or screw up the valve, it'd take a complete shutdown of our tier (probably 12 units) to repair that.
07-08-12, 06:21 PM
You won't hurt the valve. The reason ball valves are not the best for regulating flow is they are hard to adjust a small amount, but it can be & often is, done.
07-08-12, 06:30 PM
Thanks! Other than the fact that we've had these shutdowns, it's been rather fun watching the logger data, etc. I'll be off to fiddle with the return valve and hopefully will eliminate the shutdowns entirely.

(It was disappointing to install this amazing new heat pump with scrolling compressor, variable-speed fan, etc, etc, only to have it shut down five times in two-and-a-half months. I'd mention that the variable speed fan has been amazing. We had to custom-order it, but it's totally worth it. The 12-year-old unit it replaced shut down maybe once every 3 months, though it had no lights to let us know why and I think it usually had to do with power sags, etc.)
06-10-14, 12:25 PM
mcQuay
---
to OP
You can also try replacing the High Pressure Switch, I had to replace a whole lot of them at my job where we have McQuay units about 3 years old.
Easy way: Get a TEE With SWIVEL COUPLE and connect it to high pressure port, connect the High Pressure Switch on the TEE.
*GET THE RIGHT PRESSURE SWITCH*
Posting Rules
You may not post new threads
You may not post replies
You may not post attachments
You may not edit your posts
---
HTML code is Off
---