checking compressor
04-26-13, 02:27 PM
checking compressor
---
What are the steps needed to take to test compressor and windings ,w meter ,and voltage to it/ohms ,etc ?I dont believe its good but want to check it out before concluding replacement.
any info is appreciated
04-26-13, 05:02 PM
The compressor terminals can discharge high pressure refrigerant and oil into your eyes if they are damaged. I recommend Wearing Safety Glasses.
Remove power to the outdoor unit at the service disconnect or breaker (not from the thermostat)
Wait a few minutes for the capacitors to bleed down.
Take a picture or write down the color of wires at each compressor terminal.
If the terminals look like this you have a bad compressor...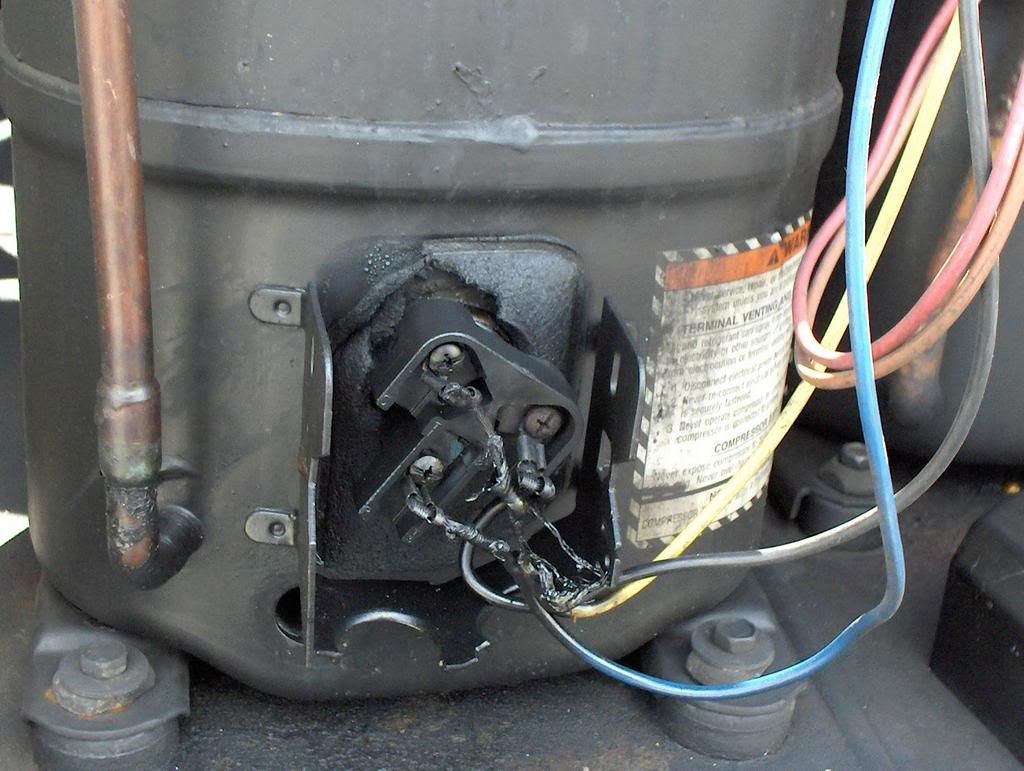 Isolate (unwire) the compressor and measure for continuity between each terminal to ground with a meter that can measure millions of Ohms. (Should read Infinity)
Measure Common to Start, Common to Run, and Start to Run...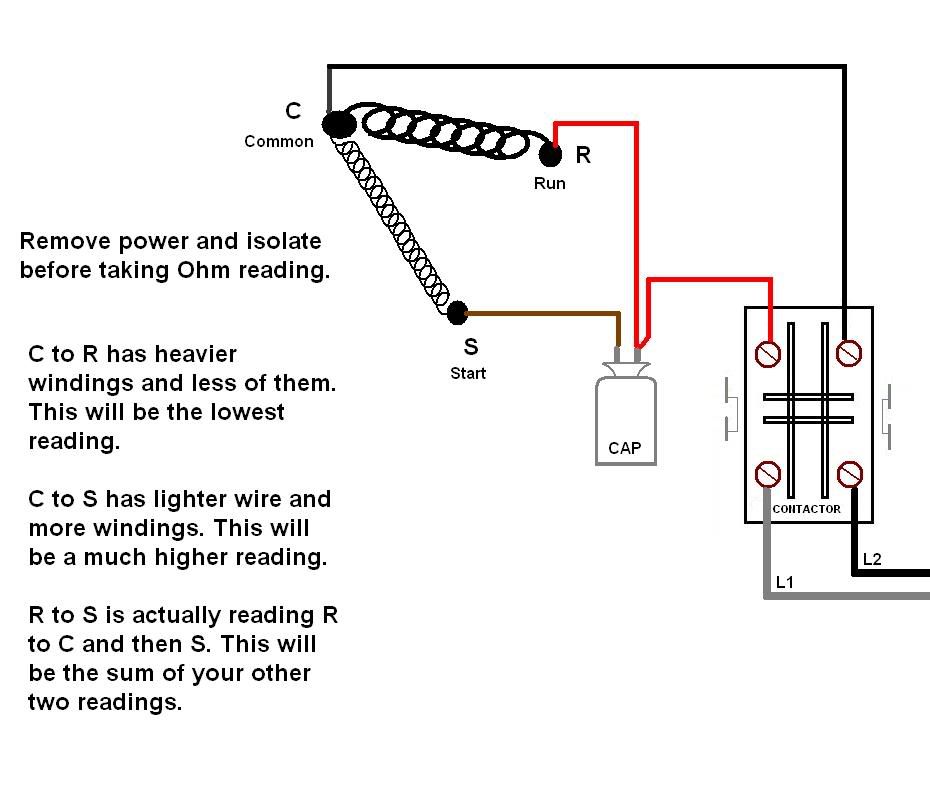 If the compressor checks out ok with those tests, wire it in again and restore power.
Measure the starting amperage and running amperage of the compressor and compare to the RLA and LRA rating on the unit nomenclature.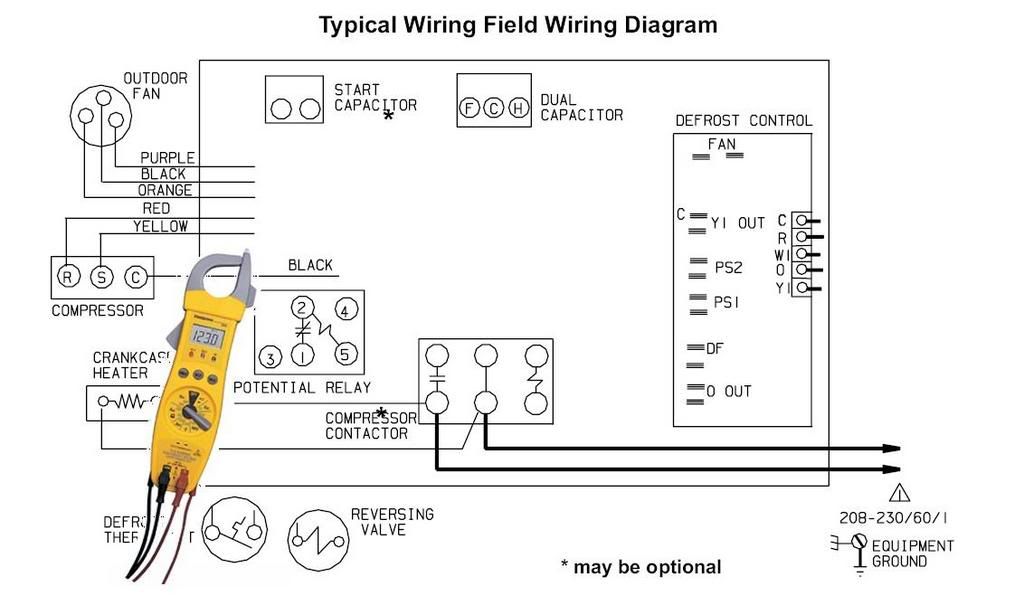 04-27-13, 07:44 AM
Those most common cause for a compressor not to run is a weak or swollen capacitor...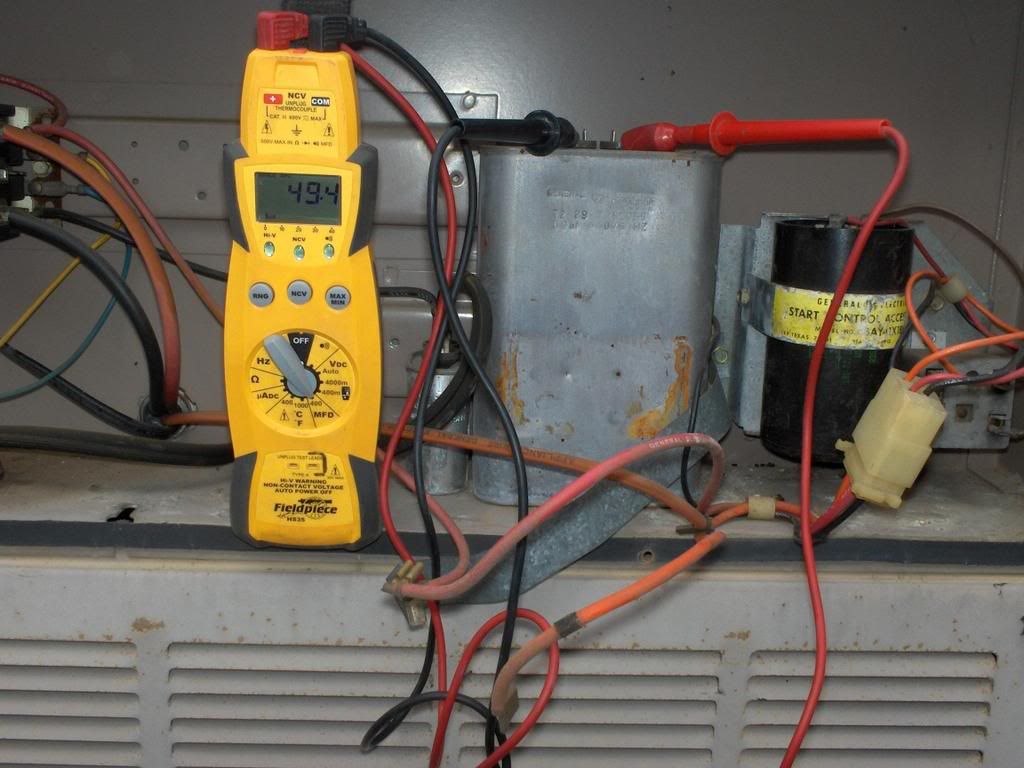 Capacitors should not appear swollen on top...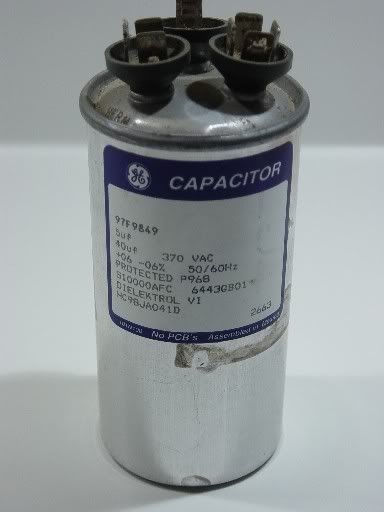 04-27-13, 10:10 AM
Has new capacitor old one tested ok but wanted to start fresh and contactor is working fine .
Thanks for info ,im thinking the windings/compressor but will still need to test s,c and r..
Also what is the correct voltage reading /settings going to compressor , off contactor and capacitor where it plus into compressor?
04-27-13, 01:14 PM
Are you asking me if you have a 240 volt AC unit?
Probably, but you should refer to the unit nomenclature.

What's the unit doing?

Running but not cooling?
Tripping the breaker?
Cooling but sounds terrible?
Will not start?
04-27-13, 08:19 PM
Does the outdoor fan motor run?
Can you hear the compressor try to start?
04-28-13, 01:03 AM
Join Date: Oct 2012
Location: Jersey
Posts: 62,022
If the condensor fan kicks on then that means your contactor and income power wiring is ok.

Burned mark on which connector ?
04-28-13, 09:27 AM
Also scratch off some paint on compressor and see if you have a short from any pins to case when you take ohms.Would think it would throw breaker though,stranger things have happened.Good luck.
04-28-13, 09:55 AM
Join Date: Oct 2012
Location: Jersey
Posts: 62,022
I see the spot. Hard to tell exactly what happened from the pic. Looks like possibly one of the windings inside the motor shorted out there.

Now that you have the wiring cover of the compressor off you can make your measurements.
Do make sure the disconnect for that unit has been off for several minutes before disconnecting the wiring. Wouldn't hurt to short those terminals to ground before touching them.
04-28-13, 11:56 PM
Join Date: Oct 2012
Location: Jersey
Posts: 62,022
Get the compressor running first. If it's not even trying to start.... a hard start booster would be a moot point.