Trane Thermostat Connections
05-02-13, 09:55 AM
Join Date: Apr 2013
Location: USA
Posts: 45
Trane Thermostat Connections
---
I just had a new Trane XL16i two-speed compressor split-system with a variable speed fan. I'm connecting this to a HAI Omnistat2 RC-2000 thermostat which is a high-end 2-stage thermostat which works with my home automation system.

My thermostat can measure the humidity, and it has an option to reduce the blower fan speed for more dehumidification if the humidity is high.

So my question is, how do I get the Trane to slow the fan when the thermostat tells it to? (The installers are clueless, so I thought I would as here.)

In the instructions I see talk of a "BK" feature which can be enabled with switch S5-2. It says it supports the "402 thermostat" with BK enabled, and this will modulate the blower.

If I enable this "BK" feature, will my thermostat support it? Neither the Trane instructions or the thermostat instructions talk about needing another wire. Does it just send a signal on the green wire?

UPDATE: I got the manual for the 402 thermostat and now see it has a BK terminal. I also see a terminal on my thermostat for "dehumidifier." I'm assuming they are both the same thing.

So now the question becomes what terminal to connect to on the Trane? I DO see a BK/DH terminal on the Trane, but it is being used for Y2 from the thermostat. Y1 from the thermostat goes to Y on the air handler. This is correct according to the air handler guide.

According to the 402 thermostat installers guide, Y1 and Y2 from the thermostat don't connect to the air handler at all, only the outside unit. Is that correct? This seems like a big change from what I have.

My Furnace/Air Handler is UD2B080A9V3VB
---
Last edited by anog33; 05-02-13 at

12:44 PM

.
Sponsored Links
05-02-13, 05:16 PM
The Y1 and Y2 terminals are wired to the matching thermostat connections with Trane's 19 SEER and higher units.
Those units require 50% airflow in low speed and 100% in high speed.
The 16 SEER units require 70% airflow in low speed and 100% in high speed.
Trane addresses this by using the BK terminal. Unfortunately this removes your ability to use it for your dehumidification.
The TCON802 has a good diagram illustrating this...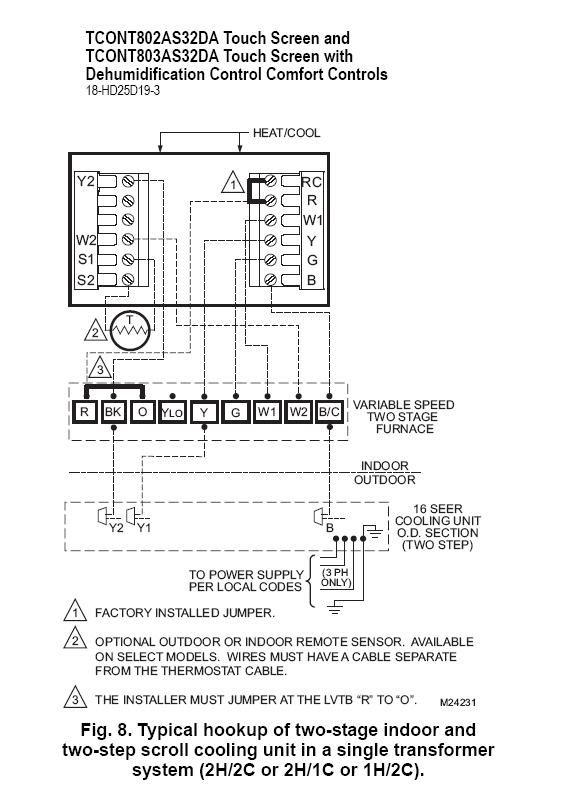 05-02-13, 07:20 PM
Houston is 100% correct on this issue! What you want to do can not be done with the XL16i series condensers/heat pumps.
05-02-13, 08:07 PM
Join Date: Apr 2013
Location: USA
Posts: 45
There is more to this question, but I kept it simple. Actually I have two units and the second one is zoned with a Honeywell zone controller. It works great except when only one zone is calling, the airflow is much too great. I do have a bypass damper, but I'd like to slow it a bit when only one zone is calling. My zone controller has an output to slow the fan when one zone is calling, I just have to figure out how to make use of it.

I live in AZ so humidity is low, and if the fan runs too high, it is just recycled back through the bypass anyway, so I'm willing to risk running at 50% instead of 70%. The negative part of having a zoned system in AZ is is can be 85 when one zone is calling for AC here and there to when its 119 out and all zones are on and the system is on high for hours. And we can have either for months.

So, lets "pretend" I have an XL20i. Y0 gives 50% and Y gives 100%? So what does the BK do? I need to figure a way to get 50%, 70%, and 100%. (one zone, 2+ zones, stage 2) If I have to put some relays up there to make it work, I can do that, I have an electrical background.

So if Y0 = 50%, Y = 100% in XL20i mode, how do I get 70%? In X16i mode, y = 70%, and BK = 100%. I'm confused? What switches it from XL16i mode to XL20i mode?

And THANKS for any help. I greatly appreciate it.
05-02-13, 09:30 PM
Refer to notes 8, 9 and 10 in my first post.
05-03-13, 09:52 AM
Join Date: Apr 2013
Location: USA
Posts: 45
So I thought I understood it, but maybe not. If I wire it so Ylo gives 50% fan, and Y gives 100% fan, and I enable BK like it spells out, what speed do I get with Ylo + BK? and Y + BK?

Many years ago (2006) I saw a post where someone posted these fan speeds for Trane:

G = 25%
Ylo+G = 40%
Ylo+BK+G = 50%
Y+G = 80%
Y+BK+G = 100%

I'm not sure this is still true, and it was my impression that BK slowed the fan, not sped it up, but having a chart like this is very helpful. Is this listed anywhere?
05-03-13, 04:49 PM
Join Date: Apr 2013
Location: USA
Posts: 45
O.K. I read and read from every direction, and I think I understand it now. I understand why the BK doesn't work with a single compressor system. Just seems like a bad design on Trane's part.
So it looks like if I wire it for a XL20i, I get 40% with Ylo and 80% with Y, then 20% extra with BK. I'm worried that 40% might be too low. Right now its set for 350 CF/ton (4 tons) but I could raise that.
So what are the consequences of too much or too little airflow? Because I have a zone controller I also have an outlet air temperature sensor so if that drops below 45, it will shut off the AC.
In one way the zone controller is great because I only has to cool the areas I want to cool, but because the airflow with one zone isn't high enough, my efficiency goes down, so it seems like I can't win either way.
05-03-13, 05:22 PM
According to the instructors in a few classes that I have taken, poor airflow can result in losing compressors.
05-03-13, 09:20 PM
Join Date: Apr 2013
Location: USA
Posts: 45
I guess that spells bad news for all zoned systems since slow air flow, or fast air flow with chilled air going around a bypass damper is about the same thing.
05-06-13, 10:14 AM
Join Date: Apr 2013
Location: USA
Posts: 45
My plan is to try to replace the ceiling diffusers first. If I can get ones that will pass more air without being noisy, that should be good enough.

If that is unsuccessful, I'll go the 50%/100% route, but at the same time tweak some of the switches so 50% is much closer to where 80% should be. This will put the 100% higher, but its dry here, so I'm not too worried about humidity control. Hopefully the diffusers will solve the problem.
Posting Rules
You may not post new threads
You may not post replies
You may not post attachments
You may not edit your posts
---
HTML code is Off
---