Goodman AC not working
09-02-13, 05:44 PM
Join Date: Nov 2011
Location: USA
Posts: 11
Goodman AC not working
---
I have a Goodman CLJ30-1 I can't find DOM, but guessing 10-12 years old.
When I call for AC, I hear a click and about a 2 second buzz on the outdoor unit. The blower kicks in.
1st question - is it worth fixing? I don't plan on staying here many more years, so I'm guessing 'yes'
2nd question - where do I start? The fan spins freely when I push it with a stick. The top of the unit where the motor attaches was pretty warm when I first noticed it wasn't working.
I believe the capacitor was replaced when I fist moved in (about 8 years ago)
I'm pretty handy with a screwdriver and a multimeter. Just use small words and pretty pictures
Sponsored Links
09-02-13, 06:10 PM
That buzz sounds like the contactor in the compressor unit trying to engage. You will probably need to turn power off at compressor unit and remove the wiring access or service panel to visually check the contactor.

That would be a first start.
09-02-13, 06:50 PM
That Buzz could be the compressor trying to start but unable to because of a weak or swollen capacitor.
Run capacitors do not always swell on top when they fail but they always require replacement if they are swollen.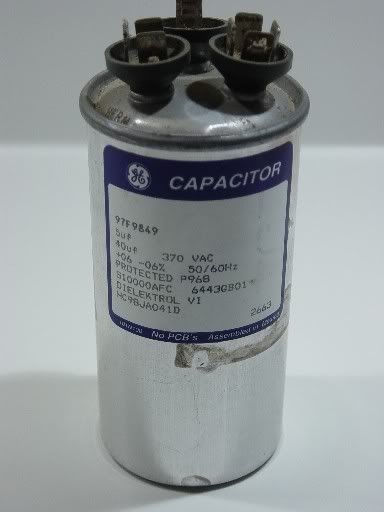 This is a swollen example of a 40 plus 5 microfarad 370VAC dual capacitor...
---
Last edited by Houston204; 09-02-13 at

07:36 PM

.
09-03-13, 03:30 PM
Join Date: Nov 2011
Location: USA
Posts: 11
With the access panel off, I can hear a faint buzz that sounds like it's coming from the contactor (at least what I think the contactor is based on my googling
) and it looks like it's... whatever they do... making contact. The spring-loaded piece (with the plastic tab for manually pushing?) is all the way in. The loud buzz that I hear before lasts for maybe 2 seconds and happens once ever 30 seconds or so.
I'm used to looking at much smaller caps on circuit boards and can tell when those are bad. The top (where the wires attach) is rounded. Is it not supposed to be? It's awful rusty too...
There was a 'run test' sticker in there too - almost 12 years to the day it was tested
09-03-13, 03:38 PM
Can you shoot us a picture straight on to the contactor ?
That cap looks like it's seen better days. It's a dual capacitor. Fan and compressor.
Can't tell with contactor without a second picture.
09-03-13, 03:41 PM
Join Date: Nov 2011
Location: USA
Posts: 11
Had just finished editing to add a picture and saw your post PJmax
Will shoot another closer to the cap before I lose the light...
09-03-13, 03:57 PM
Join Date: Nov 2011
Location: USA
Posts: 11
Glad to know I guessed right at what I was looking at
Close of of cap
There is definitely a perfectly round bump right there - I assumed it was where another contact would go for another model. Just to the left of the purple wire in this one
09-03-13, 04:07 PM
I would change the cap and the contactor.
If you look where I circled that wire has gotten hot and it looks like the screw is loose.
Make sure power is off before touching the contactor or cap.
09-03-13, 04:23 PM
Join Date: Nov 2011
Location: USA
Posts: 11
The wire that looks burnt - that is a spade. The screw is tight against the other one. Closer picture uploading now...
Still replace both or start with capacitor? There's no label on the existing, the manual says
B94575300 CAPACITOR DUAL SECTION, 35 MFD, 5 MFD, 370
VAC (M5, M6, M8)
Where's a good place to grab one? Any site sponsors or anything?
09-03-13, 04:46 PM
09-03-13, 04:47 PM
The contactor visually appears in good shape. I would suggest starting with just the capacitor, however contactors are not too expensive. If the parts house is a distance away, you might want to get both to save yourself the possibility of a second trip. If it's not far away, get just the capacitor.
09-03-13, 06:31 PM
Join Date: Nov 2011
Location: USA
Posts: 11
Thanks guys. Will let you know how it turns out.
09-06-13, 12:31 PM
Join Date: Nov 2011
Location: USA
Posts: 11
Cap fixed it - thank you everyone. Very much appreciated. Will return the favor if I'm ever able.
09-06-13, 01:08 PM
Thanks for getting back to us to let us know that you got it fixed and what the solution was.
Posting Rules
You may not post new threads
You may not post replies
You may not post attachments
You may not edit your posts
---
HTML code is Off
---