AC leaking water coil pan
11-25-13, 09:01 PM
Join Date: Aug 2012
Posts: 61
Received 0 Votes on 0 Posts
AC leaking water coil pan
---
Hello everyone !

I have a 3.5tons unit that is leaking water or better dripping water on to the ac filter. There is some sort of rubber below it that gets wet went it happens and eventually, the dripping starts.

Out of the 4 that it has, there is only one that is having the issue. Any ideas on how to remediate this problem or this is the end of the unit? The coil is very clean and the AC is not freezing up. I am using one of those filter that you can customize due to the location of the pipe and the reason I am saying this is because I want to make sure the filter is not causing any trouble.

For some reason, about two weeks back I got an estimate on how much it would cost to replace the unit. Even though I wouldn't like to do it now, I'll post the numbers for you to comment.

Any feedback is greatly appreciated.
Sponsored Links
11-25-13, 09:54 PM
Is this occurring during the heating or cooling mode?
If this only occurs in heat mode, Is this a 90% furnace?
Does this occur only when it rains?

It was 39 degrees and raining all day over here.
11-27-13, 05:33 PM
Join Date: Aug 2012
Posts: 61
Received 0 Votes on 0 Posts
HI,

It is happening in cooling mode. It has been raining but not a lot. The temperature is nice 73 which is much better than in summer time but down here in florida is not cold. It has happened twice so far and I don't believe it has been raining both occasions.

I want to get more feedback on what it could be because it is an old unit but as I said, I would like to keep it for at least one more year if possible.
11-28-13, 12:28 PM
Join Date: Aug 2012
Posts: 61
Received 0 Votes on 0 Posts
Hi...can you tell me what internal section is the inlet? From my research, it looks like it is the side of the AC that contains all the different pipes?Anyways, I can see almost everything inside the unit. What am I looking for?
11-28-13, 04:56 PM
It's tough to see the inlet side with upflow systems. You can only see the leaving air side of the coils when removing the panels.
I usually recommend having a pro pump down the system and remove the evaporator coil to clean it outside with a water hose.
If the coil is old and has a rusty tubesheet, replacement should also be considered at this time.
It's much easier with horizontal applications...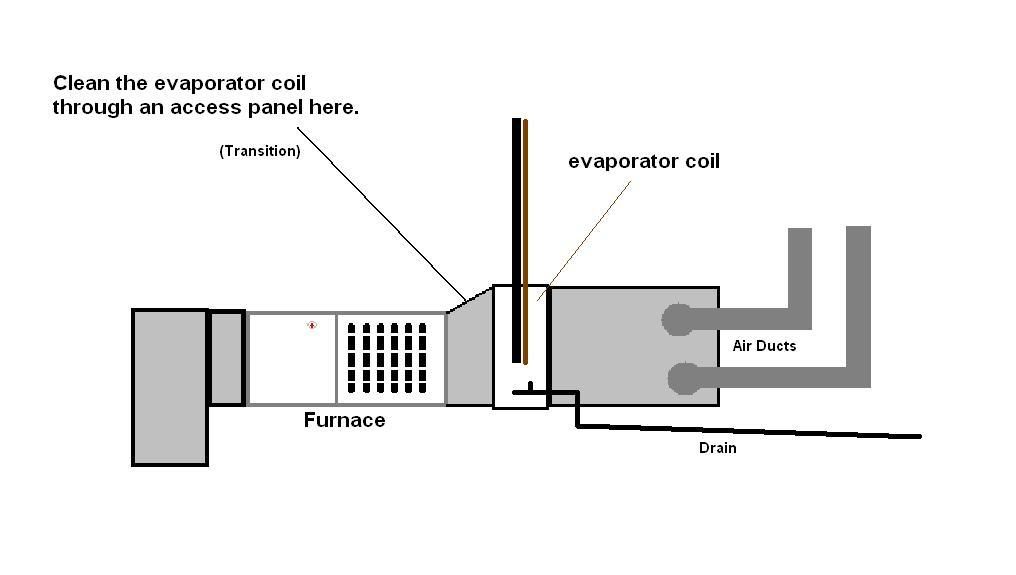 11-29-13, 04:19 PM
Join Date: Aug 2012
Posts: 61
Received 0 Votes on 0 Posts
Hi houston204...thank you for taking the time to reply to all my posts. About a year ago, I had someone take out the coil and clean it up in my backyard. At the same time, they blew air into the AC conduits and the whole 9 yards. Do you think I need to do that again? I have attached a picture for you to take a look at the tubesheet and tell me how bad it is.

Can the coil be replaced by itself? Would it be worth it to invest in a new AC Unit?

I'll post the unit someone recommended and more less the price they gave me; perhaps, you can give me your feedback.

Thanks.
12-27-13, 07:03 AM
Join Date: Aug 2012
Posts: 61
Received 0 Votes on 0 Posts
Hi, I ended up calling someone to take a look at the AC unit and indeed it was dirty. After my last post I remember that what I did was to clean the air ducts and not the unit itself. After that, it has been working just fine. You were right about the unit being dirty. Thanks for all your help and Happy New Year !!!!
Posting Rules
You may not post new threads
You may not post replies
You may not post attachments
You may not edit your posts
---
HTML code is Off
---