Furnace starting, blower humming but not air out the ducts
12-11-13, 11:16 AM
Join Date: Dec 2013
Location: USA
Posts: 5
Received 0 Votes on 0 Posts
Furnace starting, blower humming but not air out the ducts
---
Hi,

I noticed today my home's AC system is not heater. I can hear it turns on and hear the humming in the attic, but no air is coming out the vents.

I went the attic and saw the furnace turns on (fire in there), and can hear the blower on too or what I think is the blower.

The thermostat looks to be working. If I raise the temperature the system goes on, but as said no air from the vents. After few minutes it shuts off, but the home temperature didn't increase.

I'll appreciate any advice.

Carlos
Sponsored Links
12-11-13, 04:46 PM
Join Date: Dec 2013
Location: USA
Posts: 5
Received 0 Votes on 0 Posts
Hi, thanks for the quick reply.

It is a Goodman Model: GMT045-3A Serial: 021060144. It has a gas furnace.

I can feel air coming out from the vents by setting the fan to on, but no heat.
The thermostat shows the heater is on, though.

I went to the attic again and noticed there is like a flame inside the unit, but I realized is not a flame it is like a wire/resistance that gets on and really red. I guess that is the pilot or equivalent, but no flame. The resistance got red, then off and then red again a minute or 2 after, then all went off. It never heated the air.
BTW. After turned off, on the thermostat it was still showing the flame icon and the fan indicator on like the system was still running. I pressed the program button and both indicators went back to off.

Thanks for your help,

Carlos
12-11-13, 07:34 PM
12-12-13, 08:09 AM
Join Date: Dec 2013
Location: USA
Posts: 5
Received 0 Votes on 0 Posts
Thanks I will try that later today and post.

Carlos
12-12-13, 11:30 AM
Join Date: Dec 2013
Location: USA
Posts: 5
Received 0 Votes on 0 Posts
Ok. I reset the roll out switches. There are no changes.

I notices something else. When trying to start the I can see a flame on the lower burner, the top one shows no flame. By looking closer the flame sensor looks to be in front of the top burner which is not turning on. I was reading if it does not detect flame it will turn off. This is what I think is happening.

What do you think?

BTW. I came across a service manual with troubleshooting to check voltages, blink codes, etc. I would like to try before calling someone.

Thanks,

Carlos
12-12-13, 09:26 PM
I'd verify that the burners are directly in front of the orifices, and clean the burner outlets. I had this problem yesterday on a service call and I had to remove a 1/4 inch screw and lift a few burners to get them in front of the orifice, then reinstall the screw.That was an odd call.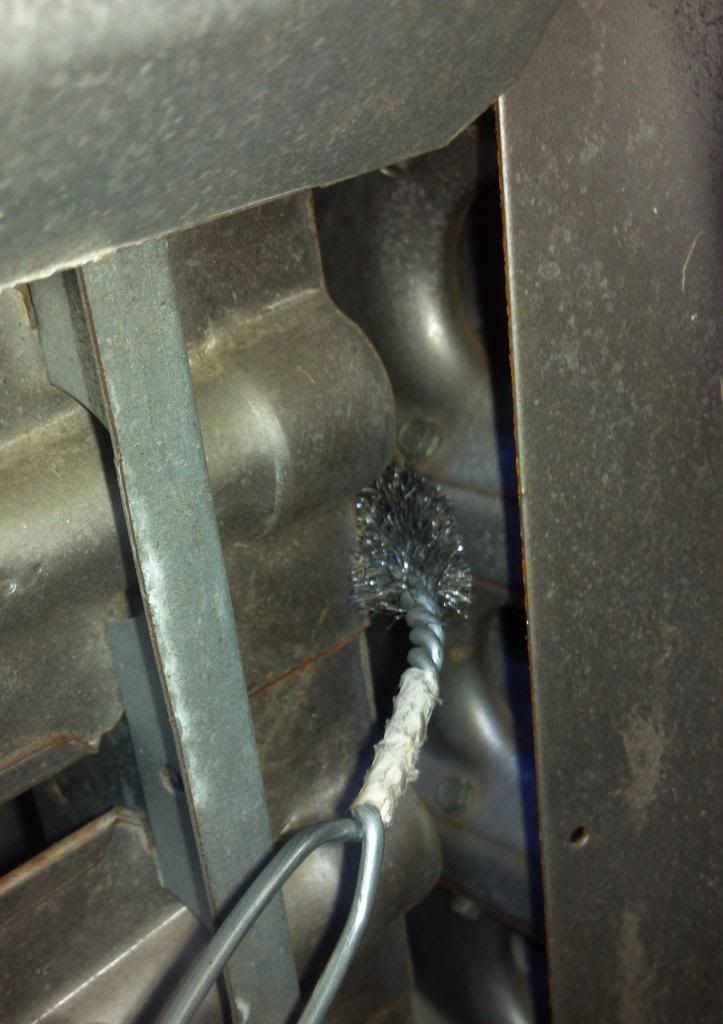 I'd also measure the vacuum at the pressure switch. I'd expect -.66" w.c. or greater with an 80% furnace and twice that vacuum with a condensing furnace.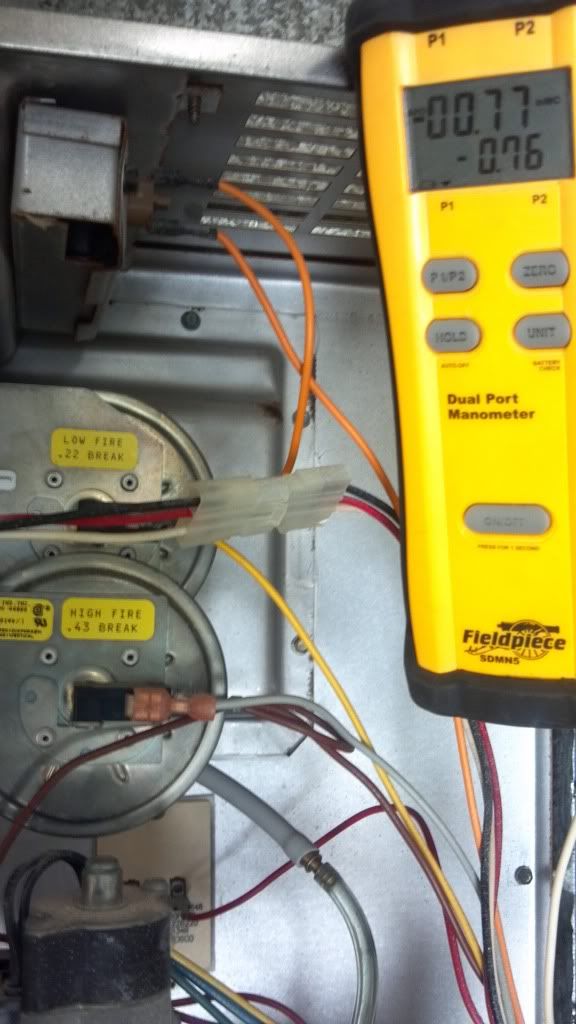 I would also verify that the outlet and possibly the inlet gas pressure are within the range posted on the furnace nomenclature using a manometer. You should probably have a professional contractor perform these tests for you if cleaning and alignment do not solve your problem.
12-13-13, 05:44 PM
Join Date: Dec 2013
Location: USA
Posts: 5
Received 0 Votes on 0 Posts
---
Hello,

Good news the problem is fixed. I checked the position of the burners and both were ok. then cleaned the gas injectors with a dry cloth to remove dust. checked and reset the roll out switches and cleaned their connections. After that the 2nd burner started working.

I can feel the heat inside the house.

Thanks a lot for all your help and happy holidays.

Carlos
Posting Rules
You may not post new threads
You may not post replies
You may not post attachments
You may not edit your posts
---
HTML code is Off
---