Thermostat Wiring Question
02-08-14, 05:18 PM
Thermostat Wiring Question
---
Okay, I've looked all I can online on how to wire a new thermostat I'll be getting. This is the one I'm looking to get if I can figure out this wiring issue.
Honeywell Wi-Fi Programmable Thermostats | Wi-Fi Smart Thermostat (RTH9580WF)
When it comes to AC or electrical my knowledge is very limited so I'm hoping for some assistance. My current thermostat is 4 wire. I opened up my ac unit and this is where the wire start. What are W1 and W2? I see 5 wires there but my old thermostat only has 4. Tracing the wires up this is the mess of wires that are there.
Okay, so my question is can I rewire all this to be a 5 wire to the new thermostat? Will that be easier? The Y wire on the thermostat goes to another brown wire in that tangle of wires that goes up into the ceiling. I see the C coming from the unit ties to that wire that goes up to the celling too. So I do have a C but why is it going up?
So is it even possible to even set that new thermostat I want? Thank you everyone that offers me some help.
02-08-14, 06:50 PM
Connect stat brown to unit brown along with the white wire currently there to add C (common)..
The red and white ceiling wires control the outdoor unit.
02-08-14, 10:33 PM
So the small cut brown wire jump it to the thick brown C on the unit? And you mean the white coming from the thermostat connect it to the brown too? That small white one is currently connected to W1 and W2 on unit.
02-08-14, 10:51 PM
So the small cut brown wire jump it to the thick brown C on the unit?
Yes.
And you mean the white coming from the thermostat connect it to the brown too?
No. Your brown common wire from the air handler has a white wire from the condenser connected to it now. I am not referring to the white stat wire connected to W1 and W2 at the air handler.
Kinda like this except you are using blue for Y on your application...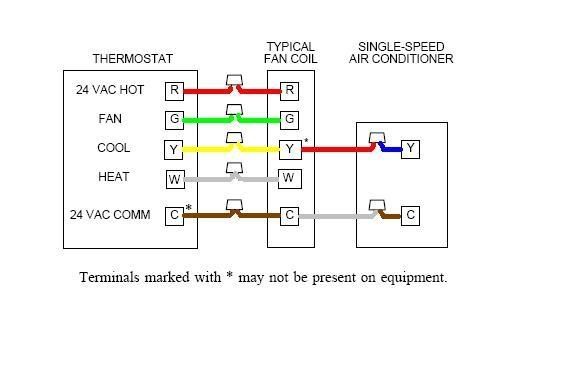 02-08-14, 11:03 PM
Ok I think I understand. I'll check that tomorrow morning. Thank you I really appreciate the help. Funny, I can run and terminate everything having to do with computer networks punch down to the switch but these simple 5 wires brought me to my knees.
02-09-14, 07:52 AM
A more positive view might be that you found the information required to do this yourself in the internet and avoided paying someone to do it for you.
02-10-14, 07:58 AM
Ok, I think I got this figured out. But I think the brown wire you mentioned coming form the unit is black just looks brown in the pic. It's still a "C" though. Because there is another "C" thick brown wire. I'm attaching a pic to verify with you. And I drew in some lines to see if I understood you currently in wiring it. Wife is hounding me to upgrade the thermostat which I already ordered. Now I'll be prepared in wiring it when it comes in.
02-10-14, 06:54 PM
Yes, connect the short brown wire in the right circle to the black wire in the left circle along with the white condenser wire that is already connected to your black wire.
02-10-14, 08:05 PM
So having 2 wires on that black won't screw up anything else? So it was that easy to just add another wire to get the Common C. Everything I read online made it seem so difficult.
02-10-14, 08:21 PM
A typical system with a digital stat has 2 wires connected to the Common wire in the air handler as shown in post 4.
02-10-14, 08:35 PM
You are welcome.

Many people do not have enough conductors run to the stat or they have a boiler or oil burner that doesn't have a common. I am happy that your problem had an easier solution.