TRANE XL15i HP, TRANE 4TEE3F65B100BA Air Handler, VisionPro IAQ EIC/Stat
02-09-14, 02:29 PM
Join Date: Feb 2014
Location: USA
Posts: 1
Received 0 Votes on 0 Posts
TRANE XL15i HP, TRANE 4TEE3F65B100BA Air Handler, VisionPro IAQ EIC/Stat
---
So my 2011 install included TRANE XL15i (4TWX5042A1000A) 3.5 ton unit, Air Handler is 4TEE3F65B1000BA with 15Kw Aux Heat electric element and external temp sensor and fan powered whole home humidifier hard wired to EIC. The Honeywell VisionPro IAQ is controlling unit via EIC and Stat. Question is this: Can I use the Dehumidification mode w/ Air conditioner (mode 379 in VisionPro IAQ) to control humidity in summer?

Additionally, in AUTO Discover, the VisionPro IAQ reports 2 Stage Heat, 1 Stage Cool. Is the second stage of heat my e(AUX) Heat?

I will have a couple of other IAQ stat setting questions next.

Thanks
Sponsored Links
02-10-14, 07:03 PM
Yes, you can remove the jumper between R and Bk at the air handler, place a jumper between R and Dhum at the EIM and connect the second Dehum terminal to a wire that you run to the BK terminal at the air handler.
Configure the stat for normally closed (open on humidity rise) Dehum contacts.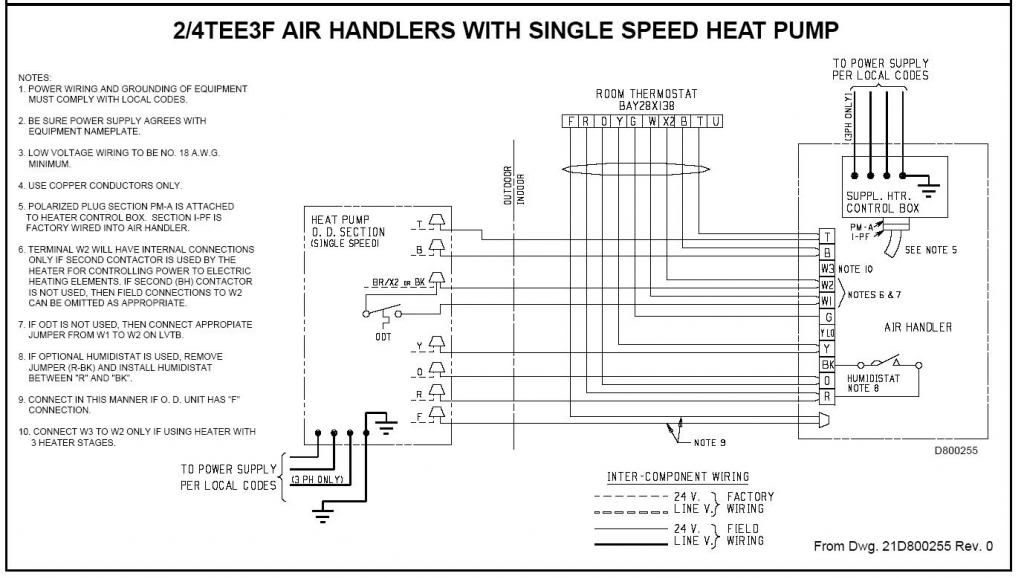 Yes, 2nd stage heat is your auxiliary heat strips.
---
Last edited by Houston204; 02-10-14 at

08:36 PM

.
Posting Rules
You may not post new threads
You may not post replies
You may not post attachments
You may not edit your posts
---
HTML code is Off
---