Outdoor Unit Compressor Doesn't Start (but Fan Runs)
06-12-14, 02:02 PM
Outdoor Unit Compressor Doesn't Start (but Fan Runs)
---
Hello, I have a central air system where everything's working except the outdoor unit's compressor will not start; the fan runs fine. Also, every few minutes it makes an electrical noise for a second or two like it's trying to start but doesn't.
Is there a short list of things that could be wrong, like:
* Low refrigerant (and thus a leak);
* Compressor locked up;
* Hard start kit needed?
I'd like to know if there is anything else to add to the list and maybe how to test. I have a voltmeter and am a DIY-er.
The system is 12 years old and I noticed that there's a capacitor with 4 wires on it. I also took photos so please follow the links for larger pictures.
I don't see any burn wires and the capacitor looks OK too.
How do I set the volt meter and where to test first?
Thank you!
http://i6.photobucket.com/albums/y24...612_144459.jpg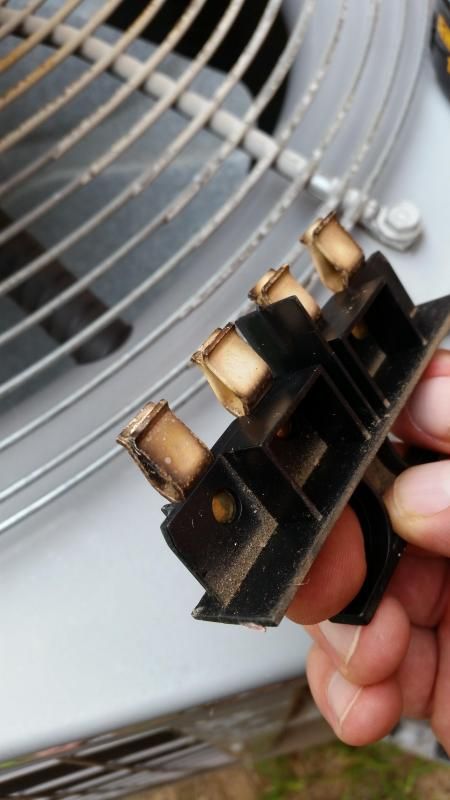 http://i6.photobucket.com/albums/y24...612_144553.jpg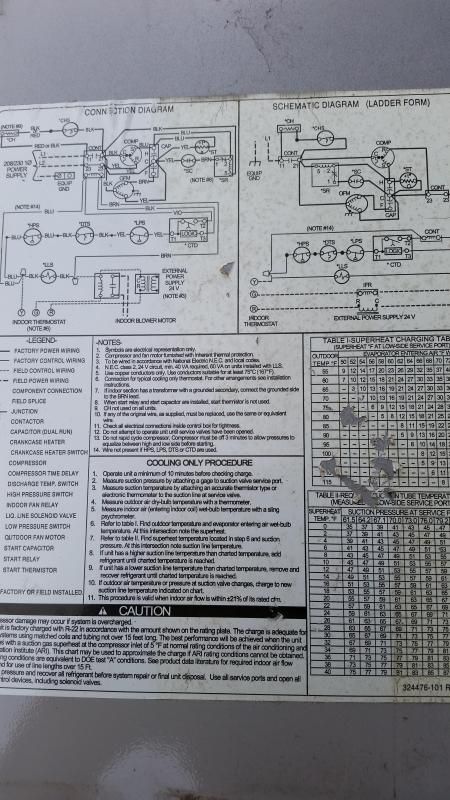 http://i6.photobucket.com/albums/y24...612_144614.jpg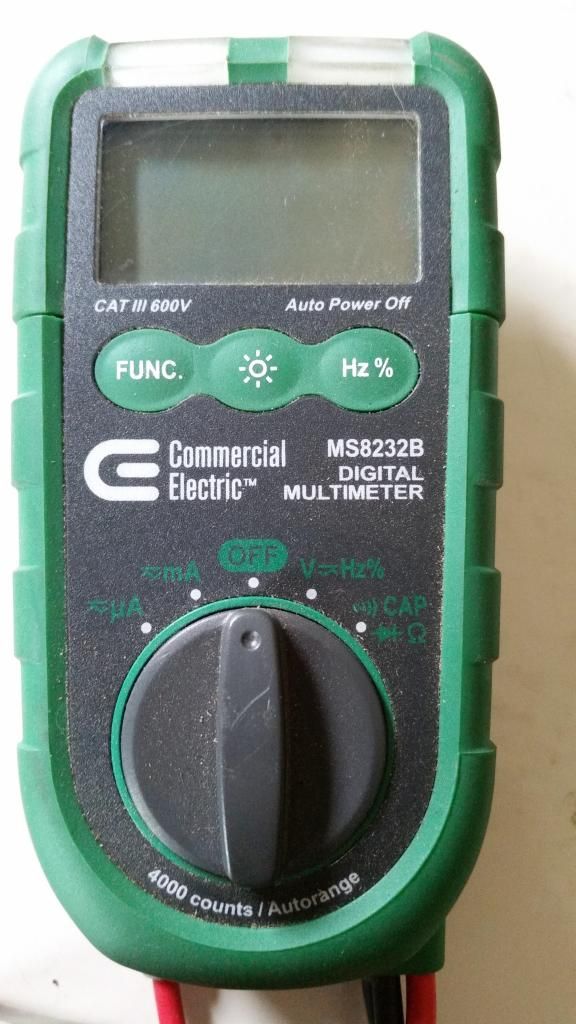 http://i6.photobucket.com/albums/y24...612_145208.jpg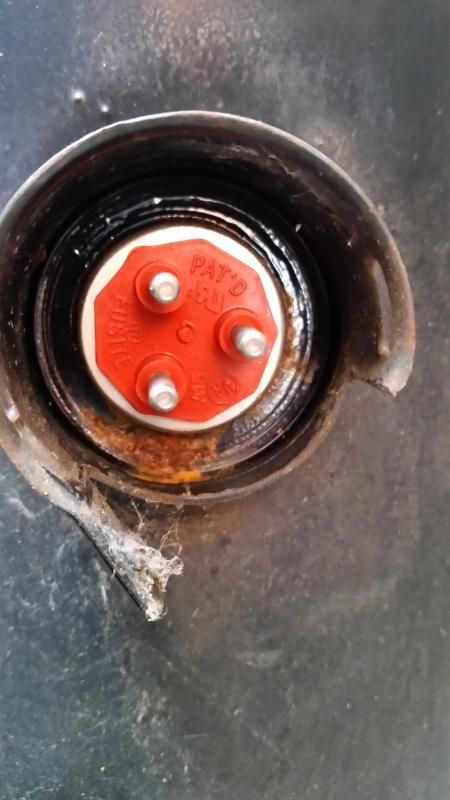 http://i6.photobucket.com/albums/y24...612_152350.jpg
06-12-14, 02:38 PM
It's a bit hard to tell, because the wires are in the way...but the cap should be flat across the top where the terminals are...even slightly bulged means it's probably bad.

Your disconnect looks a little tarnished, but the important part (between the prongs) isn't visible. Thats where contact is made.

The Pro's can give you specifics...but measuring between all the compressor terminals and from each to ground, then posting the info will be a help. I can't see any markings so just use 11 o'clock, 3, and 7 as descriptions.
06-12-14, 03:15 PM
Ohm out the compressor. R to C, S to C and R to S. Post back what you find. Set meter to far right.
06-12-14, 03:27 PM
OK Thank you. The cap looks flat. I did what you said and here are the results:
This is the plug to the compressor:
From the cap the voltage measurements are as follows:
Blue and Yellow respectively to ground are at 48.3 and blue spikes to 53 and yellow 51 briefly every few minutes when the noise like its trying to start is being made.
06-12-14, 03:51 PM
You misunderstood.... you need to measure ohms (resistance)...not voltage. And thats at the compressor terminals with power off and the connector off..like in the earlier picture.

Maybe the Pro's can get some info from what you just posted.
06-12-14, 04:16 PM
There ya go...now you just have to wait for someone that knows what that means to check in. Good job on measurements and reading posts though!

Let's hope your solution is simple. Hopefully just a new cap or a hard start will do it.
06-13-14, 01:48 PM
That compressor Contactor looks burned,are the points burned? Is there a legend on the Dia.to explain what some of the abbreviations are?
06-13-14, 02:33 PM
I would say your start winding is bad.
06-13-14, 03:02 PM
06-16-14, 10:03 AM
Well I got it working. I removed the cap and tested it using my volt meter after going over several videos on youtube.

Unfortunatelyno one in town would sell me the part because I'm not a contractor and I didnt want to wait a few days to order off the internet so I called a tech and paid $220 for a $50 part and 2 minutes of labor.
06-16-14, 10:16 AM
Thats crazy! I know they have expenses and all, but $220 to just replace a cap that probably cost $25? You don't have a Grainger nearby? Or an electrical supply house? I know the HVAC supply stores are a little more picky, but the other 2 normally sell to anyone.

I can't believe the company you called wouldn't at least just sell you the cap with some mark-up.

Well, at least it wasn't a bad compressor...