I want to clean the evaporator coil in the attic if it's needed. What would I
07-14-14, 01:47 PM
I want to clean the evaporator coil in the attic if it's needed. What would I
---
be in for as far as doing this? I have attached a pic of the unit make and model sticker. I figure on doing this while the family is gone for a week so in case I get in over my head I'll have time to complete it or have a pro do it.

It'll be extremely hot up there and I have two of these to do. I plan on an early morning start. Should I take a water hose with nozzle up there with me? I see from youtube there are cleaners in a spray can you can use but most of the comments say to be sure and blast it out with water. There is a drain pan under these furnaces so the water should not be a problem.

Will I just typically remove a few sheet-metal screws to take off a housing to get the the evaporator coil?

Any tips?
07-14-14, 06:15 PM
Properly cleaning a vertical A-coil that is very dirty, without taking the coil outside and using a water hose, ranges from extremely difficult to not possible.
A professional contractor can remove the coil to clean it outside then reinstall it with a new filter/drier, but that would not be a DIY project.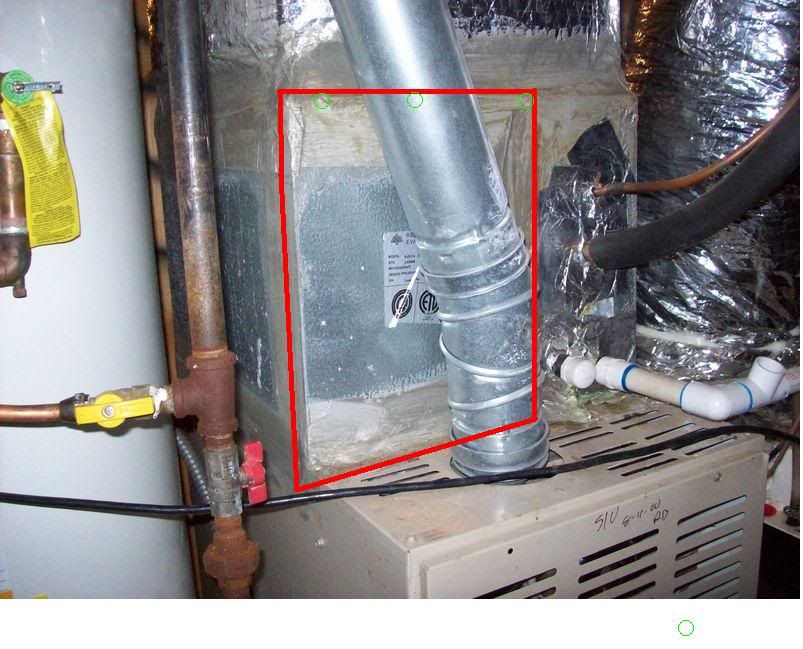 A horizontal evaporator coil is much more serviceable.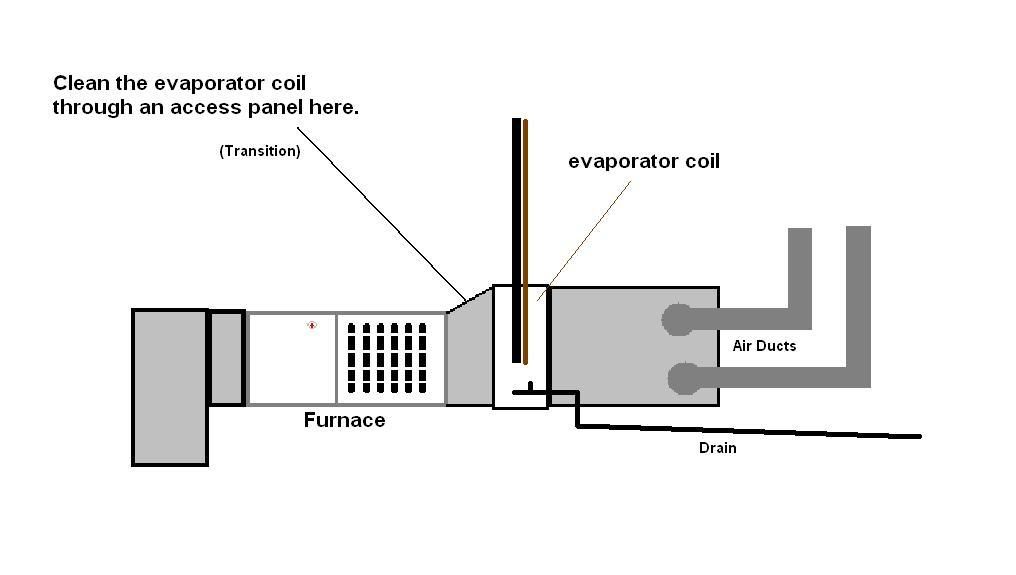 07-15-14, 09:35 AM
How do you know it's a vertical "A" style? From the label I provided?
I think it might be this type of coil as view from the top of the furnace looking down on the unit with top removed
07-15-14, 11:17 AM
The coil you posted is what came to mind when I see that brand but when I googled the model number the A coil came up.

That is why I posted that vertical applications are very tough and that horizontals are serviceable to cover what I pictured and what eBay is selling.
07-15-14, 11:19 AM
That horizontal plenum coil is serviceable from the top but beware the drain line. It is easily broken.
07-15-14, 01:06 PM
Yes mine (both units) are definitely horizontal units in the attic. I'll have a look this Saturday but in most cases do you siply remove a top cover and clean the coil, that way? What about the water hose is that advisable?

And what drain line is easily broken? The one from the drain pan out to the outside

AND when I google the model number I get "your search did not match any documents"
What did you google exactly?
07-15-14, 07:33 PM
The primary drain pan can be ripped from the coil like paper with some older models. Hopefully they beefed up the gauge over the years but I have gone behind a few techs that tore the drainline off of that plenum coil about 10 or 11 years ago.
I googled Allstyle and the first few digits and saw 2 or 3 hits that showed a picture of an A coil and displayed that model number under it but the model number was not legible in the picture. I think it was under images but I can't replicate it today.
If you are going to use a wter hose in an attic you must use a fantastic nozzle.
I use the Bulls Eye nozzle sold at Johnstone AC supply but it looks like
Home Depot
also has a model that uses the 3 ball bearing technology. It is the Little Big Shot
Model # LBSR-1.
I can practically sign my name on a sheet of paper with the Bulls Eye nozzle.
It can get the stream thinner than this but it might not show up in a pic.
Every Plenum coil that I see these days has a gallon of duct mastic applied to seal it tightly. You will probably need to apply some
duct mastic
when you are finished.