Outside AC unit not powering on properly
08-18-14, 01:31 PM
Outside AC unit not powering on properly
---
Hi all; thanks in advance for taking a look at my problem.
I have a 84 Trane btd718a100b0
When I try to start the AC unit sometimes nothing happens, other times the unit buzzes loudly for 5 minutes then turns off automatically. The fan never turns on, and using the stick test the fan turns easily and spins freely, but does not continue to spin when unit is trying to start. I have tested capacitors, power switch fuses and switch contactor with a multimeter and all appear to work properly.
Any advance on what to try out next?
Below is a video of the unit trying to start.
https://www.youtube.com/watch?v=6INV...pxWIhCYY8rZIbA
08-18-14, 06:07 PM
Join Date: Jan 2005
Location: Delaware, The First State
Posts: 14,381
The loud buzzing sounds like the compressor running. If a lot of heat comes off the unit when it is buzzing, that heat comes from the compressor.

Did you check the microfarad readings on the capacitor(s)? That unit may have up to 3 capacitors or as few as one.
08-18-14, 06:51 PM
I removed the capacitors and tested with a multimeter using this method.
https://www.youtube.com/watch?v=iRt9WYK1wdQ
Next step I went to check out the fan. I noticed a wire going into the fan motor was like jelly, i touched the wire and it broke off. There was a scorch mark on the metal where the wire broke. That may have been the cause. I am working on taking the motor out and replacing the wire.
The unit has 3 capacitors, and one of them had a resistor. I may end up replacing the one with the resistor if fixing the fan wire doesn't help.
08-18-14, 07:32 PM
Join Date: Oct 2012
Location: Northern NJ - USA
Posts: 62,593
The resistor is just a bleeder resistor.
A broken wire to the fan is a definite issue.
08-18-14, 08:44 PM
Join Date: Oct 2009
Location: Texas
Posts: 7,425
It sounds like the wire or motor is the problem.
Taking an Ohm reading is not the correct way to check a capacitor.
If an 80 microfarad capacitor reads 40 it will pass an ohm test but not enable the motor it serves to run.
Meters that measure capacitance start out at around 25 dollars.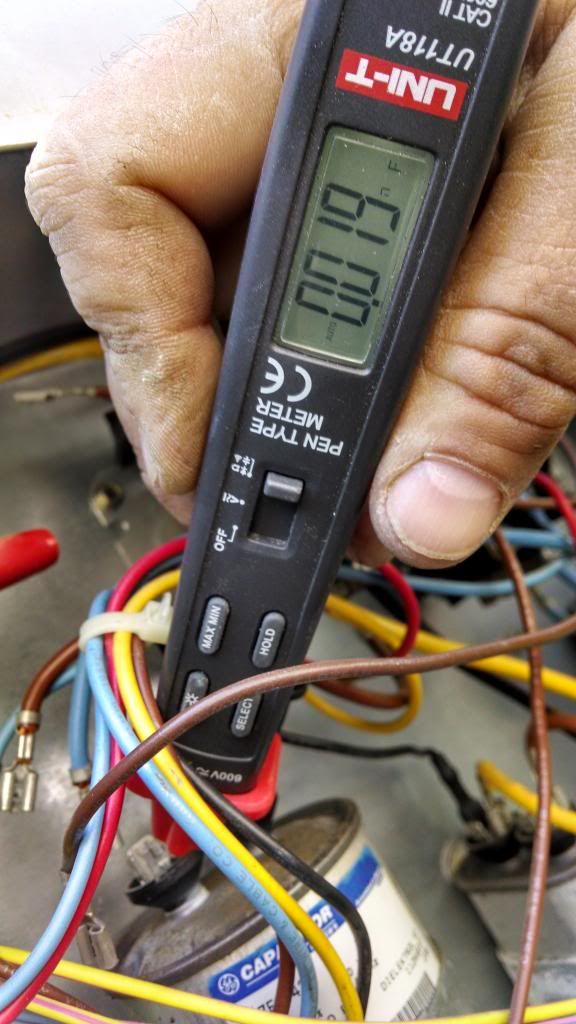 Fluke, Fieldpiece and Klein are some better brands that offer this ability..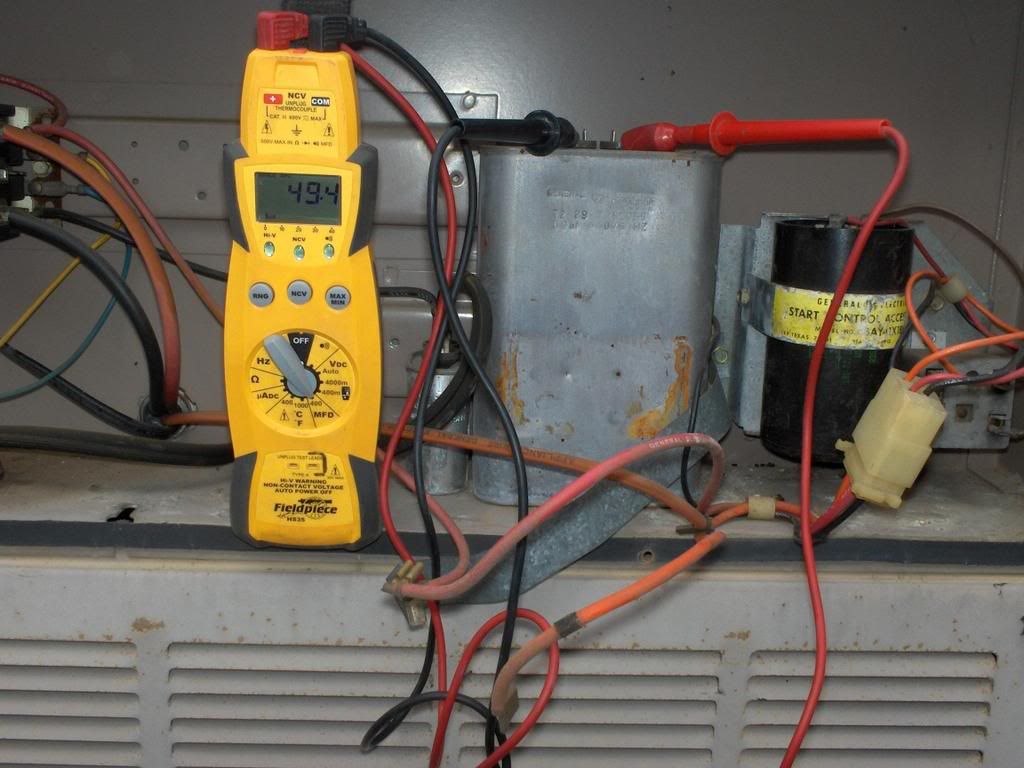 There is also a method to check capacitors while the unit is running with a clamp amp meter and a voltage measurement.
08-19-14, 05:38 PM
Join Date: Jan 2005
Location: Delaware, The First State
Posts: 14,381
That ohm test is all but worthless. It will not tell you the capacitance (microfarads) of the capacitor. It will only tell you if the cap is open or shorted, not if it is weak.