New cental AC system does not cool "like it used to"?
04-28-15, 09:02 AM
New cental AC system does not cool "like it used to"?
---
I have a cental AC system replaced in November of 2014, less than six months ago.
The old system was 16 years old and the AC company recommended complete replacement, new compressor new handler new everything, the new system is more efficient.
Now I live in South Florida very hot and humid down here and summer is around the corner. Last few days was very hot.
I set the thermostat to 76 and COOL, and the AC kept running and running and got to about 79 and doesn't stop. It will not cool any further.
I normally would like my temp to be around 72 or so, and higher when not working, but to test the system I set it to 68 and see if it cools further then 79, it did after a while, it went to 75 but no further but it kept on running. Once in a while I turned it to OFF because I don't know if it's going to break if it runs continuously.
Today I called the company since I have a warranty to see what they say. When I described to them that I had set the thermostat to 68, they said "oh no, you can't do that, these new systems are not designed to run lower than 74, you will never get them lower than 74..."
Is this true? I thought these are better and more efficient machines. I remember the old system I had one time accidentally set it to 65 and it cooled to 65 I had to get up in the middle of the night because it was freezing my butt off. A brand new system that will never cool to less than 74 degrees? Could this be true?
The brand and models are:
Inside handler: BRYANT model FVACNF002 serial number 3814A86482
Outside unit: BRYANT model 116BNA030-A serial 3014E1336
04-28-15, 10:25 AM
Not true! What was the outside temp? What was the temp drop across the coil? Did they do a load calulation?
---
Last edited by skaggsje; 04-28-15 at

10:27 AM

. Reason: added info
04-28-15, 12:04 PM
Take the temp at the nearest supply diffuser & subtract it from the indoor temp; at 50% RH indoors it should be 18 to 20°F cooler than the indoor temp.

Then go outside & check the temp off the condenser & subtract the outdoor temp from it; report all the numbers here.

You need to get a low cost humidity gauge at a local hardware store; you have to know the indoor humidity....
04-29-15, 12:34 PM
The unit is still under warranty so they sent a tech. Opened up the handler and there is a big block of ice inside, went outside and there is ice all the way to where the line connects to the outside unit. So he said we have to wait till the ice melts completely before he can diagnose further so he will come back tomorrow.
04-29-15, 12:43 PM
Join Date: Oct 2012
Location: Jersey
Posts: 62,102
Low on refrigerant is high on the list as well as poor airflow thru the coil.
04-29-15, 02:26 PM
Poor air flow through the coil is unlikely since this is a brand new $3700 system replaced six months ago and I religiously changed the filter every 30 days...unless it's a defect.

If it's low on freon could the freon become low over six months if there isn't a leak? I assume they charged it up when they replaced the system. If they have to recharge it because it's "low" I hope I don't have to pay for it.
04-29-15, 02:38 PM
It is probably low on refrigerant; there would have to be a leak somewhere.

Many new systems do have low airflow through the coil & to the rooms; though they always should, many contractors never check the airflow.
04-30-15, 09:53 AM
Ok the tech came and tested and said refrigerant level is low, at 60 when it should have been around 125. I said could they have been low when the initial install was done six months ago? He said highly unlikely. I said I haven't used the AC that much until it really started to get hot two weeks ago. He said he needs to do a dye test next to find the leak, but he doesn't have a dye test kit, and will need to come back tomorrow. The thing is the leak hasn't been confirmed, other than a hunch "it shouldn't be so low"... I asked what if the leak is on my line in the attic will you see it he said no. If dye test is not conclusive they have to come back, cut the system up into the evaporator, the line, and the compressor and test each individually. There is no way to pressure test the entire system and see pressure drop to confirm the leaks first?
04-30-15, 12:32 PM
I just called them to find out about tomorrow, and they said tomorrow they will come to apply the dye, they will have to come back next week to look for it since it takes time for the dye to work though the system.

Each time they come it's a window between 8 to 12 or 1 to 4. I might run out of vacation days soon.

Since the system is new and under warranty they have to do what they have to do, I guess.
04-30-15, 01:46 PM
some pictures I took today. At least the coil is clean.
also, I have two copper lines going outside. One used to be where the old condensate pump discharges to. I didn't like condensate pumps so I was able to plumb a gravity drain 3/4" pvc line outside by passing under the apron of the bathtub to the outside. So now one line is unused. If the leak is in my line they have an extra copper line to try.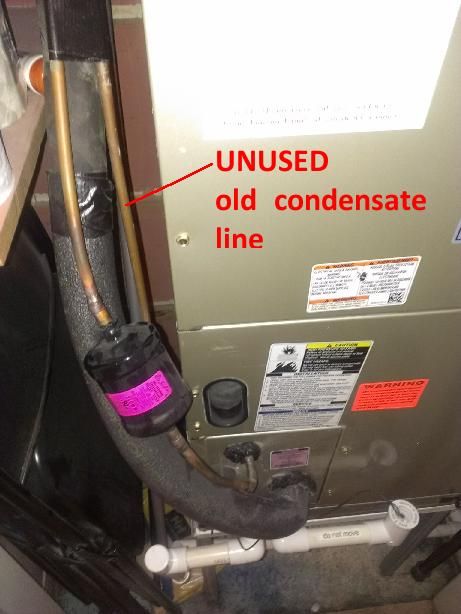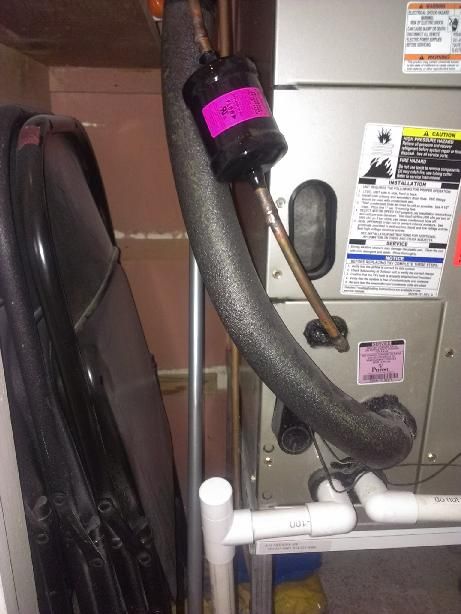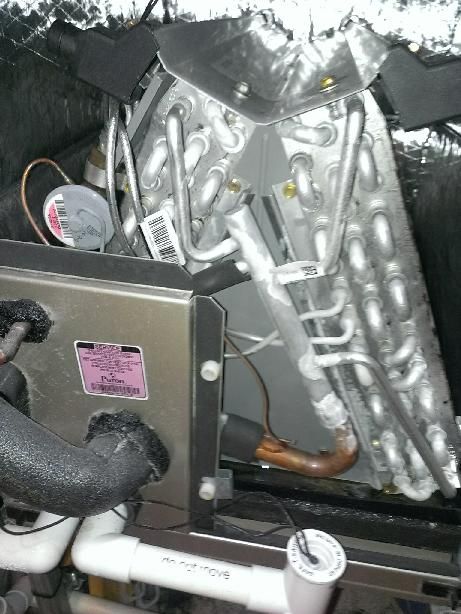 04-30-15, 04:53 PM
Join Date: Oct 2012
Location: Jersey
Posts: 62,102
If the tech had a decent electronic leak detector and basic skills he probably could have found the leak on the first trip. I find about 90% of leaks like that.
Funny.... I was thinking the same exact thing. With the amount of refrigerant the system appears to be down.... it shouldn't be too hard to find with the detector.