TXV or Blower
05-11-15, 06:59 PM
Join Date: May 2015
Posts: 19
Received 0 Votes on 0 Posts
TXV or Blower
---
I turned on my air conditioner for the year and the lines all froze up. 410 was topped off, evaporator coil was cleaned, air filter was changed. Lines still froze up. I checked my vents and I am hardly getting any air flow. I turned off the air conditioner and turned the fan to on. Still no air flow. My run capacitor was a little low, so I replaced that. Still no change. The blower is spinning, but was a little dirty. I took apart the whole blower and motor, cleaned everything. Still no change. I have checked all my ducts and everything is fine. With the gauges at the condenser, my high is reading perfect, but my low is about 20 low and won't come up. That makes me think txv. But with no air flow even on fan alone and the fact I was starting to have air flow problems this winter, I was thinking blower. Can the blower be running slow enough to freeze up my lines? Or is it the txv? I'd rather replace the blower motor than txv, since I don't have the equipment, but don't wanna waste time and money if it's obviously txv. Thoughts? 7 year old Bryant
Sponsored Links
05-11-15, 07:08 PM
If you leave the compressor/condenser off for ~24 hours so any ice will have melted and turn the blower on, do you get normal airflow? If so, then the blower is likely not the problem. On the other hand, if the airflow is still much weaker than normal and there aren't any obstructions in the ductwork or evaporator coil, then it points to the blower as being the problem.
05-11-15, 07:31 PM
Join Date: May 2015
Posts: 19
Received 0 Votes on 0 Posts
Top and bottom have already been cleaned
05-11-15, 07:42 PM
Join Date: May 2015
Posts: 19
Received 0 Votes on 0 Posts
Even when unfrozen, no airflow.
05-11-15, 08:48 PM
Join Date: May 2015
Posts: 19
Received 0 Votes on 0 Posts
PJmax, there comes a time in every mans life when he has to admit he was wrong. And that's a very hard thing to do, especially when you think you know it all about fixing things. That day has comers. Your comment about the evaporator coil made me question myself and I took a 5th or so look at it. Came to realize in an up flow, the bottom would be the dirty part. I removed lower panel and it was just caked. 2 bucks worth of coil cleaner later, air flow is returned and it's blowing nice and cold. Thanks PJmax.
05-11-15, 08:53 PM
What is the model number of your furnace?
Has the indoor fan motor been replaced?
I would verify the correct rotation of the blower motor and that the blower wheel is clean.
If you run only the fan without the blower door installed, and the door switch taped down, do you get the proper airflow?
What type of evaporator coil do you have?
A horizontal evaporator coil can be cleaned while it is still installed...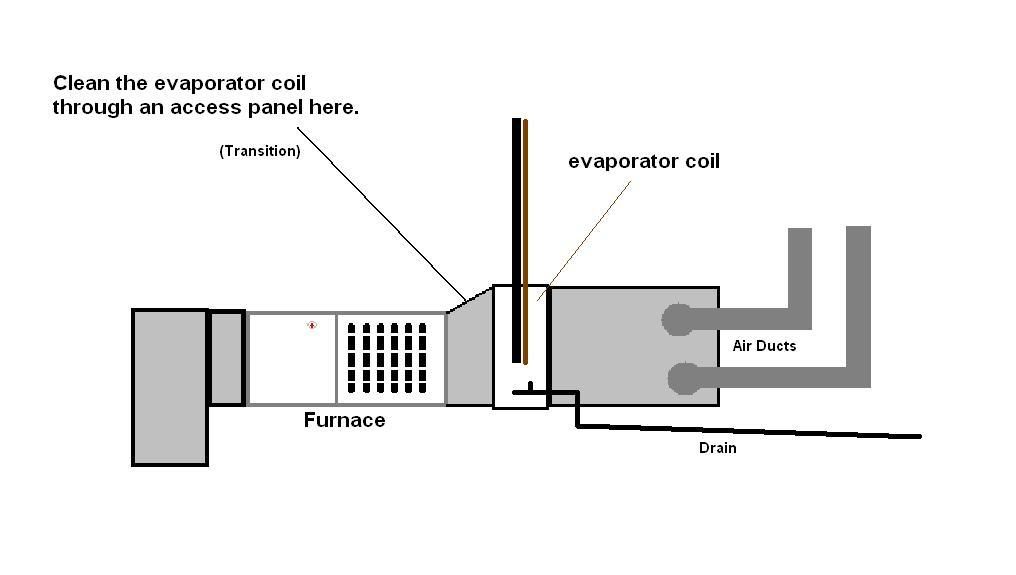 but cleaning a vertical coil is something that can require that the system be pumped down so that the coil can be taken outside for proper cleaning.
Posting Rules
You may not post new threads
You may not post replies
You may not post attachments
You may not edit your posts
---
HTML code is Off
---