Outside A/C condenser fan running backwards?
05-25-15, 07:20 PM
Join Date: May 2015
Location: United States
Posts: 2
Upvotes: 0
Received 0 Upvotes on 0 Posts
Outside A/C condenser fan running backwards?
---
Long story but want to be thorough.

I Purchased My Dads house when he retired. He had a Trane A/C unit put in new like a Billion years ago. Its worked awesome since the day they put it in. First start up this year I noticed it took forever to cool the house down (It never really did) Outside condenser/ compressor Unit started to make a weird warbling noise so I shut it off .I had the company that installed it years ago come back in to check it out. Of course it wasn't doing it when they came by and that particular day it was 68 degs out. They just said "It seems to be working" and left..

Cut to a few days ago and I turned the unit on again to knock the heat down a bit and it started making noise again. Sounded like the bearing in the condenser fan so I took it off and checked it. It has bushings instead of bearings and they were dry. It has lube points so I oiled them. After I turned the unit back on I noticed it sucks air in through the top of the unit from the fan and blows it out the sides of the unit. The Motor was marked what end was what and there isnt any way to have put the windings and shaft in backwards. The Fan is unfortunately running in reverse. And probably has been since I first turned it out this year. It is only a 3 wire motor non reversible. The wiring is correct as I took pics of everything before I took it out. Any idea what causing it to run in reverse? Bad Start capacitor? I assume that is what is causing the unit to not cool the house down.

If this thing had a carb and points it would already be running.

Ideas on the above?
05-25-15, 08:17 PM
The motor is incorrectly wired or requires replacement.
I have replaced the run cap to see the rotation change before but the motor has always failed afterward.
Is this a Trane XE1200 or a XE1000?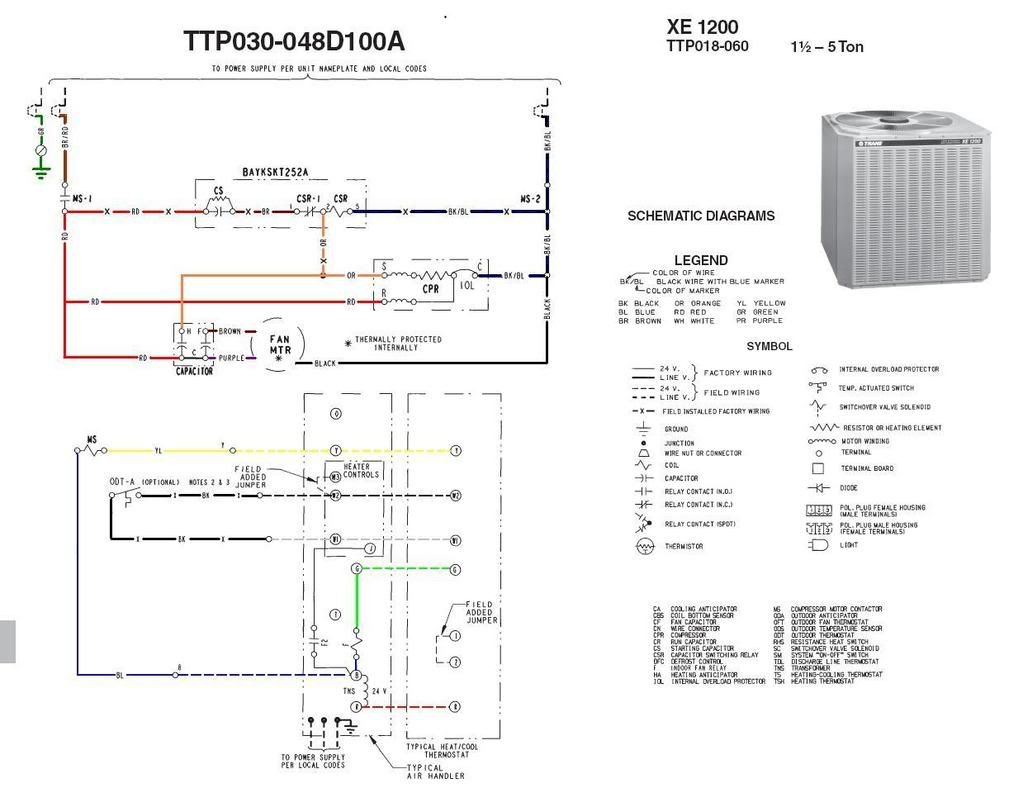 The Trane TTN had a very original wiring...
05-25-15, 08:18 PM
Join Date: Oct 2012
Location: Jersey
Posts: 62,102
Welcome to the forums.

Can you post the model number for that Trane unit ?
05-25-15, 08:59 PM
I have seen brown and purple reversed on the run capacitor cause the motor to spin incorrectly with Trane units.

The light show in the sky tonight resembles something you might see in a movie.
Seems like over 60 lighting flashes per minute non stop.
05-25-15, 09:42 PM
Join Date: Oct 2012
Location: Jersey
Posts: 62,102
I'll say that's original wiring. An awful lot of connections on the Line side of a two pole contactor.
Sounds cool..... no flashes here in NJ.
05-25-15, 09:56 PM
The strange wiring on the dual cap that serves the compressor would confuse many people on the TTN.

Dual cap common feeds the compressor start winding.

Herm and Fan are in and Com is out to the compressor to give you 60 microfarad.
05-26-15, 03:42 AM
Join Date: May 2015
Location: United States
Posts: 2
Upvotes: 0
Received 0 Upvotes on 0 Posts
It is a trane xe1000 The wiring is as it was from factory. I have swapped Brown and purple wires at capacitor off the fan. Still runs reversed. Similar/identical to above posted schematic.
05-26-15, 11:31 AM
I have had bad luck replacing that 1/4 horsepower motor with a universal 1/4 horsepower motor. The universal overamps and drops out. I don't remember the exact values but it was something like the original motor is rated at 1.9FLA and the universal is 1.4 FLA. The universal would pull 1.9 amps and drop out in less than 8 hours.

I usually recommend an OEM motor or I go up a size and use a 1/3 HP motor on those old Trane units.

Remember to pull the bottom drain plug on your new motor and get a new cap.