Proper filter size for the Rheem air handler
05-26-15, 07:55 PM
Proper filter size for the Rheem air handler
---
I am trying to figure out what filter size a particular AC handler uses.

Rheem RBHC-14J06SFD

I googled it and searched on Rheem's web site and nothing. I believe the units were installed in 2001-2002.

The unit currently has one of those adjustable plastic filter which has broken and the filter has been washed so many times it is time to get new ones. Any way I can determine from the model number the proper size? In measuring the broken plastic one it is about 12"X20" but there is some wiggle room width wise in the filter slot so I am wondering may be it should have been 12.5" or 13"?
05-26-15, 08:04 PM
Join Date: Oct 2012
Location: Jersey
Posts: 62,040
05-27-15, 11:59 AM
You don't want to use that Small an area 1" deep pleated filter the pressure drop & velocity through the filter will be way too excessive unless that is a small window unit; supposed to be an AH.

It supposed to be an air handler...Way too small an area for even a small 1.5-Ton A/C.

One inch pleated filters are the worst for pressure drop; a 16X25 has .2" of an inch with 800-CFM; 2-Ton A/C; going through it; after 3-months it's usually .32" of an inch; way, way too much!
05-27-15, 05:49 PM
Join Date: Oct 2012
Location: Jersey
Posts: 62,040
HVAC retired... I'm not following you. I agree that 12x20 is small but if that's what his air handler is setup for..... what should he do ?
05-27-15, 06:30 PM
Join Date: Mar 2006
Location: Wet side of Washington state.
Posts: 16,321
Miami, does that thing possibly use two 12x20 filters side-by-side? No question at all that a single 12x20 is way too small. Can you post a few pictures?
05-27-15, 07:01 PM
I'd see if it is practical to put a filter rack in a conditioned space, high in a hallway, etc., & duct it to the air handle.

Make it big as you can't have too much filter area.

The filter box has to be 'deep enough' so there is no airflow restriction between the filter & the mouth of the duct; or it will only draw air through the grille > the size of the smaller diameter duct.

What is the size of the A/C & heating system equipment?
05-27-15, 10:25 PM
AIR CONDITIONER HANDLER
Rheem MODEL RBHC-14J06SFD SERIAL T M0402 03934
AIR CONDITIONER COMPRESSOR
Rheem MODEL RAKA-024JAZ SERIAL 5882 M0602 12776
That the compressor has a "024" in it I believe it means it's a 2 ton unit. It is a 1 bedroom 1 bath with a total air conditioned area about 650 SF.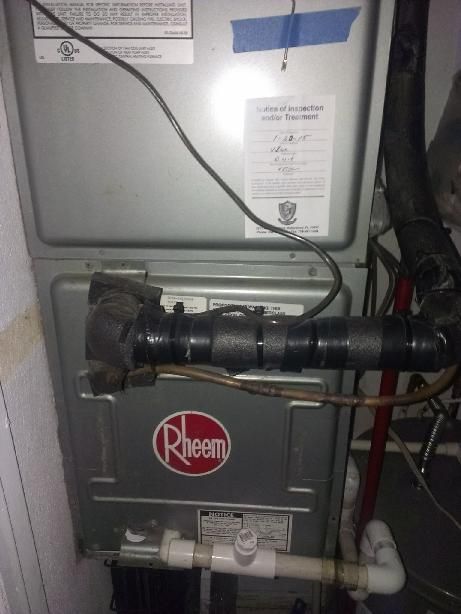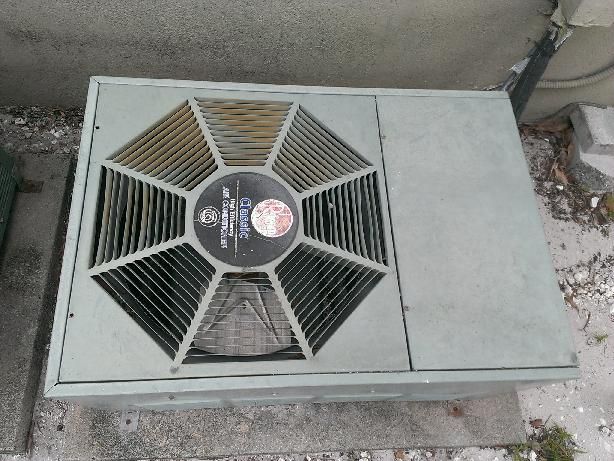 05-27-15, 10:45 PM
Join Date: Mar 2006
Location: Wet side of Washington state.
Posts: 16,321
The model numbers are meaningless to me, the techs should know, but two tons of cooling for only 650 square feet sounds outrageously high.
05-28-15, 04:23 AM
Yes, it is a 2-Ton; a 2-Ton/24,000-Btuh is outrageously high tonnage for 650-sf.
The blower should be set on a low speed of 700-CFM or 350-CFM per/ton of cooling.

I cool my 1st floor area which over 650-sf with a half-ton a mere 6,000-Btuh window unit & a 20" fan that circulates the air through all the 3 rooms & hallway & back to the window A/C.

It cools & dehumidifies perfectly even in the most extremely hot & humid conditions here in SW WI.

You don't want a filter in the air handler at all, - if it is that small a filter area.
If you are determined to use pleated filters you should use around 5" deep filters, but never in that small a filter area.
05-28-15, 07:42 AM
I am not sure if this unit is appropriate for this size apartment. However this apartment is one of four in this building and they all have similar installations. I checked with the other units and they used 12X20X1 but like I said when I put that size filter in, there is some wiggle room on the width and it seems a 12.5X20X1 would be a better fit but I have no idea if that is a common size so hence the original question.

I am located in South Florida and in the summer goes to 100 with 98% humidity may be that is why they have a bigger unit?

Going back to the filter size if the filter size is too small why would Rheem makes such a unit with a filter chamber roughly that size? that it doesn't seem logical to me, unless there is some sort of a special filter I am supposed to use with it, or Rheem expects you to build an enclosure underneath it and frame out a 25X25 opening grille and use a big filter for that?
05-28-15, 08:29 AM
Too many company's don't think about what size the RA filter area should be; nearly all are too small; this 12X20X1 is extremely small.

Oversizing results in too short a runtimes, & therefore, very little dehumidification takes place; the opposite of what you need!