Wall AC unit tripping fuse
06-12-15, 06:27 PM
Wall AC unit tripping fuse
---
Here is a link to a previous issue I had with two of my units...
http://www.doityourself.com/forum/ai...wall-unit.html
But now I have a new issue. Every time I try to turn the AC on, it trips the fuse. If I only use the fan, it's fine. It's only when I use the AC.
I kind of hoped it was a bad fuse but I ran an extension cord to other outlets in other rooms and it was the same problem. The AC would trip the fuse of whatever outlet it was plugged into.
What are the potential problems and is this something I could fix myself?
Here are some pics of the unit...
If you can't read it, it's 7.5 amps and 875 watts.
Sponsored Links
06-12-15, 06:40 PM
Wow.... that's an oldie but goodie.

You have breakers..... not fuses.... correct ?

I'm guessing it's tripping a 15A breaker... not a 20A ?
It would appear that the compressor may be defective.
06-12-15, 07:06 PM
The fuse is a 20
I'm assuming a compressor issue isn't a do-it-yourself type project.
06-12-15, 07:16 PM
That is not a fuse. You have a breaker.
is this something I could fix myself?
If it is the A?C no and in any event it would cost more than a new one.
06-13-15, 03:16 AM
Join Date: Jan 2014
Location: USA
Posts: 699
How many BTU ?

Is it a through the wall unit , like in a motel ?

Or a window unit ?

God bless
Wyr
06-13-15, 08:06 AM
It could be a capacitor or melted wire connection.

It would not be cost effective to call in a pro to try to repair that old unit but if you were to pull it out and see a swollen cap it could be repairable. (but I would just replace it)
06-14-15, 02:08 PM
Unfortunately, it seems like I will have to replace it.

It's a Philco 7AC3A...8500 btus, it's dimensions are 25 3/8" wide x 14 1/2" high, not sure of the depth. It's kind of an oddball shape.

Anyone have a recommendation on a replacement?

Thank you all for taking the time to respond.

Houston....what would a swollen cap be and where would I find it?
06-14-15, 03:54 PM
This swollen dual capacitor resembles a soda can that has been in the freezer too long.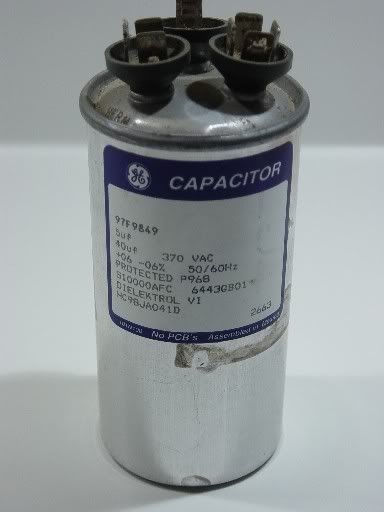 A capacitor will sometimes only swell up a little when they fail.
This is another example of a bad cap.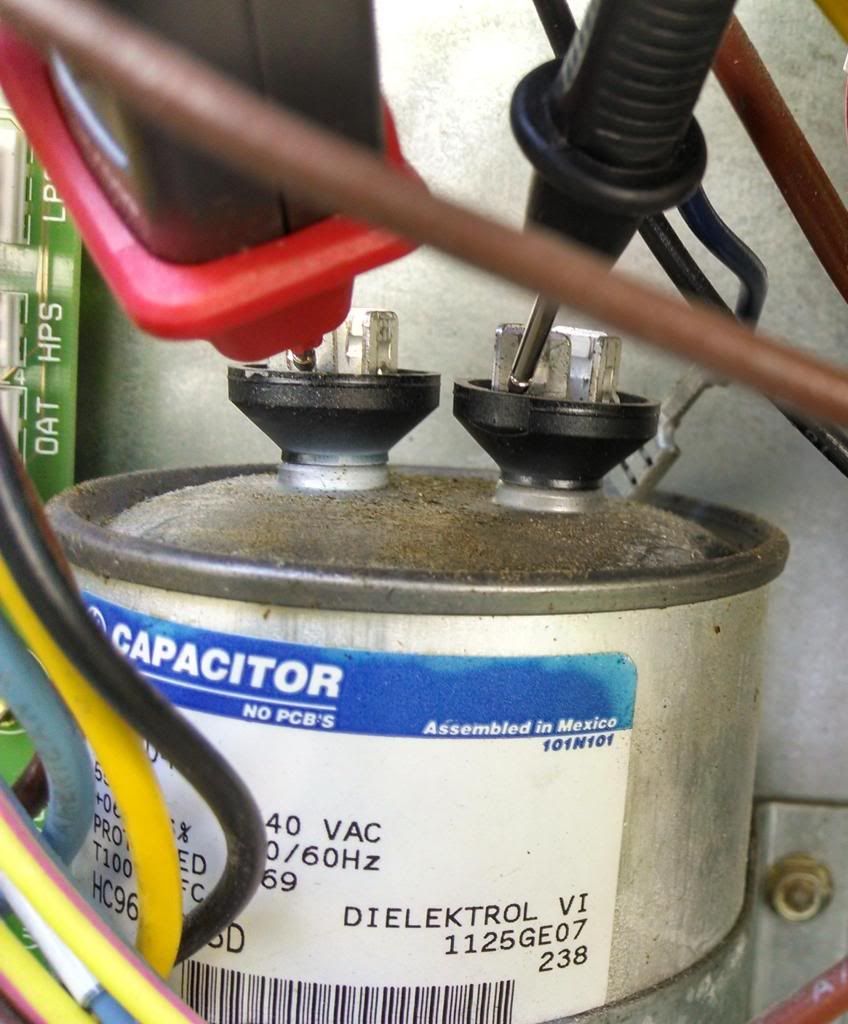 It should have read 50uF.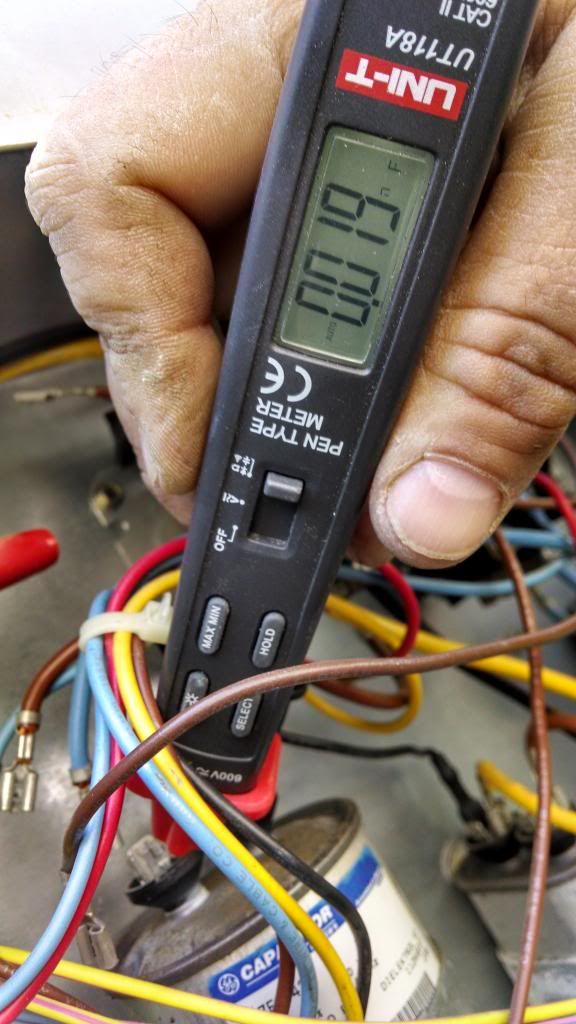 I have had capacitors swell up in Carrier wall mount units.
Can't say that I have worked on your brand before but it will have a capacitor.
I usually have to pull out the unit and leave behind the sleeve to see the panel the houses the capacitor.
Capacitors don't always swell up when they fail but every swollen cap requires replacement.
This is a good cap.
06-15-15, 01:39 AM
Join Date: Jan 2014
Location: USA
Posts: 699
And some times they erupt and spew nasty stuff all over .

Pretty difficult not to notice those .

God bless
Wyr
Posting Rules
You may not post new threads
You may not post replies
You may not post attachments
You may not edit your posts
---
HTML code is Off
---