Help with P Trap Design and small leak (Lennox CB-29M)
07-09-15, 08:55 AM
Join Date: Feb 2013
Location: US
Posts: 19
Help with P Trap Design and small leak (Lennox CB-29M)
---
Hey everyone,
My condensation line is plugging up about every 6-12 months or so. I want to build a P Trap service tee and add it to the condensation line.
Here is the current trap: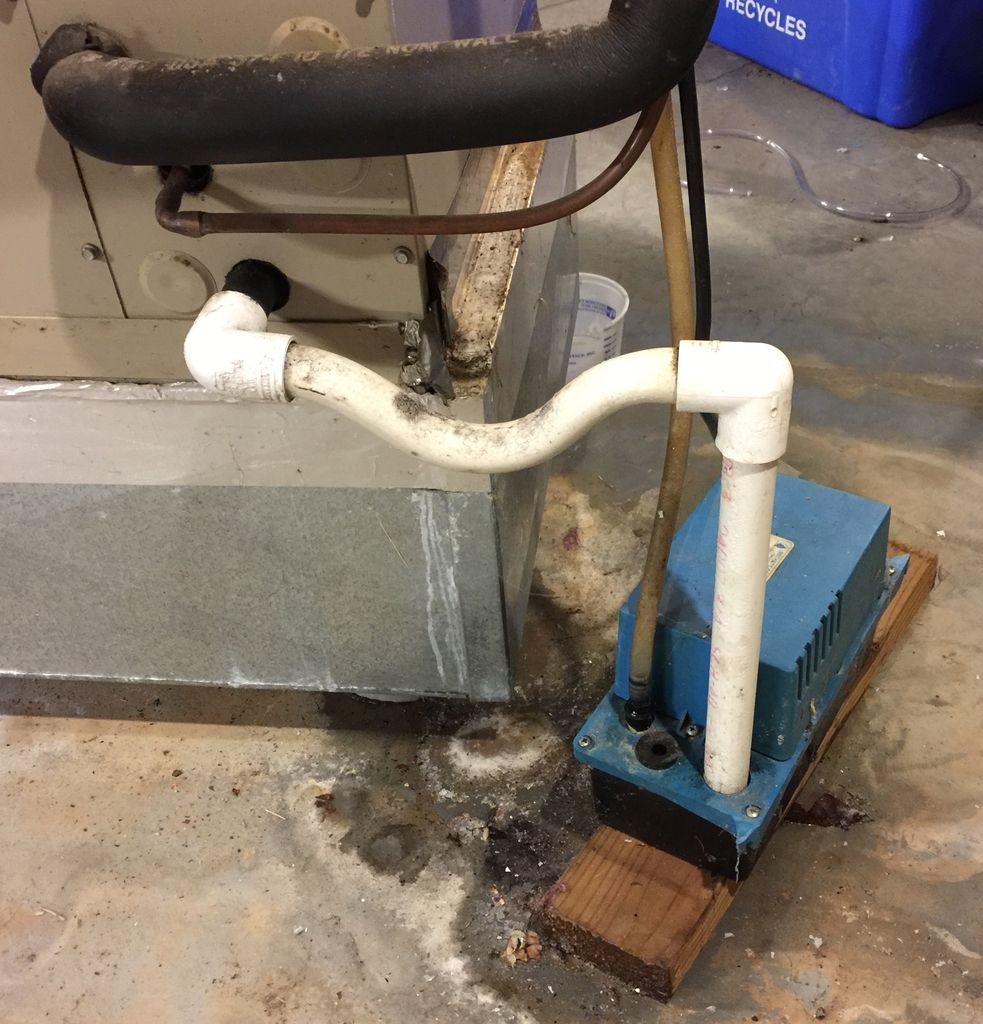 My understanding is the line after the trap needs to slope down a bit, and the service tee goes inbetween the trap and the actual air handler. Is that correct?
Here is my idea shown in blue: please try to picture the blue line going around the side of the air handler. (I failed Kindergarden Art, so please no jokes at my drawing):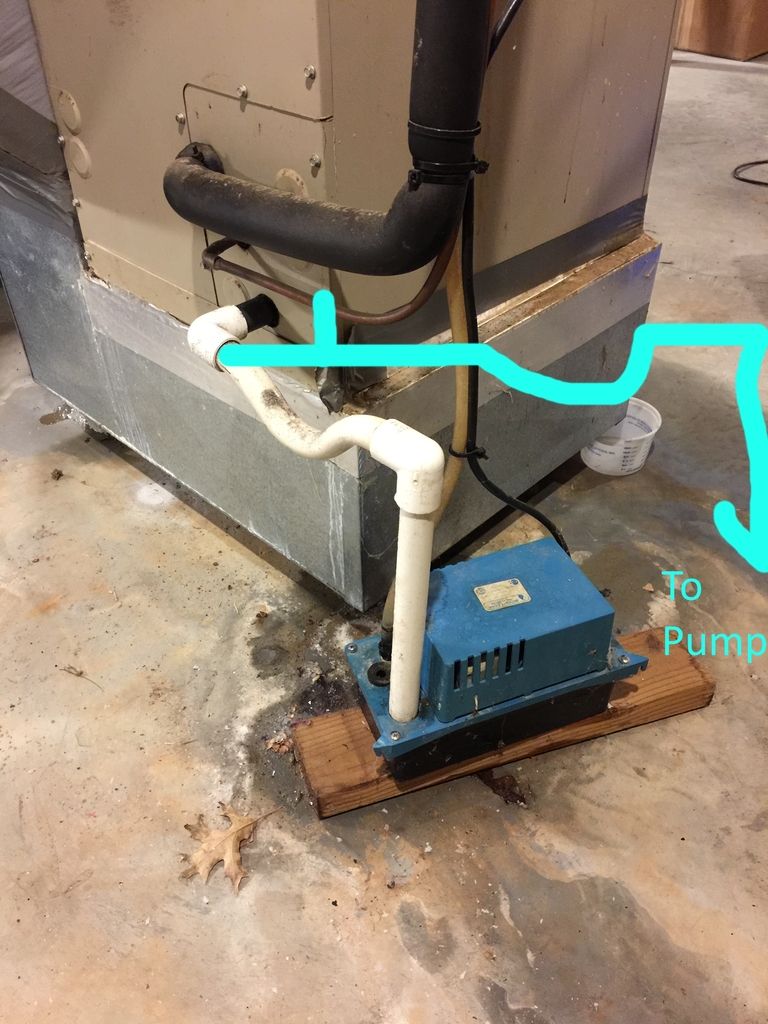 The trap needs to have a 2 in drop and be at least 2 inches long is that also correct?
My big question is, I took video of what was inside the air handler, but couldn't see what the PVC / Black pipe is connected to. When I turn the PVC, it turns the black pipe also. How do I remove the PVC off of the black pipe without destroying anything?
Also, onto the leak. As you see in the back right of the air handler there is a small plastic bowl. There is a leak there (which is underneath the drip pan). I assumed the drip pan filled up and started filling the bottom with water. Is this something that is detrimental to fix as of now, and can I do it myself (no HVAC experience)? I believe the unit is out of warranty. Or is it something I should just empty the bowl every 1-2 days until the unit falls apart?
-Pat
Sponsored Links
07-09-15, 09:26 AM
Join Date: Feb 2014
Location: USA
Posts: 2,103
I would look into buying one of these. Does it drip into the bowl all the time or just when the trap is clogged?
The vent goes after the trap.
---
Last edited by skaggsje; 07-09-15 at

09:28 AM

. Reason: added
07-09-15, 10:41 AM
Join Date: Feb 2013
Location: US
Posts: 19
It's been leaking since yesterday, however it has slowed down tremoundously. I did not notice it leaking before yesterday when the clog happened.
When grabbing the parts for this, the gentleman at Lowe's stated the highlighted 90 deg right angle connector just screws onto the black pipe. I'm concerned I'm going to break something, and just don't want to go in there cutting, and unscrewing glued together parts. Is it something where I can just unscrew it easily, or would this piece be glued on also? (I don't see any excess pipe glue around the connector)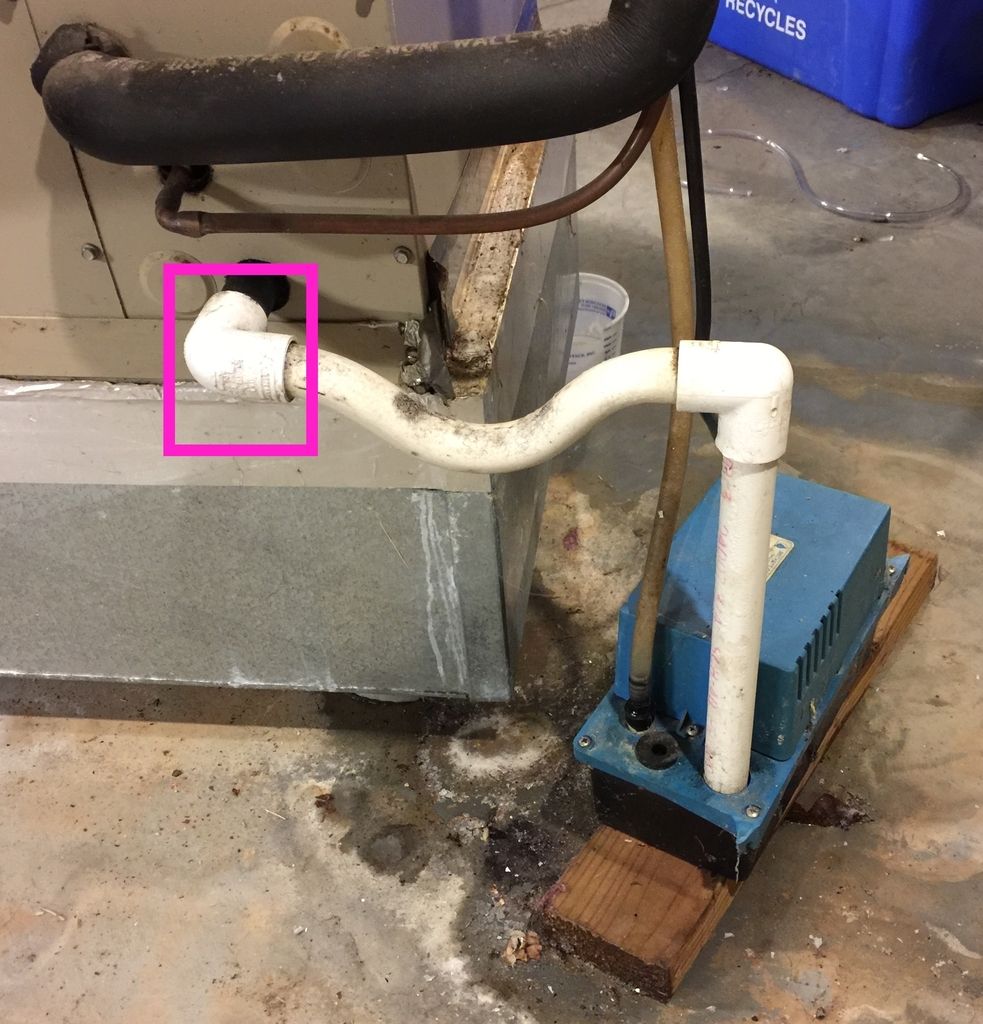 Edit: I just realized, if the vent comes after the trap, I should install another 90 deg connector after the trap, some straight pipe, the vent tee connector, some more straight pipe, another 90 deg pointing down, then the drain pipe into the pump.
07-09-15, 11:09 AM
Join Date: Feb 2014
Location: USA
Posts: 2,103
My drain line just push's on the black pipe ( no glue ). If you look just to the right of the drain line you will see a plug, that's your overflow drain. I would pipe that up to the pump. You don't want water over flowing inside the furnace.
07-09-15, 12:21 PM
Join Date: Aug 2008
Location: Texas, California
Posts: 1,443
Those PVCs are all glued together, It is not that easy to unscrew those pipes. You don't want to move that black pipe since it is connected to your drain pan inside. Unless you want to replace the whole drain system, here is a quick, easy and cheap way to do this (if all you want is a vent opening). Simply drill a hole on the top of the 90 degree elbow connector, you are done. I am sure professionals here will laugh at me, may be laugh at you too if you do what I suggest here. but if this system is pretty old, or you are going to move in a year or two, or what ever the reason.... this may be a better choice. It won't cost you a dime, and can be done in 1 minute.
07-09-15, 12:27 PM
Join Date: Feb 2013
Location: US
Posts: 19
I am planning on staying in this house, and want the A/C unit to last as long as possible. No movement and hopefully not replacing the unit in the near future.
How about this setup? I hope I've been way overthinking this. My goal is to have the vent to help the backpressure, but also use the vent as a "service" outlet to stick a shop vac over, or shoot some compressed air, if it does get plugged up again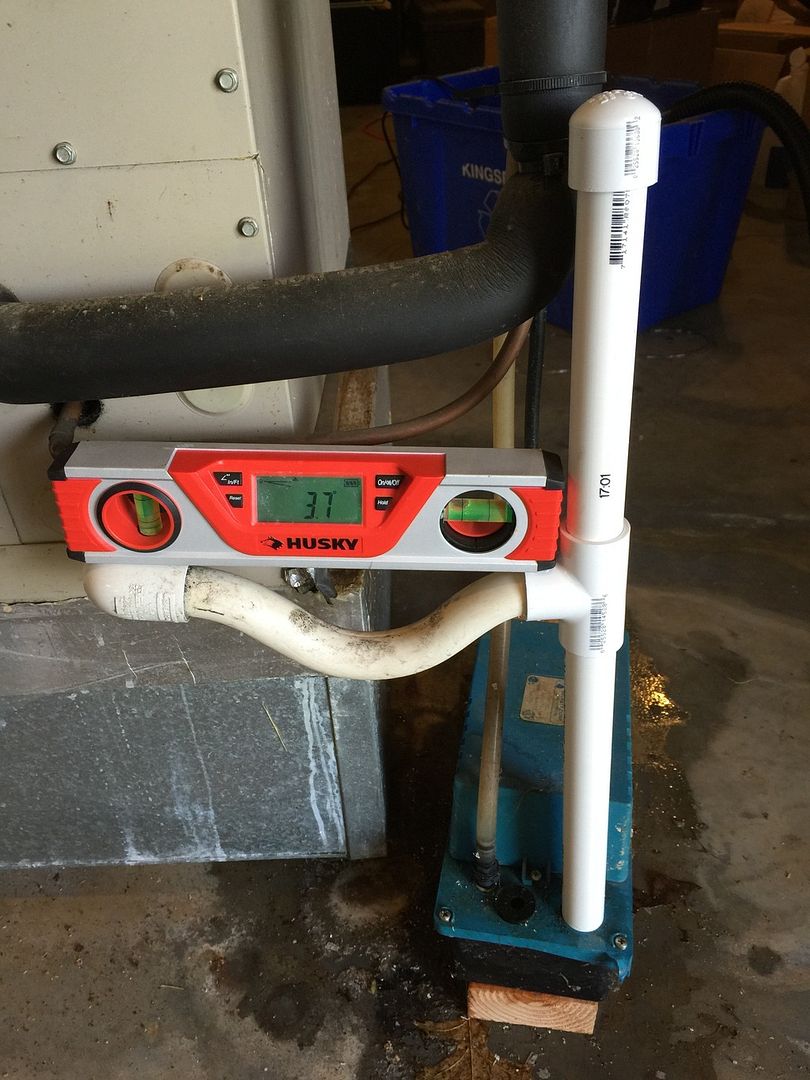 It has a downslope of 3.7 degrees there (I can adjust easily). Is the T connector (vent) far enough away from the p trap?
Nothing has been glued so I can arrange it however necessary.
-Pat
Edit: As I am looking at pictures on the internet, all of the vent pipes do not have a cap on them. Should this be left open, or capped, or does it matter?
---
Last edited by pfeinauer; 07-09-15 at

12:42 PM

.
07-09-15, 01:34 PM
Join Date: Aug 2008
Location: Texas, California
Posts: 1,443
Looks good, same concept. I was worry about removing that 90 degree PVC elbow. Now you did already. I think this will serve the purpose.
07-09-15, 04:27 PM
You should leave the vent pipe uncapped. If the pipe is capped, it's no longer a vent.
07-10-15, 04:25 AM
Join Date: Feb 2013
Location: US
Posts: 19
One more quick question. In the manual, this page states how to install the trap and the recommended specs:
The manual states: "It is recommended that an auxillary drain be connected to all units." Then further on: "Auxillary drain should run to an area where homeowner will notice any drainage. The auxillary drain line does not require venting or a trap". In the picture below, is the green highlighted section the area where the auxillary drain goes?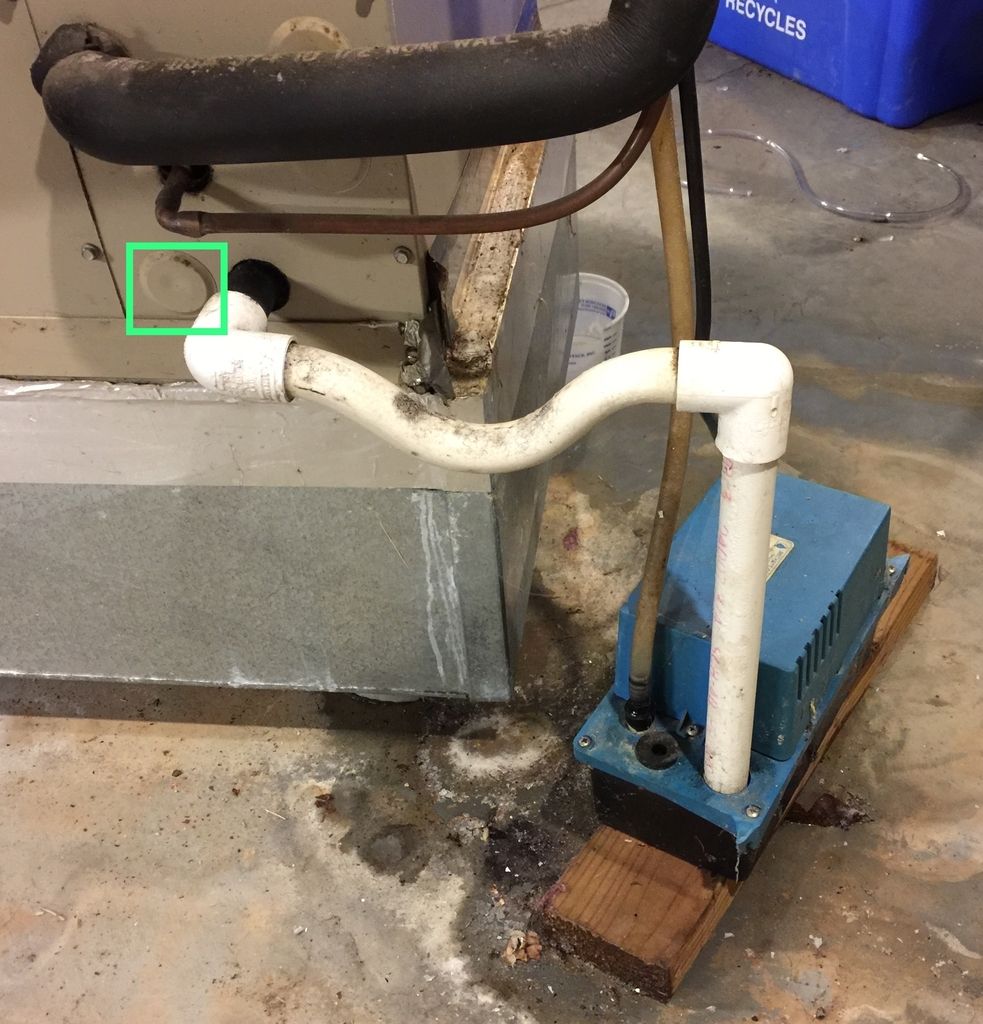 And would it be ok just to screw in a short piece (3+ in) pipe and have it just run out to the floor, so if the floor is wet there, the aux drain is working, which means the main drain is clogged?
-Pat
07-10-15, 09:37 AM
Join Date: Aug 2008
Location: Texas, California
Posts: 1,443
Yes, that will work. better put a pan under to catch the water so your floor won't get wet. (you can still see if water is in the pan or not, or pipe the water out to somewhere you can see)
Posting Rules
You may not post new threads
You may not post replies
You may not post attachments
You may not edit your posts
---
HTML code is Off
---