Is my central AC running on borrowed time?
08-25-15, 07:16 PM
Join Date: Oct 2005
Location: Florida
Posts: 1,527
Is my central AC running on borrowed time?
---
We are having a very hot summer here in South Florida.
My AC bill is shooting through the roof. For the month of July it was $250 and it's only a 2 bed 1 bath 800 SF place. Compared to last year it is almost double.
I have the unit under a maintenance contract so I called the AC company to come take a look.
The units are old, installed in 2001, so 14 years old.
HANDLER: Rheem MODEL RBHC-14J06NFD
COMPRESSOR: Rheem MODEL RAKA-024JAZ
The AC company came out and checked it out, the temperature differential is 16 degrees at the closest vent. When it's 98 degrees out, it's only going to cool to 82 and no more. If I set it to 78 it will run all day and hence the high electric bill.
The AC company said basically the unit is cooling but it is "living on borrowed time". The evaporator coil is in rough shape and flaking apart, and the head pressure is 400PSI which he said is very high and the reason my electric bill is so high and it can fail at any time.
So the recommendation is to install a new system ASAP, there is no repair or tweaking he could do to make it cool better or more energy efficient.
Verdict? Replace it now or wait for it's sudden death?
By the way Florida Power and Light used to provide $500 rebate on a new system, this year it's reduced to $90.
08-25-15, 07:58 PM
You need to find a competent contractor.

14 years is not old for an a/c and high head pressure is not caused by normal wear and tear, but rather total neglect of the outdoor unit, a metering device problem or restriction.

The temperature difference needs to be measured at the air handler and not a vent, especially if the ducts are in the attic.

2 tons on 800 sq ft should be cycling a lot, so there is a major issue.

400 psi is absolutely through the roof for r22 and probably high for 410a. Other readings are needed to tell what's happening.

One thing you can do yourself is feel the uninsulated copper line at the outdoor unit - it should be warm, not hot. The condenser coil should be thoroughly cleaned.

Also feel the same line at the air handler, it should be about the same temperature there, if it's significantly cooler, this line may be very badly kinked causing a restriction and high head.

That's the limit of what you can check yourself.
08-25-15, 08:05 PM
Wait, if by evaporator you mean outdoor condenser, post a picture of it.

If you're in a coastal area, the salt in the air may be rotting out the coil.

If the fins are literally falling apart, you should spring for a new unit. For 800 sq ft you probably only need 1.5 tons, the current 2 ton may never have provided 2 tons of cooling since such a small space is unlikely to have large enough ducts.

RAKA is rated at 10 seer, new units start at 13 seer so yes you would see some savings with a new unit, possibly very significant if the current unit isn't working properly and can't be economically repaired.

A badly corroded condenser warrants replacement. Most other problems don't.
08-26-15, 10:22 AM
A higher seer rating does not necessarily mean increased savings on your monthly utility bill, if you have real high humidity conditions to deal with 'sometimes' a 10 seer unit will bring down the humidity and then the sensible temperature on the thermostat a lot faster than a 13 seer unit and therefore will end up with less runtime and be as efficient as the 13 seer unit.

This idea that a higher seer unit is going to be more efficient under all conditions is somewhat of a fantasy.

If the condensing unit is in good shape fins and everything, it may be partially plugged with Cottonwood if you have Cottonwood trees nearby it will plug the condenser coil, or there may be other debris in the condenser coil, additionally, the fan motor may not be up to speed in may not be pushing enough CFM through the condenser coil; test the run capacitor, etc. It also appears there may be a restriction in the refrigerant system.

In order to get an idea of what your head pressure should be I have brought-up a Goodman 2 ton R-22, 13-seer, with outside ambient temperature of 95°F indoor temperature 80°F and 67°F wetbulb; that is around 50% relative humidity.

The condenser output air temperature would be around a little over 112° F, the sensible rate would be 72% and the total BTU per hour would be 22,800 total ×.72 is 16,416 sensible BTU per hour.

The indoor temp-split should be around 19°F across the coil.

All you need is a good air-temp probe thermometer (digital reading in tenths preferable) an HVAC Supply might sell you one; or use your mercury TH & estimate the tenths; if you don't have a humidity gauge, you need to get one ASAP; a low cost 'INDOOR Humidity Monitor' - ACU-RITE Digital only $8.94 at Wall-Mart or over the Internet; it shows you if %RH is OK; plus records high & low Humidity & Temps during a 24 hour period.
Check to see if it registers the temperature correctly; if not, take it back for a full refund.

It is time for you to run an easy, totally safe, A/C Performance test of your own. No Kids; do not lay anything on top of the outdoor condenser, & hang onto the thermometer so it doesn't drop into the fan!

If we find problems, you will need to contact & 'qualify' a good HVAC Contractor to fix those performance problems.

1) Outdoor condenser's discharge-air-temperature ___°F
Subtract Outdoor air temperature: __°F

Outdoor Condenser Air-Temp-Split ___°F

2) Need the 'Indoor' percent of relative humidity - in the middle of the rooms or, at Return-Air inlet grilles ___%RH

3) Indoor Return Air Temperature __°F Indoor Supply-Air Temperature __°F
Subtract Indoor Supply-Air Temp from Return Air Temp __°F
Indoor temperature-split = __°F

We ought to have superheat & sub-cooling temps.
If you know; TXV or piston metering device?

"Reply with Quote" Or, Copy & paste in your Reply; Fill the #numbers in where the blanks are."
Easy Safe testing of your A/C or heat pump cooling performance for all forum visitors to use.
08-26-15, 11:09 AM
Going from 10 to 13-15 seer should save a significant amount of energy most of the time.

Beyond that, maybe not much.

Higher seer isn't a fix for poor performance though, any unit properly installed and set up on good ductwork will perform well and cooling properly. Lots of 8-10 seer units still in use - there's nothing fundamentally wrong with them.
08-26-15, 09:29 PM
Join Date: Oct 2005
Location: Florida
Posts: 1,527
Here are a few pictures. First a pic of the entire unit.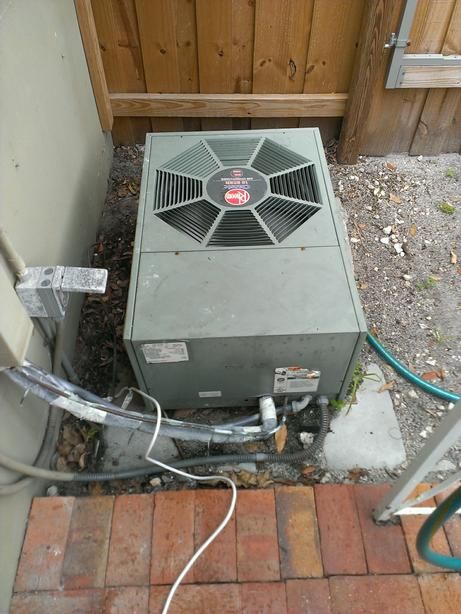 With the cover removed, the capacitor.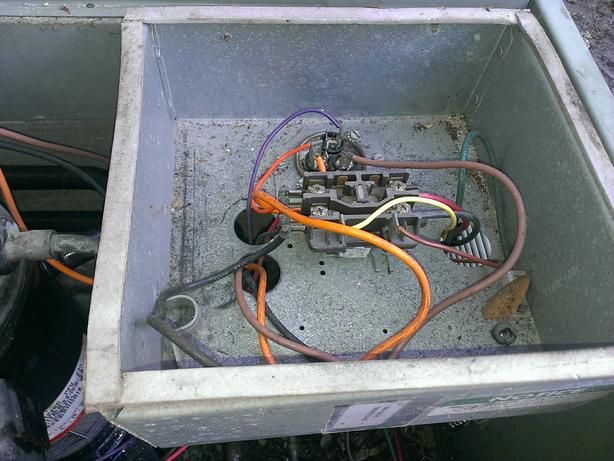 The coil up close.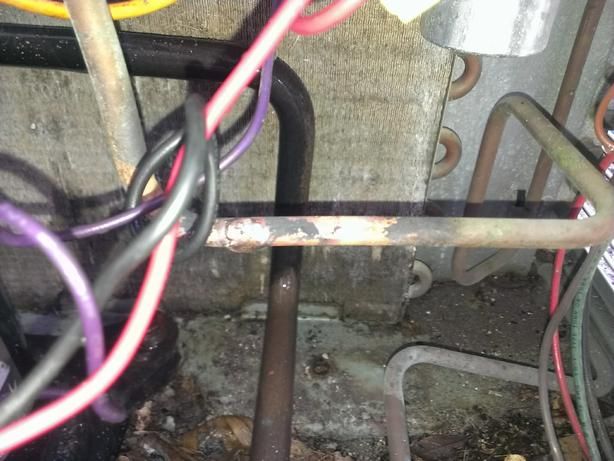 I can move my finger across the filament of the coil and it will crumble and flake off.
08-27-15, 05:27 AM
Try to get the information the HVAC Retired asked in his questions 1),2), and 3). Post them here, we should be able to tell you if you should just fix the problem or replace the unit. The condenser looks OK still, it is old, but not too bad. can not see the coil from these photos, are they clean ?
08-27-15, 06:22 AM
Join Date: Oct 2009
Location: Texas
Posts: 6,422
The condenser coil looks bad to me. A closer shot of the fins of the coil would help.

Do you get aluminum flaking off of the outdoor coil when you rinse it? (With the service disconnect off)

Do you see any sections of the outdoor coil that the fins have fallen off of?