UV lamps
11-22-15, 06:32 AM
UV lamps
---
Hi All , has anyone had experience with these UV lamps?where are they mounted and do they work?
Geo
11-22-15, 10:36 AM
UV lamps work great for preventing the growth of mold in the supply air plenum after the cooling coil. This is the location that this growth starts.
The picture on the left and the picture on the right are the same unit. No cleaning was done.
The right picture was about a year after installing the lamp.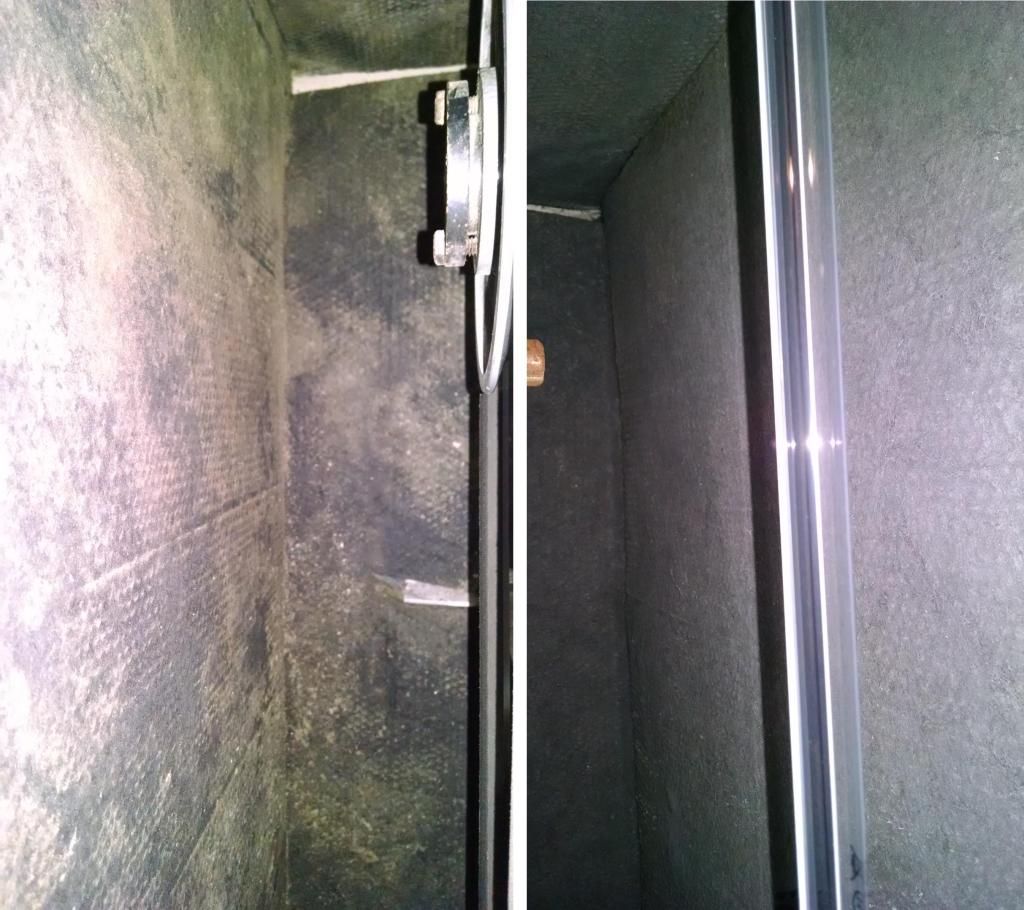 11-22-15, 02:01 PM
I have been reading good and bad things,some say they deteriorate the drain pans and other plastic stuff also flex duct,another said they produce an Ozone smell.
Is it best power than 24/7 or only when the fan is energized?
Geo
11-22-15, 04:43 PM
Be sure to keep the insulation at least 1 inch away from the light.
If your plenum is very nasty it will probably smell for a while.

An Ozone smell is still better than mold to me, so I have one on my house.

It is not recommended to cycle the light several times an hour.
Wire it continuously hot.

Honeywell had a model that would cycle the light 2 hours on then 2 hours off.
Honeywell also has the best prices for replacement bulbs.

My company sells Carrier UV lamps. The replacement bulb comes with a new ballast.
11-22-15, 05:10 PM
Join Date: Oct 2012
Location: Jersey
Posts: 62,047
I can't see how UV lamps cause ozone. Possibly you're thinking about an electronic air cleaner ?
Those produce ozone.
11-23-15, 05:10 AM
Hi PJ, it wasn't an air cleaner but it had to do with the wave length of the light, I'll see if I can find the article.
11-24-15, 11:32 AM
Ozone is a pollutant and should be avoided, especially inside of an HVAC system. If you have mold you will want to get it cleaned up as dead mold is an allergen. UV will not kill any mold in the air stream so don't fall for that sales pitch. The UV will kill mold, viruses etc that land with in 14 inches are so of the light. anything much over that and it will be useless.
11-25-15, 10:10 AM
If you decide to get a UV lamp researching the cost of replacement bulbs would be a good idea.

Organic growth starts in the supply air plenum in most cases. It is not unusual to see duct board trunklines bright yellow inside but the plenum much worse.

I think most homes would benefit from UV lamps.