A/C making water gurgling/blowing sound
12-23-15, 09:03 PM
Join Date: Aug 2013
Location: USA
Posts: 31
Upvotes: 0
Received 0 Upvotes on 0 Posts
A/C making water gurgling/blowing sound
---
Hello!

I was wondering if someone can help me with some weird sounds my AC is making. The unit has been making this sound for a few weeks now and I have tried to troubleshoot it on my own but running out of ideas. The sound the AC is making is kinda like a gurgling sound of water or best way I can describe it when a kid uses a straw to blow and make bubbles in a drink. I want to note it takes a minute or two after the AC kicks on for the sound to start. Also I want to note the sound stops right away when the AC turns off.


From the information I have found on the net it looks like it could be 1 of 2 things. First, the unit could be plummed or piped in wrong which is causing a backup making the sound. I am ruling this out for right now as I have lived here for several years and now is when I am noticing the sound.

Second, is that the drain pipe has gotten clogged and is causing a backup (forgive me if I am using less than technical terms here), my only issue is I have No clue on how to clear the clog if there is one myself. I am attaching photos of my AC unit and then also there is a very small access vent directly underneath it. No water leakage underneath it and everything is bare dry.

Anyone have any ideas?
I am leaning more towards this direction.
12-23-15, 09:07 PM
Join Date: Oct 2012
Location: Jersey
Posts: 62,091
The noise is definitely drain related. Check the air filter. If it gets plugged the system will operate in a vacuum and not allow the drain to drain correctly until the blower shuts off.

Your first picture shows pipes. Not terribly helpful. A picture from further back so we can see how they are connected to the unit would be more beneficial.
12-24-15, 11:14 AM
It looks like your drain needs to be trapped.
I would show up with two 3/4 " couplings, a 3/4" P-trap, a 3/4" pvc union, a short piece of schedule 40 PVC, some PVC glue and a pvc tubing cutter.
I would install a trap on that drain under the air handler.
Looks like it would take 5 minutes and $20.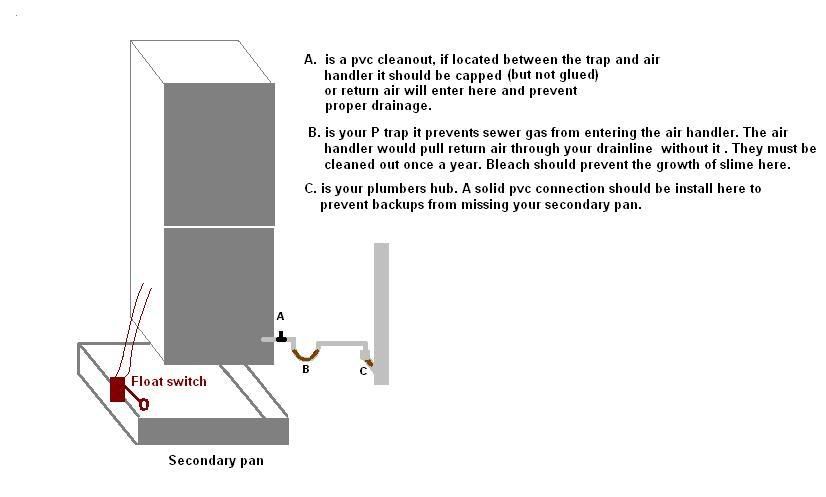 12-28-15, 07:19 PM
Join Date: Aug 2013
Location: USA
Posts: 31
Upvotes: 0
Received 0 Upvotes on 0 Posts
Thanks for the replies! Sorry for taking so long to get back to you, the holidays took a bit out of me.

I think it turned out to be a filter/vacuum issue. I went and got a new filter and when I turned off the A/C to go switch it out the motor had just been running and the filter was being "sucked" towards it and almost touching the intake value. Not to mention the frame almost fell apart on me when I pulled it out. Cheap grocery store filter. grrrr... Anyways, the sound went away with a new filter.

Should I still be worried and try to change the drain or should i be in the clear now that changing the filter? BTW the filter was only in for about 40 days so I am thinking I just got a piece of you know what filter.
12-28-15, 09:04 PM
http://www.firstco.com/documents/documents/raq405.pdf
If the evaporator coil is before the blower in the air stream the drain should be trapped. (but not double trapped)
Do you get sewer gas smells in the house? Adding a trap should prevent this from occurring at the air handler.
http://www.firstco.com/getattachment...-Inst-3-11.pdf
http://www.firstco.com/Products/Obsolete-Products
10-08-16, 11:18 PM
Join Date: Aug 2013
Location: USA
Posts: 31
Upvotes: 0
Received 0 Upvotes on 0 Posts
Time to bring back an old thread.... So my A/c was making the same sound again. I had a friend from work take a look and he said that there is nothing to be concerned about ( he used to be an HVAC specialist) anyways I was changing the filter today and I noticed the "grill" or the metal section that pulls air into the unit right behind the filter was wet. Not soaking wet but damp as if I ran my fingers across it I could get a drop of water from it. Is this normal or does that mean the watery sound I am hearing is actually something leaking? Btw I hope grill is the correct term. Literally I'm taking about the part of the unit that has the guides for you to slide the filter into.
10-09-16, 05:51 AM
Your friend disagrees with the manual?
Did he see a trap or does he not understand the function of a trap?
A trap is required for proper drainage.

Again, a trap is required for proper drainage.

I recommend adding a trap.