Fan motor works with heat, but not A/C
04-21-16, 06:13 AM
Fan motor works with heat, but not A/C
---
Heres the story,
Have a very old gas furance, and a central air system. Both share the same fan motor. Had a multi-speed motor (2 speed i believe) that had failed over the winter. HVAC tech then replaced motor with a single speed motor, since it was about 20 degrees in January at the time, and it was the only replacement motor he could find quickly to replace.
Heat worked fine again, so i didnt thnk anything of it. Fast forward to the last few weeks, had a couple warm days so decdided to turn on the A/C for a bit. Found that central air unit is turning on and operating fine, but fan motor will not turn on. Upon further investigation I found that there is a red wire that has been left disconnected from the motor. I thought this was odd. There are black, green, and yellow wires connected to motor, but red is not connected to anything.
I called back HVAC tech, who came to take another look. He said wiring is fine, and that he basically couldnt fix it, and that i need a new furance since the existing one is so old and replacement parts are no longer available. I was not very happy with this explanation, as the A/C was working perfectly fine before they replaced my fan motor.
So before I end up having to replace my entire furnace, is there any chance that the wiring is wrong, and this might be causing the motor to not run during A/C mode? Should that disconnected red wire be connected to the motor? Does the system need another 2-speed motor (like the original was) to be able to run for both heat and A/C?
I will post pictures of the wires going to the motor, as well as the wiring diagram printed on the motor in a few minutes. Thank you very much for the help.
Here are the wires going to the motor, note the disconnected red wire: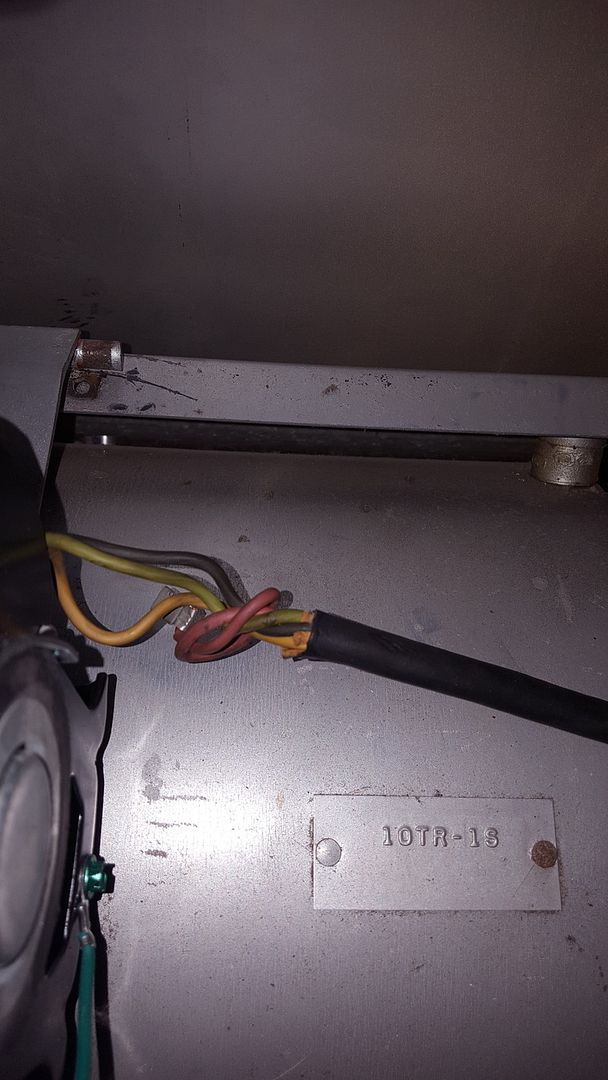 Wiring diagram on motor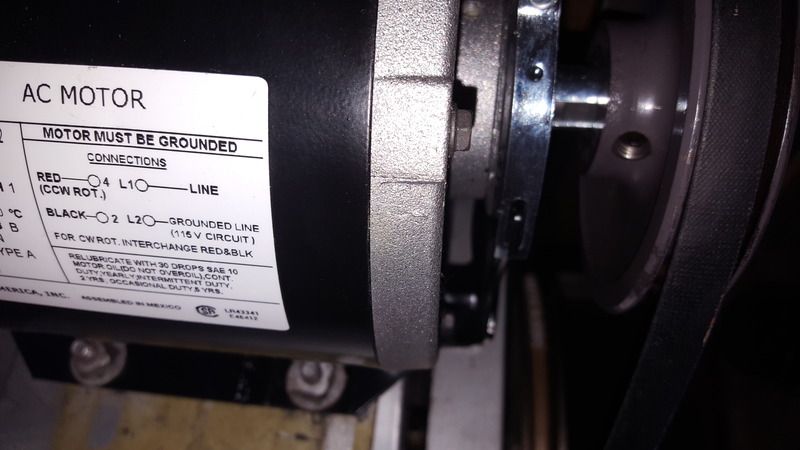 ---
Last edited by NJshoreguy; 04-21-16 at

06:32 AM

.
04-21-16, 10:54 AM
I'm not an expert on these kinds of things, but my understanding is that typically, heating and cooling use different blower speeds (hence the original two speed motor). Since it was replaced with a single speed motor, I'm guessing that the motor connection for the cooling mode isn't connected to anything (no additional winding to connect it to). I suspect that if you replace the motor with the proper two speed motor, everything will work normally (assuming it's wired correctly).
04-21-16, 05:22 PM
Join Date: Oct 2012
Location: Jersey
Posts: 70,055
Bob pretty much explained the issue.

A two speed motor would be unusual. A three or four speed motor would be more common.

Normally in A/C mode the fan runs at high speed and in heat runs at a slower speed.

You have four wires there.
Red - high speed - A/C
Black - lower speed - heat
White - neutral
Green - ground.

If you follow that cable to the other end where it connects to the board..... you can remove the red wire and move the black wire to where the red wire WAS connected. The blower will run with the A/C now and not the heat. It may not run fast enough to keep the evaporator coil from freezing up .
04-22-16, 05:41 PM
Join Date: Oct 2012
Location: Jersey
Posts: 70,055
it was the only replacement motor he could find quickly to replace.
He said wiring is fine, and that he basically couldn't fix it
Sure.... the wiring is fine for a single speed motor. Basically he didn't want to admit he shouldn't have installed a single speed motor.
You can make the wiring changes I suggested if you want a basic bandaid or you'll need to purchase a multispeed motor.
04-22-16, 07:32 PM
Join Date: Oct 2009
Location: Texas
Posts: 7,536
That looks like a Capacitor Start induction Run motor. (CsiR)
They often run 1725 RPM. Low speed is less than that when it is present.

It should not be difficult to run that single speed with a heat or cooling demand.
I service hundreds of similar air handlers every year that actually come with no controls at all. We install a fan center if the motor is less than 1/2 HP or a contactor if it is over that.

Any tech should be able to easily wire your system to run that motor with a heating or cooling demand.