A/C Fan Not Turning On
06-25-16, 03:09 PM
A/C Fan Not Turning On
---
When turning on my A/C, the furnace activates and the vent extract warm air, but the fan does not turn on at all. After looking at some videos, I've pulled out the fuses (pic shown; is it possible that they are blown?), but there's no indication of a blown fuse.
Some of the online videos referenced the compressor and capacitor; however, most videos only appear to show the capacitor and I'm unclear if they are two different things or the same with different terminology.
I attempted to kick start the fan, which seems to rotate freely without any issues.
Should I attempt to replace the fuses, capacitor or both?
Thanks.
06-25-16, 03:18 PM
Are you referring to the fan on the outside unit not turning on? If so, is the compressor not working either (outside unit "dead")? With cartridge fuses as you show in your picture, there is no way to tell if they are blown or not without a multimeter. With a multimeter, set it on the lowest ohms scale and put the test leads across the fuse (one probe at each end). If you get a low reading (<1 ohm), the fuse is good. Alternatively, if you don't have a multimeter, you would have to replace both fuses with known good ones.

If you determine the outside unit is getting power but still not running, report back and we can continue with the troubleshooting.
06-25-16, 05:29 PM
Join Date: Oct 2009
Location: Texas
Posts: 7,425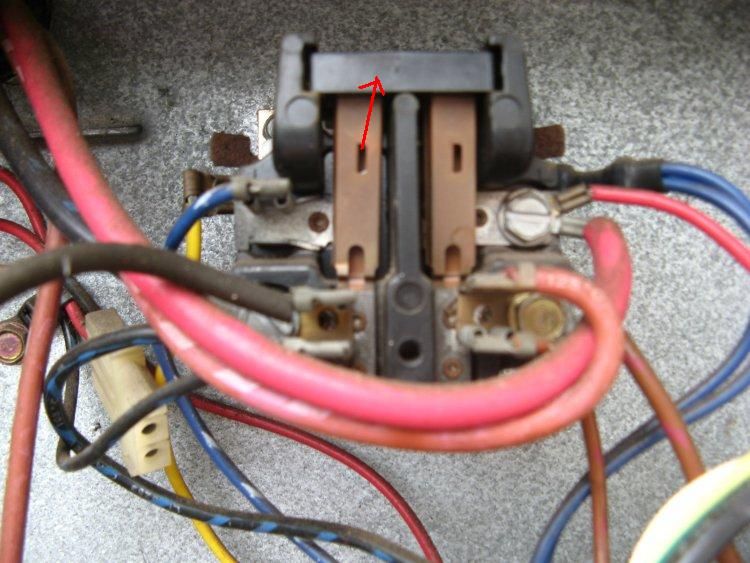 Does anything run if you put the service disconnect back in and manually depress the contactor with a plastic pen (I use a sharpie marker)?
A compressor is the large pot looking motor in the unit. It probably weighs over 50 pounds. A capacitor weighs less than a pounds and it is in the control panel.