CTK04 Thermostat Outdoor Temperature Wrong
12-18-16, 08:49 AM
CTK04 Thermostat Outdoor Temperature Wrong
---
First, I have 3 of these and an EWC UT-3000 zone board. The zone board and my other stats are both reading 33 degrees. However, ONE of the thermostats says its 62 degrees outside. Is there a way to 'power off' that thermostat so it can reconnect or something? It was working just fine not long ago so Im guessing its a glitch or something.
Sponsored Links
12-18-16, 09:31 AM
That looks like they took a Honeywell thermostat and reconfigured it for their communicating system.
Are you using a wireless outdoor sensor that also displays the outdoor humidity?
http://www.supplyhouse.com/Honeywell...FUQvgQodjjwIlQ
When was the last time that you replaced the batteries if this is the case?
I wonder how much this stat still shares with the Honeywell Prestige thermostat...
With a Honeywell you would go into the menu and select Dealer Information to get the date code.
Back out and select Installer Options.
Enter the date code then select Wireless Device Manager.
Select Remove Device.
Select Outdoor sensor.
After that you can select Add Device to add a wireless sensor.
The Wireless sensor has a Connect button for Pairing.
With the Honeywell model you can connect a single outdoor sensor to 7 thermostats.
It is usually the humidity reading that fails with the wireless outdoor sensors.
12-18-16, 02:22 PM
I do have a wireless, but its only connected to one thermostat for fun. All should display the hardwired OAS inside the outside unit. But that one stat seems to be misreading it for some reason when the others are OK. I have removed the wireless from all stats just for troubleshooting.

Im just trying to figure out why one is misreading the hardwired t-stat when the others are doing fine with it.
12-22-16, 11:05 PM
It is a measure of resistance at a given temperature.
Poor wire connections could alter the resistance but it is likely just a bad outdoor sensor.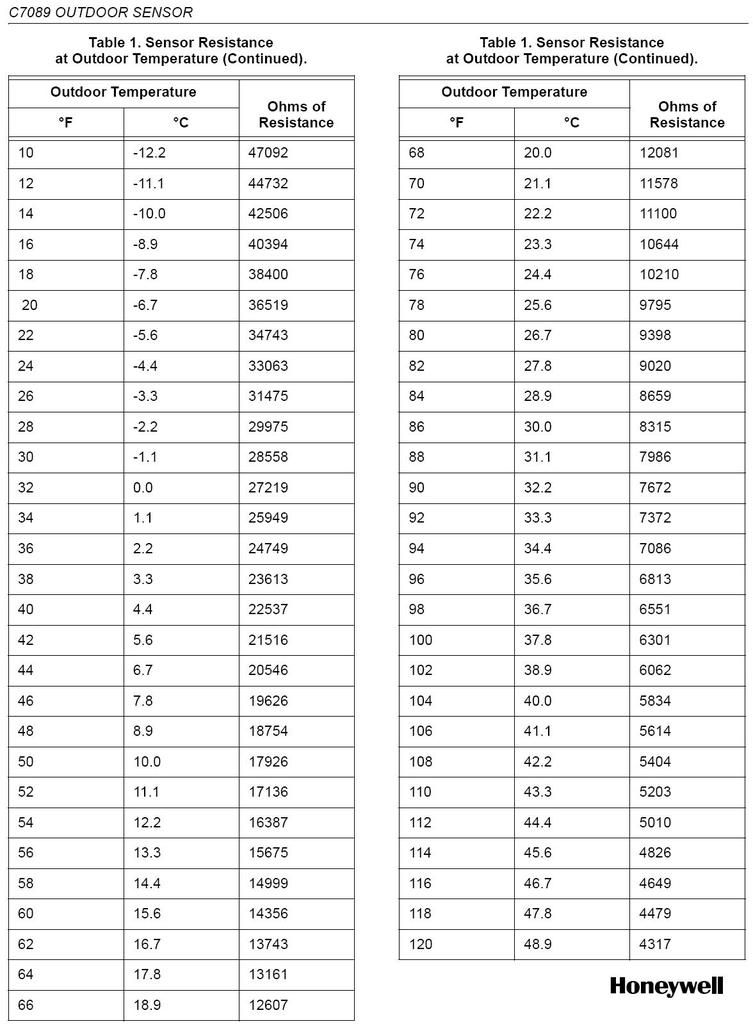 http://www.bayareaservice.com/wp-con...stallation.pdf
Posting Rules
You may not post new threads
You may not post replies
You may not post attachments
You may not edit your posts
---
HTML code is Off
---