Frigidaire AC (5 yrs. old) not keeping cold air
06-03-17, 05:40 PM
Frigidaire AC (5 yrs. old) not keeping cold air
---
Because I live in a tiny, top floor, under-the-roof apartment having windows that face due west (so hot sun hits my apartment from 12 Noon 'til sunset, and there's no outside shade at all for my unit in which the Summer apartment temp can easily soar to 106-110° F with no AC), I bought in June 2012 a Frigidaire room AC, model FRA106HT1 which is a through-the-wall type unit that fits in a special metal sleeve. I leave it running all the time even in Winter since my building is so hot and I like it colder than 60° F at night for sleep. [But sadly, my AC doesn't go below 60° F.] It's now getting quite hot in the upper tier northern state in which I live. Just the other day I noticed that the machine isn't putting out cold air-- the air is just the same warmer temp as the air when the machine's in fan mode. I read the owner's manual troubleshooting page and read that one has to switch to fan mode for at least 3 minutes and then go back to cooling mode. I've done that and it helps but the machine soon goes back to the warmer temp of air as if I had switched the machine to fan mode.

Is this symptom a sign that something's going very wrong and may soon fail in the machine? Or could this just be an indication that I have to turn off the machine to let it rest for long periods of time? Or is it something else such as some problem with the gas/liquid that makes the machine an AC?

I suppose repairmen make house calls but that surely must cost more than transporting the machine to a repair shop. Yes?
06-03-17, 08:11 PM
Join Date: Oct 2009
Location: Texas
Posts: 6,419
A small appliance repair shop is probably less expensive than a service company house call.
I would at least visually inspect the run capacitor when sliding that unit out of the wall. It should not appear even slightly swollen on the terminal end.
The cap on the right measured 0 microfarad.
They usually swell up worse than that.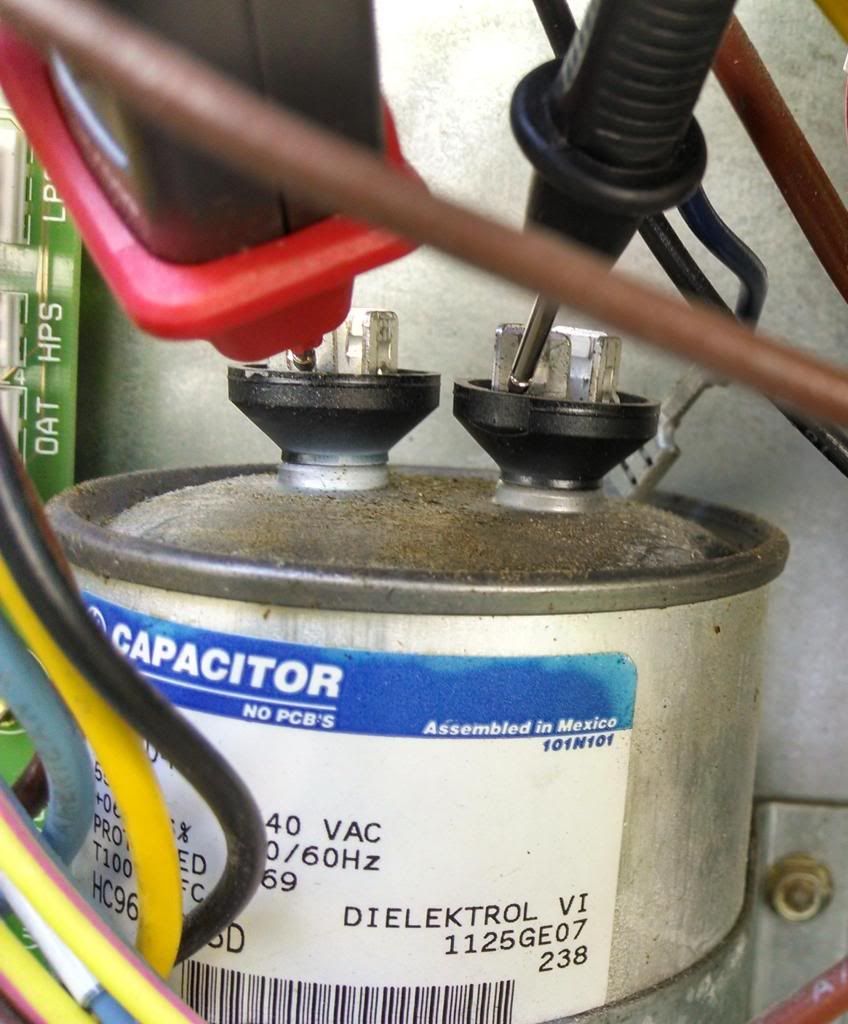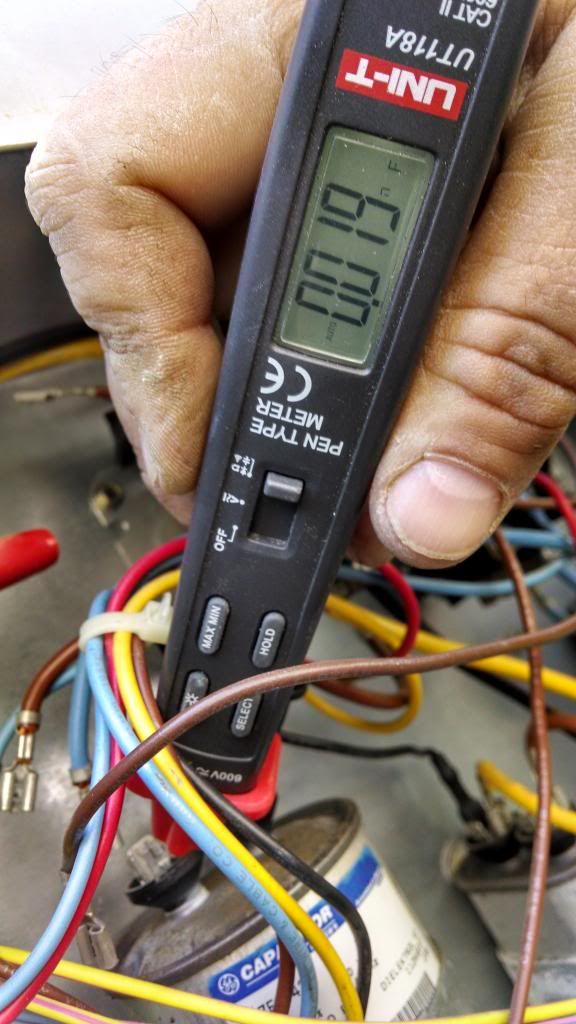 It is more likely weak than totally dead.
I would measure it but replacement caps are $20 and this meter is $35.
06-04-17, 02:17 AM
Just to add, running it continuously for 5 years is far more than than it was designed for. Probably the equivalent of 15-20 yrs of normal usage, esp if you always have it on the lowest setting. Likely it is just plain worn out and due for replacement. Any shop is probably going to charge a min of 1 hr labor just to tell you it's not worth fixing if it's anything more serious than the capacitor or thermistor. You could get a brand new one on Amazon for $579 w/ free shipping. Other places list them cheaper, but when you go to their site, they are out of stock or discontinued.
06-04-17, 12:58 PM
Thanks Houston204 for your help.

While I do like to take things apart and try to fix things, I've really no experience with electrical systems and I know that capacitors can be dangerous because of the high charge kept in them. Right? I have a multimeter but have only used it for the very simple task of checking the charge in small batteries. The problem for me is the plastic grill covering the entire front (room side) of the machine. In the past, I asked here or in some other forum how to remove that grill because there's so much build-up of black mildew on and under the plastic grill-- I was only able to remove some of the mildew on the outer most plastic grill- the plastic directional louvers are under the plastic grill and I can't reach those. Anyway, someone here or elsewhere led me to a webpage for a similar machine. Two screws are removed when the grill-side air filter is removed (super easy to do) but, after removing the 2 screws, the plastic grill is still tightly attached somehow to the outer metal body of the machine. It seems a putty knife has to be inserted at - I think - the top of the grill to pry it off. I've not done that because it looks like doing that will cause the plastic grill to break. [That plastic grill is also rather tightly wrapped around the front control panel which I suppose would remain attached if the grill were to be removed, but I'm not 100% sure about this.]

Is that can-like capacitor usually hidden inside the machine? Peering into the back side of the machine (by going onto my balcony), I see on the right side only part of a curved dark shaped object. Maybe that's the capacitor?

Can you give me any info on removing the plastic grill?


Another thing I've noticed in the last days: In the evening, even after turning the machine to 60° F, it takes a VERY LONG TIME for the temp to drop in my bedroom before I go to sleep. [In my apartment building, all the windows are those tall left-right sliding kind so the AC can't go in a window. The bedroom's the only room where the special through-the-wall AC can go due to the presence of that special metal sleeve for this through-the-wall unit.] When I get up, I check thermometers I have by my bed: they show the bedroom temp to be 62° F instead of the 60° F that the room temp used to be 'til recently. I suppose this is another bad sign.
06-04-17, 01:18 PM
Gunguy45, thanks for your help.

While I bought in June 2012 this costly machine (through-the-wall machines cost more than standard window ACs), I only used the machine from May 'til ~ Sept.-Oct. for the first 4 years. Due to a super-annoying smoker who moved in below me and who only lives to smoke and who smokes alone or with his fellow hardcore, constantly smoking buddies under my balcony which has slots in the wood floor for rain and snowmelt and for offensive, poisoning, rising cigarette smoke, I could no longer keep my windows open and had to rely on my AC for needed cooling. [Before he moved in, I had both my bedroom window and sliding glass door (to balcony) partly open for cool/cold air in the cooler/colder months-- I had fans by both to pull in that air into this super-hot building and apartment.] Therefore the machine has only been on most BUT NOT ALL of the time since this past Winter.

Yes, I did get my machine at Amazon. It was quite hard finding the right size for the dimensions of the special through-the-wall metal AC sleeve. I'd like to move but don't know when that will happen. Due to older age and due to chronic medical problems, I could die in my apartment without AC.
06-04-17, 03:02 PM
Join Date: Oct 2012
Location: Jersey
Posts: 62,040
You look to be missing a letter or number at end of your posted model number.

You're pretty lucky that A/C will get you to 60° as that's pretty low for a window A/C.... especially one not installed in its intended wall sleeve. I've found replacing wall mounted window A/C's with one that "fits ok" doesn't mean the air slots are in the proper location for the best operation. These units usually run hotter then they were intended to.

That tends to shorten their intended life.

Can you hear or tell when the compressor is running ?
It could be a cap problem if the compressor doesn't start in 3 minutes on a turn on. The cap is going to be in a metal box usually just behind the control area.

Here are the basic instructions for removing the front grill assembly :
1. Disconnect the power supply from unit.
2. Grab filter handle at top center of the front grille. Pull out, then upwards to remove filter.
3. Extract the two screws securing the front panel to the unit. Screws are visible with the filter removed.
4. Using a putty knife, carefully pry out the side and top retaining clips (4) from the slots cut in the cabinet wrapper.
5. Pull front panel from front of unit. Just remember to be careful with the grill, they can break easily.
---
Last edited by PJmax; 06-04-17 at

03:31 PM

.
06-04-17, 03:39 PM
Pete, I think you missed something. It is installed in a sleeve as the windows are sliders and not suitable. And the model number came up many places, although it appears to have been discontinued/not carried in many as well.


It could be that a through coil cleaning would be a big help.
06-04-17, 04:16 PM
Join Date: Oct 2012
Location: Jersey
Posts: 62,040
I know it's in a sleeve.... but not the one it came with.

The generic model number is posted but in order to look up exact part details... I need the full model number.
06-04-17, 08:54 PM
Oh, I gotcha...........................................