GE condenser fan motor
06-04-17, 07:36 PM
Join Date: Jan 2010
Location: bedford,ohio
Posts: 26
Received 0 Votes on 0 Posts
GE condenser fan motor
---
My son called me today. He is looking for a replacement fan motor for his condenser.
Model number HE3E195n
230 volt 1100rpm 1/5 hp

Model number does not come up on an internet search.
Anyone know of a universal motor he can install on his unit?
Thanks,
David
Sponsored Links
06-04-17, 07:42 PM
Join Date: Oct 2012
Location: Northern NJ - USA
Posts: 59,141
Motor model numbers mean almost nothing. The majors buy skid loads of motors with their private model number on it.

What is the complete model number of the condensor ?
06-04-17, 08:17 PM
Join Date: Oct 2009
Location: Texas
Posts: 7,426
I haven't seen a GE condenser in a long time. Is his condenser from the 70's or the early 80's?
Seems like I remember some of those units having a 2 speed condenser fan motor.
I used to omit the 2 speed control relay on those things and install a single speed motor. You wouldn't want to spend too much money on a 35 year old condenser.
You will probably need to measure the motor diameter or read the Frame size on the motor nomenclature if it is still legible.
I liked the electrical section on the 3 to 5 ton sizes.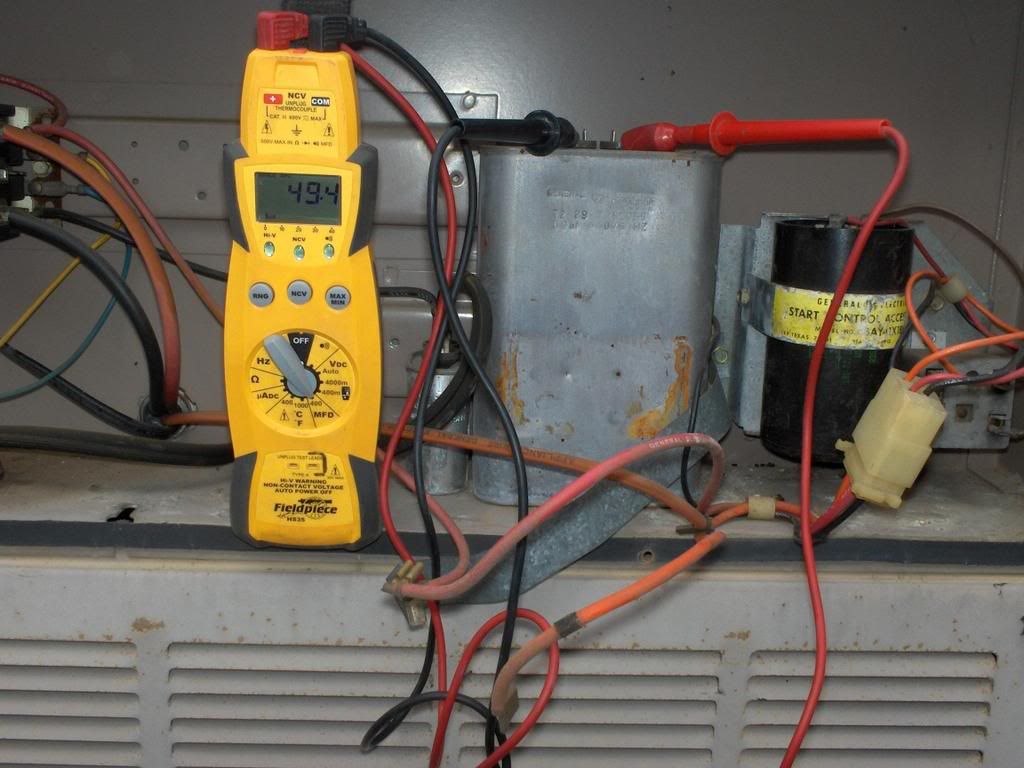 Probably time to consider a new system.
06-05-17, 05:51 AM
Join Date: Jan 2010
Location: bedford,ohio
Posts: 26
Received 0 Votes on 0 Posts
Son's unit...
Rheem
Motor number HE3E195N
230 Volt
1/5 hp
1100 rpm
5 5/8" motor case diameter
Single flat on shaft?

My unit...
Rheem
Motor: AO Smith F48SF6L5
230 volt
1/4 hp
1075 rpm
5 5/8" motor case diameter
Double flat on shaft?

Specs on my motor are from the internet.
I only see one flat on his motor shaft.
Can't see the shaft on my motor.

Do you think my motor would work on his unit?
What's this double flat on my shaft?
Thanks
David


p.s. Suggestions on removing fan blade from his motor?
Soaking with Blaster right now.
06-05-17, 10:58 AM
Your motor might have 2 set screws. Its always best to use a exact match on motor. That said I would use that motor. When I have a stubborn fan blades I heat up the set screw area with a torch. Works for me every time.

Google Condenser rescue motor.
---
Last edited by skaggsje; 06-05-17 at

11:03 AM

. Reason: added
06-06-17, 05:07 PM
Join Date: Oct 2012
Location: Northern NJ - USA
Posts: 59,141
Thanks for letting us know how you made out.
Posting Rules
You may not post new threads
You may not post replies
You may not post attachments
You may not edit your posts
---
HTML code is Off
---