Forced hot air furnace tonnage?
07-19-17, 07:54 PM
Forced hot air furnace tonnage?
---
I am converting from oil to natural gas and have subsidized equipment available to me from the gas company. I was looking over the available options out of curiosity and something caught my eye.
If you scroll down the link below, the 80,000 btu furnace comes in either 3 or 4 tonnage.
https://www.americanstandardair.com/...v-furnace.html
Could someone explain why the the same BTU furnace would have different "tonnage"? Does the furnace already include the AC coil?
07-19-17, 08:37 PM
Join Date: Oct 2009
Location: Texas
Posts: 6,480
Most homes have a different load in the heat and cool modes.
Down south you might need a 4 ton unit to cool your home but only 3 tons might be required for heating.
A four ton cooling unit would require 1600 CFM of airflow and a 3 ton would require 1200 CFM.
Most furnaces give you the option to adjust airflow using different speed taps, dip switches or fan wires.
That AUH model will probably configure much like this AUD...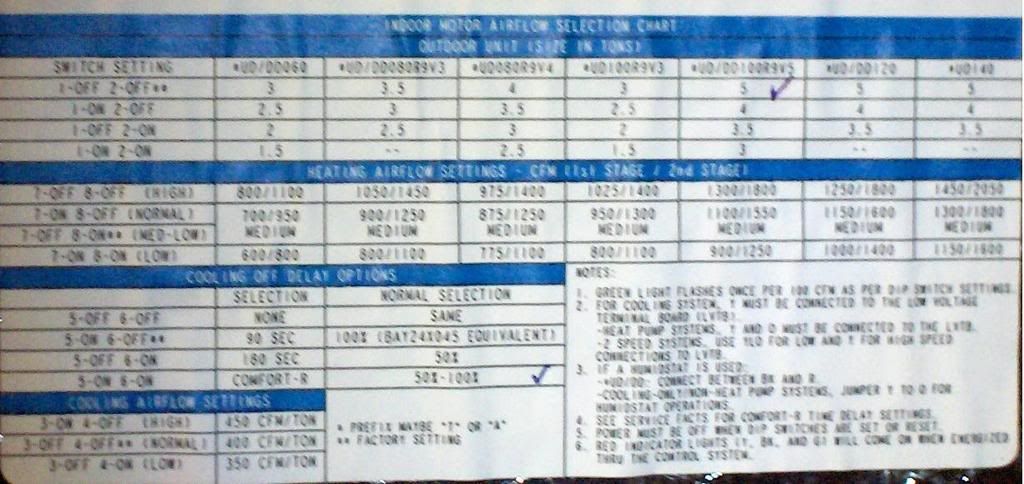 07-19-17, 09:03 PM
Different climates, different houses, different needs.

A house in the northeast which needs an 80 000 btu furnace may need only a 2.5 or 3 ton a/c.

Yet you could have a house in the south which only needs 40 000 btu need 3 to 4 tons of a/c.

if anything there aren't enough small furnaces with larger blowers.

if you get a 4 ton drive and have a 2.5-3 ton a/c, it can be slowed down. or if the ducts are undersized, a bigger blower can compensate.

if you're short on airflow with the fan speed on high, nothing you can do.