AC Fan And Blower Run But No Cold Air?
05-15-18, 04:59 PM
Join Date: Nov 2014
Posts: 7
AC Fan And Blower Run But No Cold Air?
---
When I turn on the house AC, the blower inside runs and the fan on the unit outside spins. However no cold air comes out.
It looks like the capacitor and contactor are working, when I press the contactor button the unit comes on and off.
Here is what's on my AC unit outside:
https://imgur.com/a/pEr6k88
What would be the next thing to test?
Also what are the two black things in the image? (The black box on the upper right and the black cylinder)
Sponsored Links
05-15-18, 05:03 PM
Join Date: Oct 2016
Posts: 863
Is the compressor running?
It's not good or safe to manually push in the contactor.
05-15-18, 05:15 PM
Join Date: Nov 2014
Posts: 7
How can I tell if the compressor is running? (I will not monkey with the contactor button any further...)

Edit:

Is it possible for the silver capacitor to fail in such a way that the fan will spin but the compressor will not work? I have not tested the capacitor yet because I need to buy a multimeter that can test capacitance.
05-15-18, 05:23 PM
Join Date: Oct 2016
Posts: 863
Suction line getting cold? Liquid line warm? Compressor wiring pulling any amps? You should be able to hear it run as well.
05-15-18, 05:33 PM
Join Date: Nov 2014
Posts: 7
The lines do not get hot or cold.

I can't really hear anything other than the fan.

It sounds like I need to get a clamp style ammeter and test the compressor wires for a load? Which wires in the image go to the compressor?
05-15-18, 05:57 PM
Join Date: Oct 2016
Posts: 863
Does the capacitor measure to its rating? Is the compressor getting voltage?
05-15-18, 06:15 PM
Join Date: Nov 2014
Posts: 7
I've got a new capacitor coming in the mail and hopefully that will fix it. Thanks for your help!
05-15-18, 06:23 PM
Join Date: Oct 2016
Posts: 863
It's not a good idea to blindly throw parts at the problem.
Diagnose, then order exactly what's needed.
Test the old capacitor with your meter. And see if it measures to the original rating.
05-15-18, 07:42 PM
That capacitor looks bad to me.
The wires connected to it are not coming out at the same angle. It looks like this is caused by a bulging cap.

I recently picked up a great little 6000 count clamp meter on Amazon for $32 that can measure capacitance, volts, amps AC and DC, Ohms, temperature, and flame sensors.

A new dual cap is probably around $17 and I would give it a 90% chance of being the correct diagnosis.
05-16-18, 01:12 AM
Roughneck...I imagine once he saw the price of a meter that can actually measure a cap, he decided might as well just spend $15 or 20 instead and KNOW what's there is good? I've got a nice Fluke, but no cap function. I'd probably do the same thing for a one time deal...in fact, I have. At the time (pre-Ebay and Amazon) a meter would have run me well over $100. Even now...would I want to wait a week or more for a meter when I could have a cap in hand in a few hours? Or wait a week for a meter, then wait another week after that for a part?

Not best practice, I know....but often the way it happens. Hmmm, I still have some Amazon bucks left from Xmas...maybe time for a new meter for ME.
05-16-18, 05:00 AM
Join Date: Oct 2016
Posts: 863
Meters that measure capacitance are widely available at most big box and hardware stores.
I'm not sure how anyone would have to wait a week to get one.
Many DIYers reach their failure point when parts start getting thrown at the problem but the problem remains. Then they have $$$ tied up in a unit that is still broken.
Even if it's a cheap capacitor, diagnose first. Then you buy only the parts that are truly needed
05-16-18, 04:36 PM
Seems like any time that I see even a little swelling on the terminal end of a cap I measure 0 microfarad.
While this one is very obvious...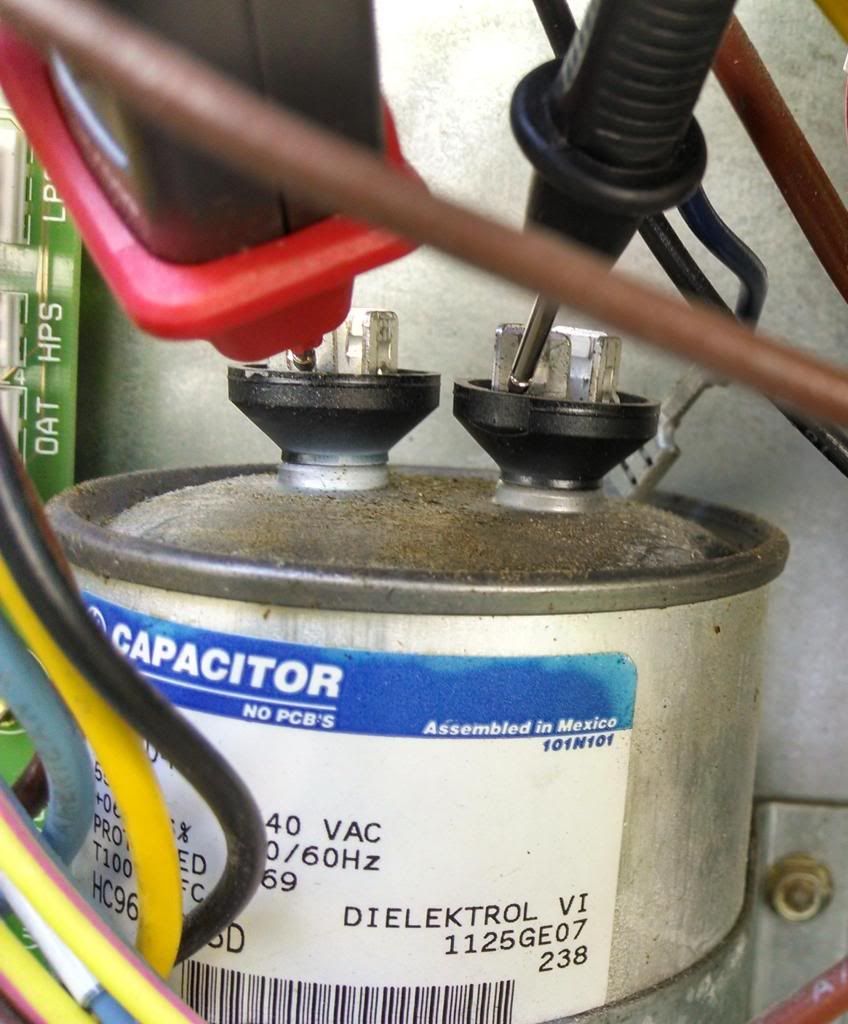 I already figured what I would read with the cap on the right because the terminals are pointing away from each other..
When I look at the OP's picture it looks worse...
---
Last edited by Houston204; 05-16-18 at

07:20 PM

.
Posting Rules
You may not post new threads
You may not post replies
You may not post attachments
You may not edit your posts
---
HTML code is Off
---