A/C condenser fan turns when cycling breaker off and on
05-30-18, 03:50 PM
A/C condenser fan turns when cycling breaker off and on
---
Like many here, my central air unit's fan sometimes stops turning. It stopped Sunday for the first time. The compressor worked but without the fan the air pushed into the house was warm.

I turned off the power at the breaker panel. I tried turning the fan with a stick. It turned easily. I turned power back on and it ran fine. Worked well for a couple days.

Today, Wednesday, it stopped again. I tried turning the fan with a stick without turning off the breaker. The fan turned easily but it didn't start spinning on its own.

I turned off the breaker for a few minutes then turned it back on. The fan began spinning on its own. It's been working fine for 8 hours and counting.

Thoughts?

Thanks
Dave
05-30-18, 03:56 PM
Join Date: Oct 2012
Location: Jersey
Posts: 62,047
Welcome to the forums.

You said "like many others here". Did you read any of them ?
A common problem is the capacitor.
You can measure it or change it. They aren't very expensive.... at $15-20.

If the problem persists after the cap change..... it may be time for a new motor.
05-30-18, 04:07 PM
Thanks for the welcome.

Yes, I read many threads about fans not turning. The issue I didn't see covered was the fan functioning again when the power was cycled off then on. When I spun the fan manually it didn't kick in, so it seemed different from what most others are seeing.

I didn't realize capacitors are that cheap. I will ask my neighbor, a retired mechanic, if he has a multi-meter. Maybe we will tackle the capacitor together.

If anyone else sees a significant difference based on the power cycle please let me know.
05-30-18, 04:35 PM
Join Date: Oct 2012
Location: Jersey
Posts: 62,047
When you turn the power off and then back on..... you are discharging the cap and it charges to restart the motor on power up.

The system is pretty basic. You have a fan motor and the capacitor.
If it's not one.... it's the other.

Check the fan motor for excessive bearing wear by gently moving the fan from side to side.
05-31-18, 08:25 AM
Follow up question: where are you getting capacitors for $15-20? Granted, I'm in Canada so maybe there are weird tarrifs or something, but the cheapest I can find online are $50, most are $80+. My neighbor who had his professionally replaced a few years ago said they charged him over $100 for the part. His total bill was $280 with labor.

Does the capacitor need to be specific to AC or are there generic capacitors?

Thanks again for all the help.
05-31-18, 11:04 AM
Many people are buying them online from places such as Amazon.com. I don't know what value capacitor you need, but I'm willing to bet you'll find it for under $20 on Amazon. Capacitors are generic. All you need to worry about is the capacitance value expressed in microfarads (mfd), and that the voltage rating is the same or higher than the the old capacitor.
05-31-18, 02:16 PM
Dave, yes they are electrically equivalent. However, it appears that your original capacitor is oval in shape, whereas the proposed replacement is round. While the round capacitor will work, you may have a little difficulty mounting it because of the different shape. You can probably find an oval one for about the same price. It's a minor difference, but I wanted to make you aware of it.
06-01-18, 01:49 PM
Thanks for the heads up about the round/vs oval. Upon further review, the closest I can find that's oval is slightly different electrically. Is it "close enough"? I don't know what the /5 or /7.5 means electrically.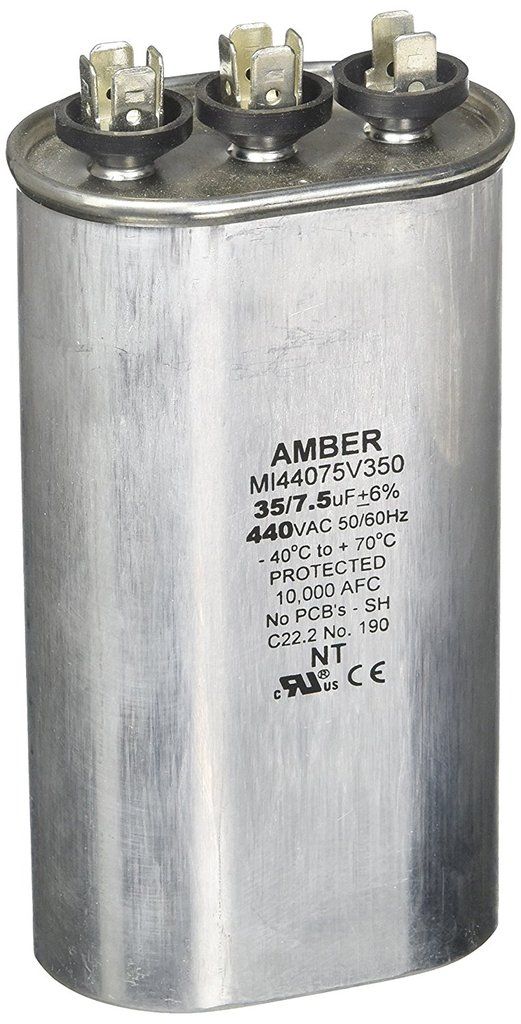 This oval one is twice the price at $40 but if it saves a lot of monkeying around to make it fit that's worth $20 of my time and frustration. Others that are exact matches and oval have to come from the States and shipping plus exchange rate makes them $50-$80+
06-11-18, 11:48 AM
Dave, glad to hear you're up and running again. Good job!