Can i use a TRANE thermostat on an American Standard HVAC?
06-13-18, 02:01 PM
Join Date: Jun 2018
Location: USA
Posts: 12
Can i use a TRANE thermostat on an American Standard HVAC?
---
I have a 2005 Allegiance 16 (16 seer 410a system) has a variable speed blower motor and two step compressor ( one compressor but 2 stages). Thermostat is wired like a traditional thermostat. Upgraded to Ecobee. After doing some digging around, found out that the variable speed motor can be controlled by the BK terminal on the furnace board. Ecobee cannot control van speeds.

I've read that Trane thermostats are identical to the American Standard's.
So the question is ... CAN I USE A TRANE ON AN AMERICAN STANDARD?

My other possibilities is to buy the 24v control relay pack. Basically turning a non Acculink system into an Acculink system.


Any help would be great!
Thanks.
Sponsored Links
06-13-18, 02:34 PM
let the unit control the fan speed.
06-13-18, 02:39 PM
A two stage Ecobee thermostat is going to properly control the system.

I would keep the Ecobee.
06-13-18, 02:44 PM
The BK terminal is used for stage 2 cooling.
Connect stat Y2 to the furnace BK terminal if you use a Trane Stat, an Ecobee or an American Standard.

The stat will wire up the same.

The furnace wire connections and dip switches are often improperly setup with your system. The thermostat connections are usually just fine.
06-14-18, 10:30 AM
Join Date: Jun 2018
Location: USA
Posts: 12
I believe you are correct with the wiring and dip switches being wrong.
---
Ok, so this is what I have now.
Furnace - American Standard Freedom 80 Comfort R with Variable speed fan
Condenser - Allegiance 16 4 ton with 2 step compressor.
Thermostat - Ecobee 4

WIRING
Ecobee to Furnace Board

R to R
Jumper from R to O
R to BK jumper on board cut
Y1 to Ylo
Y2 to Y
w1 to w1
w2 to w2

Dip switches - American Standard Freedom 80 Comfort R (UD100R9V3K)
1/2 ( System Tonnage ) set for 4 tons ON/OFF
3/4 ( CFM) Set for 400 OFF/OFF
5/6 Delay Profile set to Comfort R ON/ON
7/8 (Heat CFM ) Set to Normal ON/OFF

the fan always runs at high speed CFM light blinking 13 times. so 1300 CFM on Stage 1 and Stage 2.

So you're saying I should do y1 - y , y2- BK and connect 2nd stage from condenser to BK terminal as well ?

What about the R to BK jumper ? R to O jumper ? Dip switches?

I really appreciate the help. I've seen you've helped many people.
06-16-18, 12:30 AM
Stat Y1 only connects to furnace Y1 when you have an outdoor unit that unloads to 50% capacity.
With Trane and American standard this is when you can see two compressors in the outdoor unit.
Stat Y1 connects to furnace Y and stat Y2 connects to BK.
Cut the BK jumper and place a jumper wire between O and R.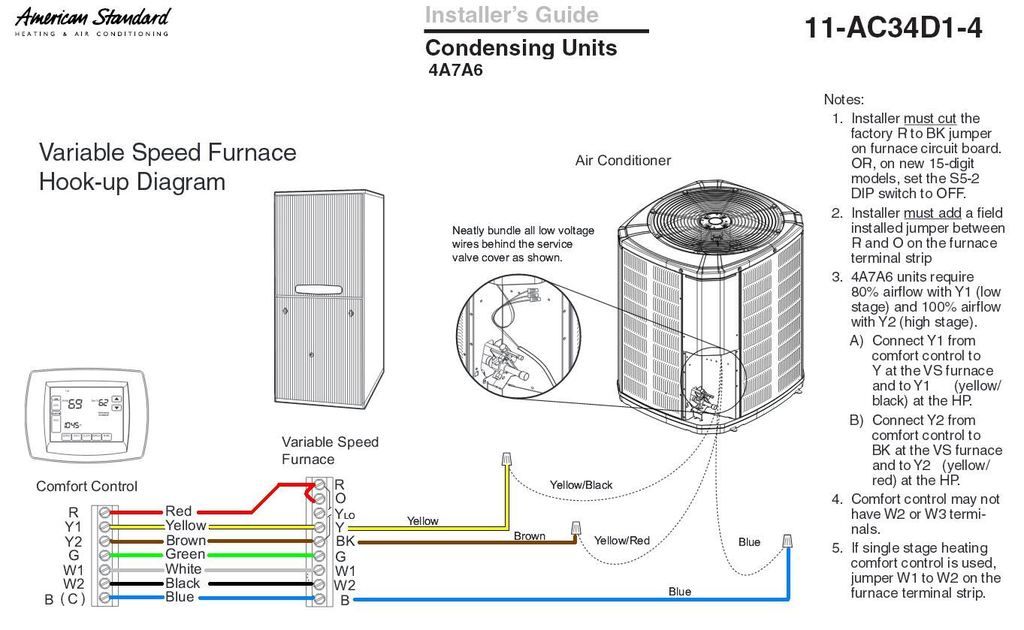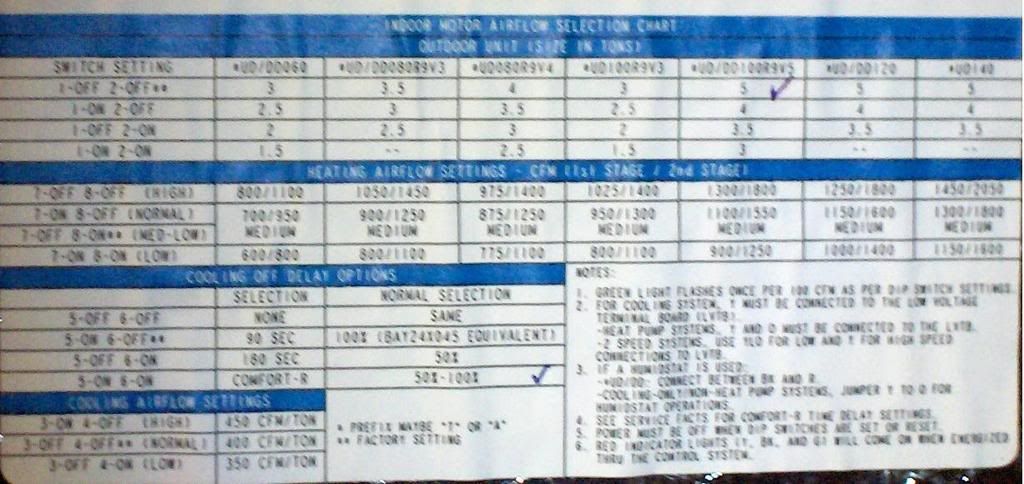 Your dip switch settings look okay to me. If you find that your humidity is running high in the home ( 60% or higher) I recommend dropping the cfm output to 350 per ton.
3/4 = Off/On
06-22-18, 03:39 PM
Join Date: Jun 2018
Location: USA
Posts: 12
Thanks!
---
Thanks. Just seeing your reply.
Posting Rules
You may not post new threads
You may not post replies
You may not post attachments
You may not edit your posts
---
HTML code is Off
---