Blower and Condenser Don't Start
07-07-18, 06:28 PM
Join Date: Jul 2018
Location: USA
Posts: 6
Blower and Condenser Don't Start
---
Hello,
I have a Goodman GMS90904CXA furnace that's approximately 10 years old as well as a Ruud condenser unit and an air handler. There are breakers for the furnace and the A/C unit but I don't think there's a separate one for the air handler.
Today I was changing the furnace filter and I turned off the furnace using the light switch attached to it. Since then no matter what I do the blower fan and the condenser outside do not turn on.
What I've tried:
Turning breakers off and on
Turning everything off, waiting half an hour, then turning it back on, breakers first.
Turning thermostat to auto fan
Turning thermostat to heat
Resetting thermostat (Hunter 42999B)
Replacing thermostat batteries
Rotating the condenser fan clockwise
Rotating the blower cage
Yelling at it
Voodoo
When I turn on the furnace, heat or A/C, from the thermostat there's no clicking or humming to be heard either from the condenser unit or the furnace itself.
I'm leaning toward a problem with the blower motor, capacitor, transformer, or related stuff but I'm out of my depth here. I can build computer networks and administer pretty much any kind of OS you throw at me but I don't know jack about HVAC. For all I know, the air handler is powered by witchcraft and produces rainbows. Someone please help before I electrocute myself.
Sponsored Links
07-08-18, 05:10 AM
If you have a furnace, that should be your air handler. I doubt that you have a second air handler. If you have a multimeter, with the thermostat OFF, I would suggest that you check the voltage between the R and Y terminals on the thermostat. Ideally, you should measure ~24VAC. If it's 0V, you lost the 24VAC control voltage. The 24VAC comes from a small transformer located somewhere near or possibly in the furnace. Many newer furnaces/air handlers include a fuse on the 24VAC line. Look around for a fuse, usually an automotive type fuse (typically 3A).
07-08-18, 07:58 AM
Join Date: Jul 2018
Location: USA
Posts: 6
I haven't checked the voltage yet; one of my sons fried my multimeter working on his car so I'm looking to borrow one. I did however look for a fuse in the vicinity of the transformer (I'm assuming this is it?) and found none:
On a side note, this wiring job looks like it would give a building inspector a coronary.
Anyway, thanks for your input Bob. I'll circle back after I've checked the voltage across those terminals. Would this also stop the compressor from turning on?
---
Last edited by Behemoose; 07-08-18 at

08:57 AM

.
07-08-18, 08:42 AM
Yes, the 24VAC going to the thermostat controls both the inside and outside units. If no 24V, neither the inside nor outside units will turn on.
07-08-18, 08:57 AM
Join Date: Jul 2018
Location: USA
Posts: 6
Thanks for the quick reply. I've added an image to my earlier one. Could you take a look and see if this is the transformer I'm supposed to be looking for?
07-08-18, 09:08 AM
Join Date: Jul 2018
Location: USA
Posts: 6
This is the device that we were told was the air handler. There are separate controls for it above the thermostat. To be frank, I have no idea what it is or what it does. For all I know, our house is equipped with a warp drive.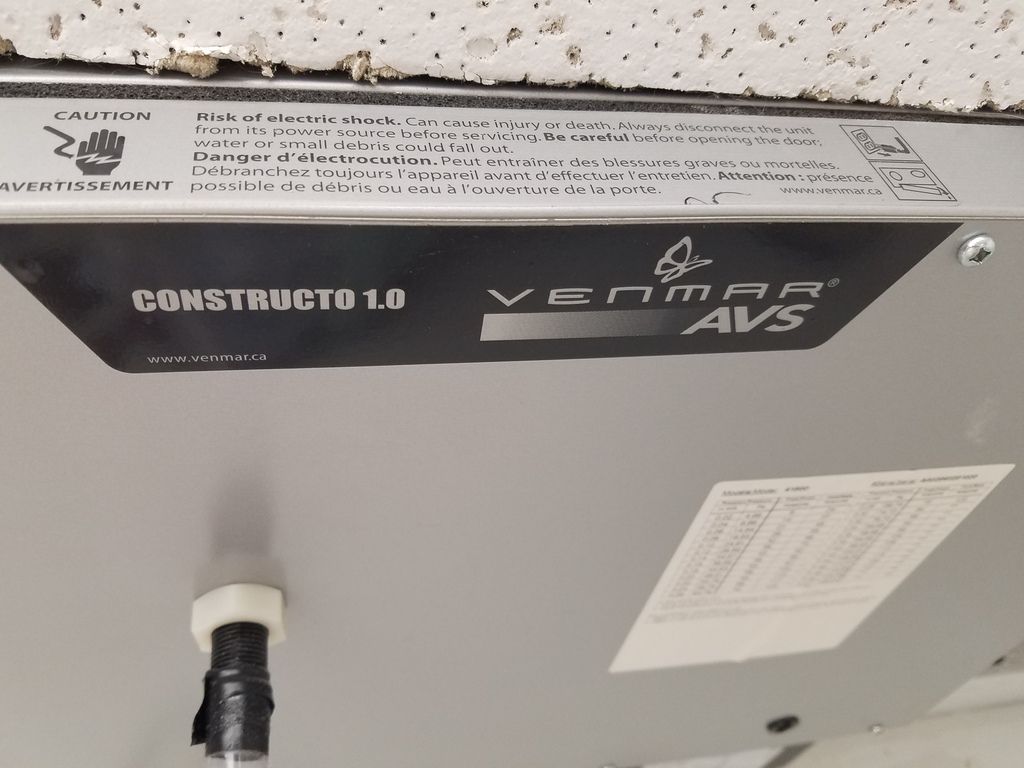 07-08-18, 09:30 AM
It appears that your Venmar device is a "heat recovery air exchanger" (I Googled it). If you Google the model number, you should be able to find more information on it. See
https://www.venmar.ca/air-exchangers.html
for more information.
07-08-18, 11:07 AM
Join Date: Jul 2018
Location: USA
Posts: 6
The thermostat disconnects from the wall plate when you take it off so I checked the voltage from the R terminal to the Y terminal there and it was 0V. I also checked the input/output voltage at both sides of both transformers and both high and low sides were 0V. I've also noticed that the diagnostic LED on the control board is not lit. Am I looking for a new transformer?

I'm not sure why but there are two transformers present, as shown in the photo above. How can I tell which needs replaced?
07-08-18, 11:50 AM
Join Date: Jul 2018
Location: USA
Posts: 6
Disregard. While I was taping shut the door safety switch so I could do further troubleshooting, I discovered that it was dirty. When I cleaned it out, the furnace started working again.

Thank you so much for your help. I would not have gone in that direction if not for your advice.
07-08-18, 12:58 PM
The blower door switch is the route of many problems as it completely disconnects power to the entire furnace.
Posting Rules
You may not post new threads
You may not post replies
You may not post attachments
You may not edit your posts
---
HTML code is Off
---