What caused my AC to temporarily fail?, and Proper draining of AC air handler
07-18-19, 02:44 PM
Join Date: Feb 2013
Location: USA
Posts: 56
Upvotes: 0
Received 0 Upvotes on 0 Posts
What caused my AC to temporarily fail?, and Proper draining of AC air handler
---
Yesterday my AC failed for an hour or two and I donít know why. I didnít notice the problem until my second-floor temperature got 5 degrees above the set point, and my main floor temperature got 2 degrees above the set point (one system, two zones). Both the air handler and the outside unit were running, but the air being circulated wasnít cold. (The fan was on auto, air handler should run only when AC is on.)
My first thought was that the condensation drain was clogged or frozen, although I would expect the outside unit to shut down if that was the problem and the system had some way to detect the problem. So I went into the air handler space expecting to find a trap I could clean and check. But I discovered there is not one; apparently the company that installed my two zones several years back eliminated it. So I tried to clean out the discharge tube from the outside by running electrical cable wire up into the pipe. I didnítí expect that would help because any clog would likely be at the 90 degree turn that I would be unable to make. But I did it anyway, and when I pulled the wire out no water flowed, so I figured I accomplished nothing. Then I checked the filter, which was last replaced on May 30th. It was fine.
These repair attempts took perhaps 30 minutes, and the air handler and outside unit were running the whole time. But after I completed my repair attempts I noticed the circulating air started getting colder. All has been fine since.
So my first question is: What are the possible causes of this temporary failure of my AC? (The heat index this weekend is forecast to exceed 110, so I sure hope I donít experience a repeat.)
And my second question concerns how my drainage system should be configured. The current configuration is shown in this photo: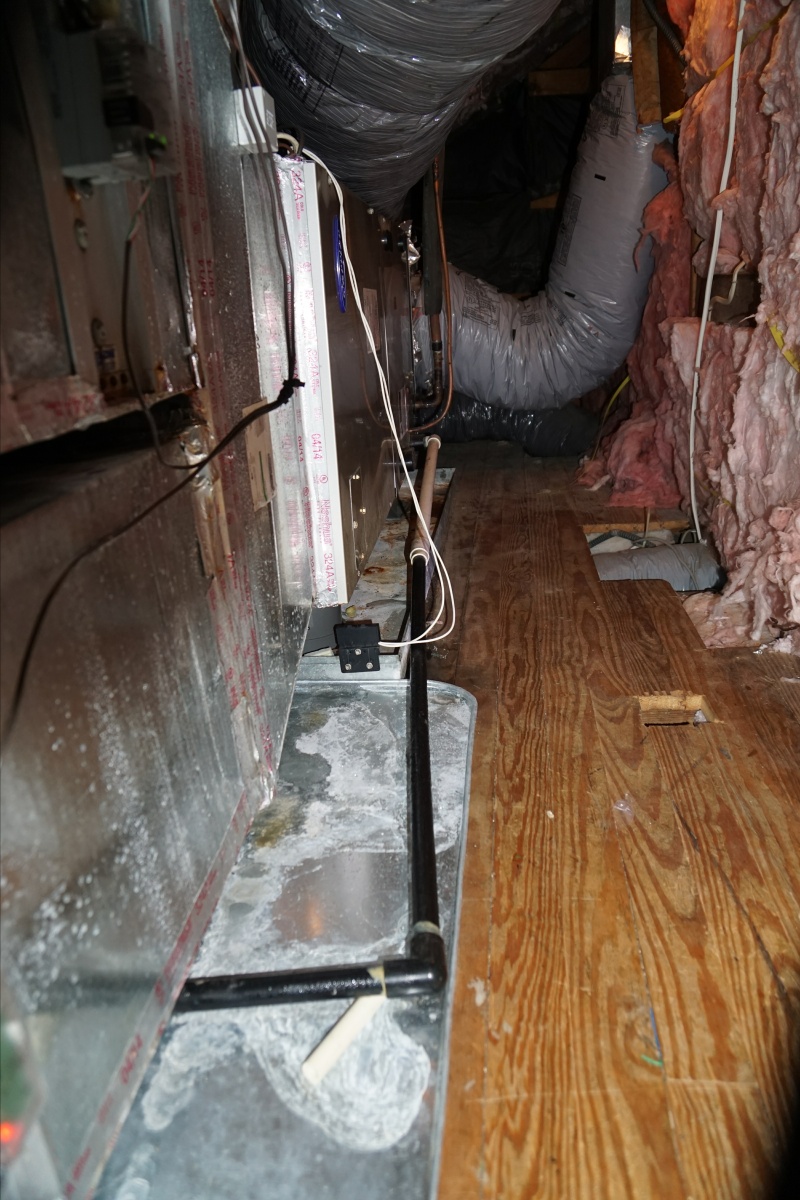 Notice that ĺĒ white PVC exiting the air handler and then transitions to a smaller black pvc that takes a 90 degree turn and then runs straight to the outside gutter; each of the two straight sections of PVC are about 8í long. Without cutting pipe, the only way into it is from the exit end.
Iím considering installing a trap as near as possible to where the PVC exits the air handler, and I expect that would be pretty easy. The link at the end of this message shows the trap Iím considering buying.
But should there be a way to flush out the pipe that is beyond the trap, especially the 90 degree turn? And if I were to mess with the black pipe, I need to know what size it is before I cut into it. (I do not have access to the exit end of the black pipe; when I had new soffits installed, my contractor extended the pipe with garden hose and the connection to garden hose is not accessible.) Is the black pipe a standard size? This photo shows the connection between the ĺĒ white PVC and the black PVC.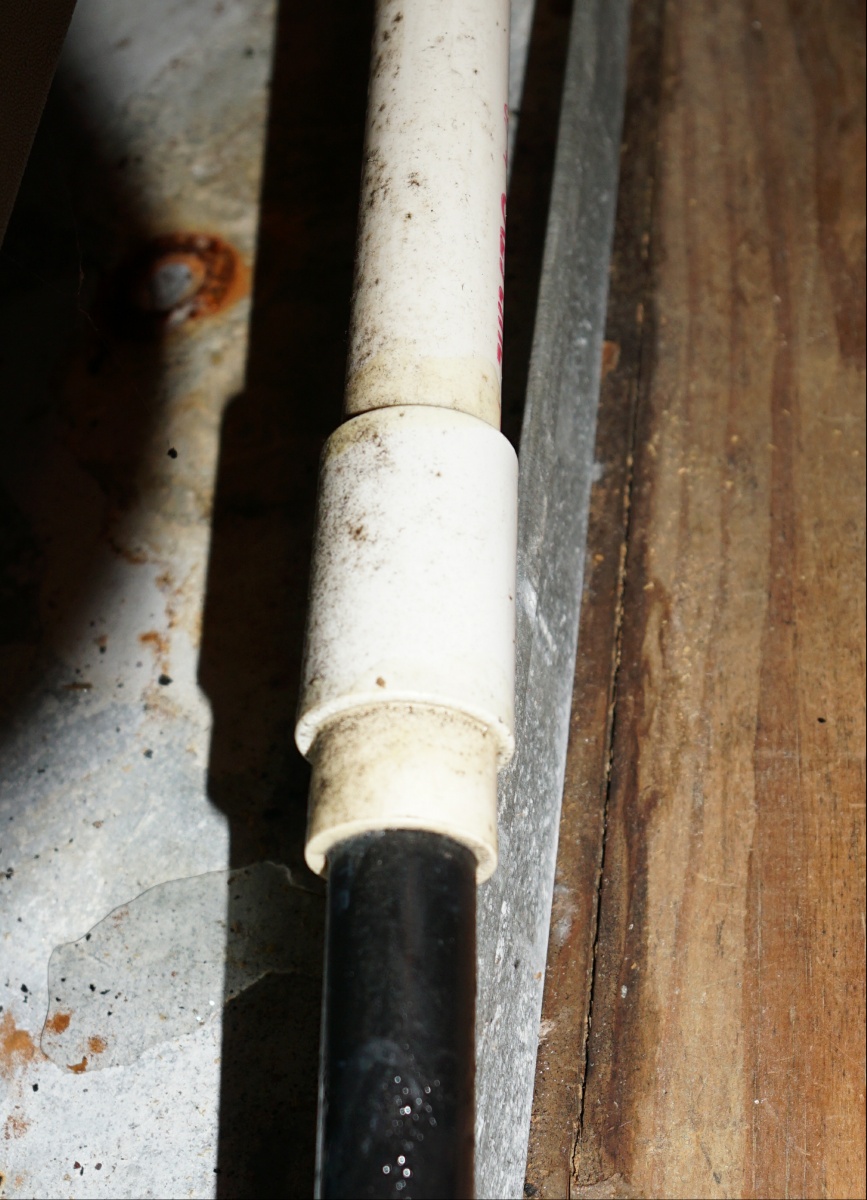 Any help would be much appreciated.
Thanks,
Randy
I am considering installing this trap:
https://www.amazon.com/Rectorseal-83...8QP8WYZ3AW5CQB