Hard Start Kit for 1 year old 5 ton Amana AC
03-22-20, 05:22 PM
Hard Start Kit for 1 year old 5 ton Amana AC
---
I am in the process of buying a portable generator for the whole house. A big whole house Generac is not in the budget right now so I'm leaning towards this ....

I had the central ac unit replaced about 1 year ago with a Amana 5 ton ASX16 unit and new Goodman air handler. I spent the better part of yesterday with my son testing the amp draw at the main panel on all our major appliances, lights, TV etc. in the home.
After my math I am confident that this generator will be able to run my whole house but some common sense will need to be used when running. Meaning, certainly cant use the dryer, ac and refrigerator at the same time.
Upon startup, the AC draws 49 amps but only needs 10 to run. Air handler pulls 6 amps at start and needs 3.5 to run. That is right at the limit of this generator. I was thinking about adding the CSR-U-3 hard start kit to save a few amps from the compressor on startup. This model (CSR-U-3) is listed in the Amana spec sheet as a optional accessory.
Found some conflicting information in regards to using these hard start kits on "new" units so that's why I come here to ask if its good to go. I figure listing the kit in the optional accessory section would be good enough but just want to make sure.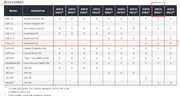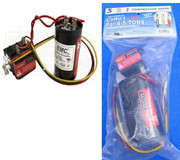 Sponsored Links
03-23-20, 03:44 AM
As long as the hard start kit is sized for your unit there is no problem using one.
A hard start kit is simply a start capacitor and solid state relay.
All compressor manufacturers have a range of starting and running components which they select based on the application and a start capacitor for single phase compressors is always an option.
There is a benefit to using one.......cost is why mfr's don't.

03-23-20, 09:34 AM
Join Date: Oct 2012
Location: Northern NJ - USA
Posts: 55,250
Adding a hard start is not going to save any starting energy. The starting amperage is what it is. The hard start start cap will help the compressor start on reduced voltage.

I couldn't see what size generator you are contemplating but it will need to be larger than the sum of the starting currents. Many of the off shore brand generators won't deliver the maximum they claim.

You're going to have to try your setup with the thought in mind that the generator may just bog down and not start the A/C system.

03-23-20, 09:50 AM
ohhh. I was reading all these reviews on hard start kits with photos showing starting amperage before and after the kit was installed. All these reviews were showing drops in starting amps. What am I missing here?
https://www.amazon.com/gp/product/B0...28H6PQ2U&psc=1
These are some of the generator specs
Gas - Rated 10500w
Gas - Surge 13000w
Propane - Rated 9975w
Propane - Surge 12300w
1 120/240V 50A heavy duty outlet
1 120/240V 30A twist lock outlet
1 120V 30A twist lock outlet
2 120V 20A
Im confident this generator will be able to run my AC but that might be all. Well, the problem is the AC startup. Once the AC is running quite a few other items can be used as well. Issues would be when the AC starts and the refrigerator is running. Thats why I was hoping the hard start kit would save me some starting amps.
03-23-20, 02:33 PM
A start capacitor will definately help when using a generator.
it is not as much reduced starting current but that it will start more quickly putting less short term load on the generator.
IOW the compressor will start before the generator will know what's happening!
03-23-20, 07:41 PM
Good to know Greg. I stumbled across the Sure Start Soft Start by hyper engenering and it seems to get great feedback in the Generac whole house generator world
https://www.electricgeneratorsdirect...30/p99614.html
Wiring is a bit different then the 5-2-1 hard start but appears to have great results. Not sure which way to go.
03-23-20, 10:01 PM
Instead of making a new thread, Ill ask here. Is this the correct location on the contactor to attach the the black wire from the hard start relay? Probably hard to tell with all the wires in the way. Im not sure if its the top or bottom

03-24-20, 03:39 AM
Whatever the wiring instructions say.
The kits I am familiar with have two wires that connect between the two run capacitor terminals.
Electrically there are a few ways to accomplish this..
03-24-20, 05:47 PM
Well this is a 3 wire setup and the instructions say this ...
"Common - Connect the loose end of the Black wire to T1 of the contactor. Check to see that
the Common "C" terminal of the compressor also connects to T1. In most cases you will find
a Black wire coming from the Common "C" terminal of the compressor."

To me it looks like my contactor is flipped upside down compared to most other pictures online. I really just dont know
Posting Rules
You may not post new threads
You may not post replies
You may not post attachments
You may not edit your posts
---
HTML code is Off
---