need framing help
01-29-10, 06:52 AM
need framing help
---
I'm framing some prints in open-back frames. I've mounted the prints on foam core, but i can't figure out how to secure them into the frames. I've seen a tool online called a point driver that must be what professionals use, but I can't justify buying one. Any other method?
Sponsored Links
01-29-10, 08:13 PM
You don't need a fancy point driver. Buy the glazing points, lay the frame face down, and push them in with a screw driver or 5-n-1 tool.
01-30-10, 06:45 AM
01-31-10, 05:11 PM
Join Date: Mar 2003
Location: NC, USA
Posts: 17,960
When you set them down on your foam core the little tabs point up. The tabs just keep you from pushing the point in too far.
02-10-10, 05:46 AM
Just wanted to say thanks for the detailed tip. Those little tabs, pointing up, are what I banged against to get them in (I used a pry bar but a chisel would've worked better, if I could have found one of mine!)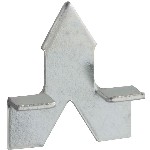 A bit of downward pressure on them while hammering into the side of the frame made for a nice tight mounting. Thanks again.
Posting Rules
You may not post new threads
You may not post replies
You may not post attachments
You may not edit your posts
---
HTML code is Off
---