Attic stair installation
12-27-11, 06:16 PM
Join Date: Aug 2005
Location: USA
Posts: 107
Upvotes: 0
Received 0 Upvotes on 0 Posts
Attic stair installation
---
We have an attic over our garage, but no drop down stairs (we've been using a ladder) I want to install a stair, but since the joists are only 20" apart, how can we install a drop down stair, since they all seem to be wider than that? Thanks in advance!
12-28-11, 03:25 AM
Join Date: Dec 2005
Location: USA
Posts: 36,608
Upvotes: 0
First make sure you can buy a set of stairs that will reach the floor. Some household stairs are for 8' ceilings, you can buy them for 9 and 10' ceilings as well. With the stairs will be instructions as to how to enlarge the hole. Basically you will need to cut one of the ceiling joists out and place 2x6 lumber between joist 1 and joist 3 (you cut joist 2), at each end. This will transfer the load of joist 2 to the adjoining joists. Then you will install a 2x6 along the long edge of joist 1. Then double 2x6's at the specified width between the joists making the hole the size you need. 2x6's will give better overall support. If your ceiling joists are larger than 2x6, then use that size lumber.
12-28-11, 04:54 AM
Attic Access
---
Chandler has given you good instructions.

However, I think you should verify that all your joists are spaced 20 in. This is an uncommon occurrence and would cause excessive waste when installing the roof sheathing, assuming the roof framing is trusses. You may indeed have some joists on 24 in. centers. Good luck with your project.
12-28-11, 06:25 AM
Join Date: Mar 2003
Location: NC, USA
Posts: 26,800
I think the OP may have framing spaced 19.2" apart which is somewhat common since it divides into 96". I have only seen that spacing with engineered trusses which raises an important point. DO NOT CUT engineered trusses without contacting the truss manufacturer for instructions. Engineered trusses work differently than traditional roof structures build on site from individual pieces of lumber. You can not just cut and splice them like traditional stick built construction.
Look in the attic. If the wood is joined together with metal plates that have a lot of holes or if there are plywood plates at the joints you probably have engineered trusses. Here are some pictures of what engineered roof trusses may look like: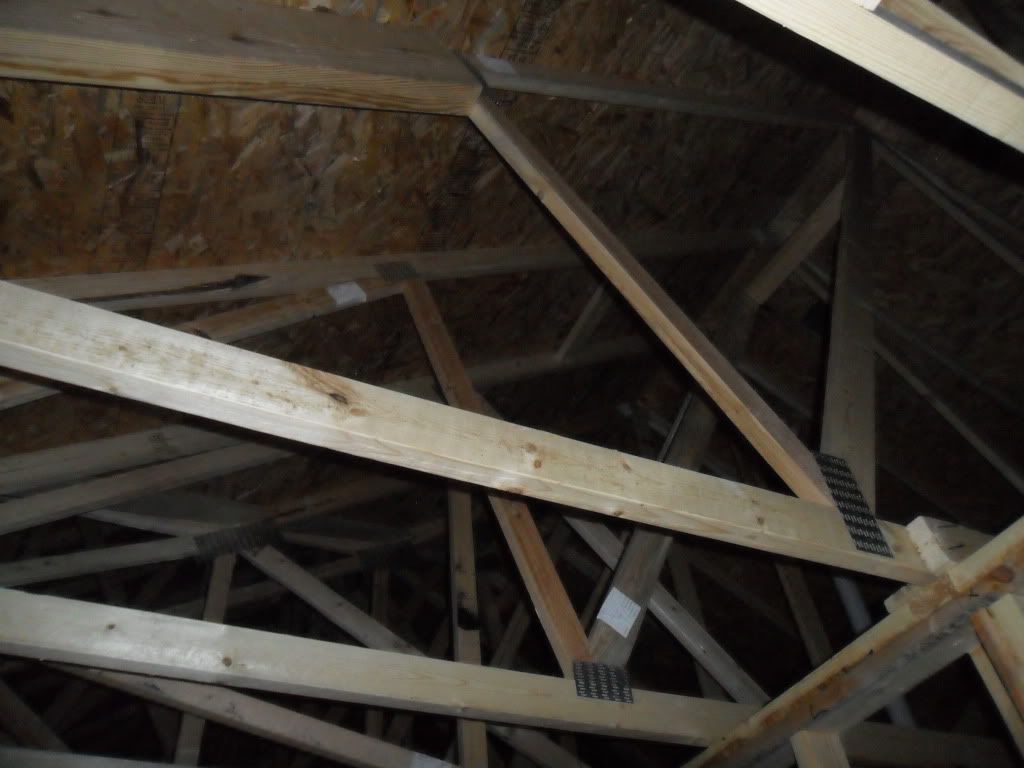 12-29-11, 05:53 PM
Join Date: Aug 2005
Location: USA
Posts: 107
Upvotes: 0
Received 0 Upvotes on 0 Posts
Attic stair installation
---
Thanks for all the responses, I can't check to see if there are some joists that are wider, because we had to move the ladder
But now I'm trying to talk my husband into cutting a door though one of the upstairs closets. I think that would be easier to do than the stairs, and make for easier access as well.
12-30-11, 05:00 AM
Spacing
---
You can check the spacing from the bottom side by using a stud finder.

Where is the existing hole located? Is it at the end or the side or somewhere away from the perimeter?