Suggestions for my 150 stone foundation basement?
02-04-15, 08:48 PM
Join Date: Feb 2015
Posts: 14
Received 0 Votes on 0 Posts
Suggestions for my 150 stone foundation basement?
---
Hello,
I just bought a house in Massachusetts which is about a 150 years old. House was renovated but the basement was not touched.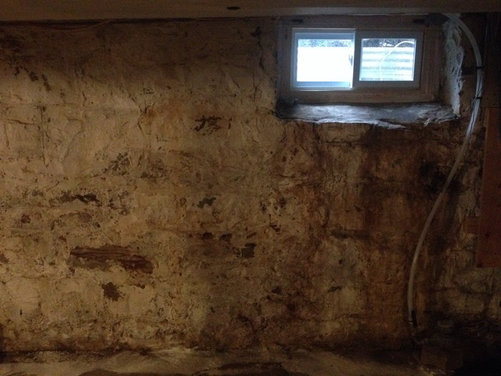 This is what the basement walls look like more or less. Basement doesn't have any drainage system installed.
Previous owner mentioned that the basement never gets flooded but during heavy rain, you can see wet spots on the floor along the side of the walls. Also the basement has dirt floor so its easier to spot the wet spots. Only the middle of the basement floor is concrete which has the boiler and hot water heaters sitting on top.
I was thinking to install French drain system along the 3 sides of the walls myself with sump pump since its dirt floor. I don't have the experience but I saw a bunch of videos on you tube and it seems easy enough since my floor is already dirt and I don't have to dig through concrete. What do you guys suggest?
Since I just bought the house, I don't have thousands to pay a professional contractor to install french drain and sump pump. I was thinking to spend the money on getting the entire floor concrete once I'm done installing french drain system and sump pump.
Should I look into vapor barrier for the stone walls or stay away? I read mix things about it so I'm not sure. Any suggestions will help. Thank you
Sponsored Links
02-05-15, 03:59 AM
Your approach sounds like a plan. I would make sure you install a good vapor retarder beneath the new concrete and don't try to get too concerned with the vapor retarder on the wall. Of course, I would clean the walls, repoint as required with a soft mortar and perhaps coat with a whitewash. The lime content of the whitewash will help prevent mildew and will be totally compatible with the stone and mortar and will brighten things up considerably.
02-05-15, 04:52 AM
Banned. Rule And/Or Policy Violation
Join Date: Apr 2013
Location: USA
Posts: 4,297
Received 0 Votes on 0 Posts
If you had an old leaky wooden boat would you paint the inside of it to stop the leaks and still have the wood getting wet and rotting out?
Waterproofing and moisture control should be on the outside not the inside.
Any type of coating you try to apply to the inside will get push off from incoming hydrostatic pressure.
If that's done it will lower the humidly lessen the chance of mold and mildew and lessen the chance of a flooded basement.
Gutters, proper grading, waterproofing the outside of the foundation, no mulch or flower beds forming ponds.
02-05-15, 07:54 AM
Hi Samad and welcome to the forum.
First, what are your objectives, moisture control, reduce heat loss, or a place to hide when you want to be alone (a low ceiling man cave)?

Heat loss all by itself is occurring through the wood rim around the top of the foundation and through the upper area of the foundation exposed to the outside. If you were to air seal the wood rim and where it rests on the foundation and insulate that area plus the exposed foundation to 1 or 2' below grade you would be eliminating 90% of the heat loss from down there.

From there it depends upon what you want that space for.

Bud
02-05-15, 08:15 AM
Join Date: Feb 2015
Posts: 14
Received 0 Votes on 0 Posts
Thank you Bud.
My objectives is to reduce heat loss and moisture control. There is an odd rusty smell in the basement. Since the floor is dirt, basement is cooler. Basement is probably 6-7 feet tall so its easier to walk around. I want to turn my basement into storage space but with all the moisture and smell, I don't feel safe putting anything valuable in the basement. I would like to parge the walls so I can have flat walls to add shelves.
02-05-15, 08:29 AM
A lot has to do with what is going on outside. The hundreds of gallons of rain the falls on your roof along with any drainage that is sloped towards the foundation all must be directed well away. Then comes the issue of the hole in the ground when the house was built. Yes it has been a long time, but there is always a drainage pattern below the surface and it is difficult to detect and or change. Its presence usually becomes the default conclusion once everything possible has been done through gutters, leaders, and landscaping. If you still get water then, then it is a high water table (may be seasonal) or a below grade drainage plane directing water to your foundation.

Even if you resolve all of the liquid moisture issues you will still need to manage the moisture vapor which is currently passing through the walls and dirt floor. Whether this space will ever be suitable for dry storage is a matter of determination and dollars. But shelves off of the floor, a dehumidifier, and plastic tubs will provide some storage.

Until you can work outside, a good place to start would be the rim area, air sealing and insulating. If a concrete floor is in the future, a plastic vapor barrier and the drainage prep you described are appropriate.

All of the suggestion from Calvert, Joe and Mitch above apply as well. (I know I repeated much)

Bud
02-07-15, 03:15 PM
Join Date: Dec 2013
Location: usa
Posts: 1,334
Received 0 Votes on 0 Posts
the house is 150yrs old - old stone basement walls leak & some genius tried to stop the leaks by putting on some **** which never works as its still wet behind the stuff
get if off there, put in a decent dehumidified, & save your $$ til you can afford to do it all @ 1 time while doing it right,,, do you even have a foundation under the walls ? don't laugh - mine ( about the same age ) didn't either ! + bud, mitch, & joe's post
cal's is ok but you'll be doing it over soon imo
ps - it will be 10's of $ 1,000's up there
Posting Rules
You may not post new threads
You may not post replies
You may not post attachments
You may not edit your posts
---
HTML code is Off
---