Encapsulated Crawl Space Michigan, How to Run Vapor Barrier on Wall?
11-19-15, 05:43 PM
Join Date: Nov 2015
Location: USA
Posts: 2
Likes: 0
Received 0 Likes on 0 Posts
Encapsulated Crawl Space Michigan, How to Run Vapor Barrier on Wall?
---
The previous owner started down the path of encapsulation, I would like to take it the rest of the way.
Couple of questions:
Any recommendations on how to handle the vapor barrier on the crawlspace wall? I have 3 options pictured below, I personally like option #1 as it would allow drying towards the inside and the vapor barrier can be securely fastened to the wall vs. securing the barrier to the foam board as shown by building science (option #3). In my application I would run the barrier up to the bottom edge of the foam board.
It seems a lot of people use XPS, I have 1" EPS. Should I tear it out and put in XPS? I read the specs on XPS, it performs slightly better than EPS but not "holy cow" better.
Really depends on answer above. Should I add another layer of EPS?
I also plan on doing the rim joists/vent close outs but cutting out rigid foam, and sealing around it with spray foam. Since it's not a lot of material I'll just use XPS for that. Building science goes to town with the foam block work, doing the rim joist and still plates, do I have to? If the answer is yes fine, just seems a little much.
Already have done the moisture management: replaced the broken sump pump, removed years worth of leaves from the gutters, added drain spouts, got a dehumidifier for the space, and it's not pictured however there is a vent supplying the crawl with conditioned air in one of the ducts.
Here is the kit I bought:
20 Mil Vapor Barrier Bundle
Some photos of the crawl space: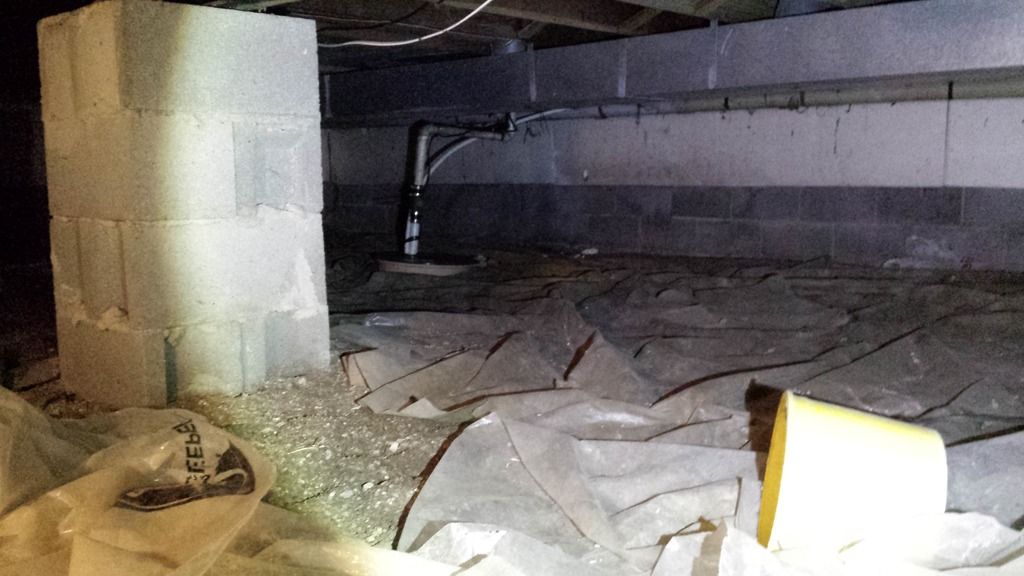 Option 1:
Option 2:
Option 3: