Existing basement insulation
03-10-17, 05:37 AM
Join Date: Apr 2015
Posts: 22
Received 0 Votes on 0 Posts
Existing basement insulation
---
After moving into my house I realized the basement walls were framed without an air spaced between the studs and concrete walls. Also they used yellow fiberglass insulation that is in direct contact with the walls. Due to a couple of issues I've had to cut into a couple of spots on the walls. I didn't notice any mold or moisture at these spots. However the basement does have a little bit of a musty odor. Usually not bad but it does increase some when the A/C or heat isn't on, meaning no air circulation.

My concern is that it seems the fiberglass against the concrete is no no. Is it worthy of tearing out the existing work to re do it? The finished area of the basement is about 1,000sf so this wouldn't be any small task.

Btw the basement was finished out in 1997. So it's been 20 years and there is no visible issues.

thanks!
Sponsored Links
03-14-17, 11:43 AM
Join Date: Jul 2012
Posts: 1
Received 0 Votes on 0 Posts
hard question to answer. I think basements will always smell like basements. I'm going to begin my basement project which I've put off for 10 year because of damp cinder blocks in a corner...reason I've put it off is I don't want it to smell like it currently does without air movement. I use a sante-fe dehumidifier which keeps it pretty dry and less smelly.

If you have downspouts that are close to the house or any laminate brick on the front of your house...I would pull the sheetrock off the corresponding spots in the basement and look for signs of moisture.
03-14-17, 12:35 PM
Unless you are really looking for something to do
I'd be hard pressed to rip it out and redo without evidence of a mold problem.
It's true that best practice now is to never put studs or fiberglass directly against concrete, but that alone doesn't justify ripping it out.
I suggest you buy an inexpensive humidity monitor and keep an eye on RH, and then decide if running a dehumidifier is justified to control the humidity when the ac or heat isn't running.
03-14-17, 04:15 PM
best practice now is to never put studs or fiberglass directly against concrete
Although I agree with the above the real issue is not studs or fiberglass touching the walls it's having moisture trapped behind a vapor barrier.
Although adding ridged insulation is the rage now, it's expensive and simple construction techniques can be done that eliminate the moisture at a much lower cost.
Please note this is a moisture issue, not a water issue, no amount of foam will resolve a leaking basement wall.
By building the wall away from the foundation and keeping areas above the wall, in front of the Rim Joist, you ensure air flow can get behind the wall and moisture does not collect.
03-15-17, 06:40 AM
Join Date: Apr 2015
Posts: 22
Received 0 Votes on 0 Posts
I do have a dehumidifier that runs in the non winter months as the furnace keeps the humidity around 35-40% in the winter. There's not a vapor barrier behind the walls so I wonder if that is actually letting the walls breathe some and the fiberglass is unfaced.
I'm trying to decide on flooring options and figure I better make sure there are no issues behind the walls before installing floor. I was going to do carpet without padding but my son has major allergies so now it's going to need to be some type of hard surface.
Anyway I might just cut a some test holes in the walls so I can take a peak behind them. I already need to patch and paint a couple of other spots so why not make a couple more
04-05-17, 04:17 AM
Join Date: Apr 2015
Posts: 22
Received 0 Votes on 0 Posts
Good new is that I cut another hole in the opposite side of the basement and there is no signs of moisture or musty smell behind the wall there either.
Next question is there is a spot from a few years ago where I had a little water seepage once. To locate the crack in the wall I cut out a hole and removed the insulation, see the below picture. Since I removed the insulation between the studs through the hole I cannot put the insulation back without making the hole a lot larger. Is there any negatives to putting the wall back together without insulation in this spot? There is about a foot above the drywall where the stud cavity is open to the space above the suspended ceiling so there will be air circulation behind the wall.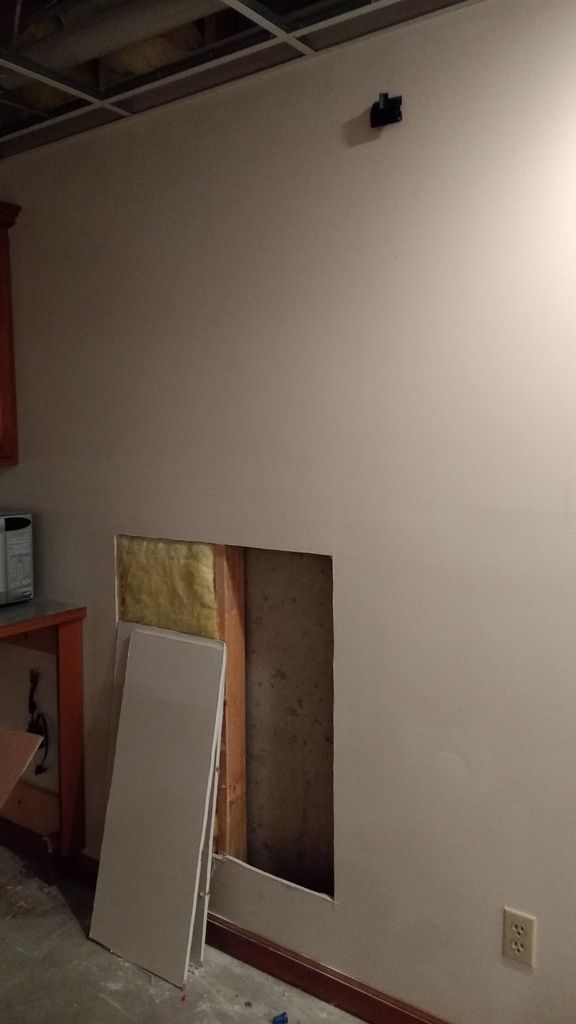 04-05-17, 05:34 AM
A couple of points.
Being open at the top gives critters easy access and they love it. I've helped several home owners locate some terrible messes where mice have designated one or two cavities to be their outhouse. When I checked with one home owner after we discovered the source of the smell to see what he wanted to do he said, DONE. The entire basement was gutted and in the back yard waiting to head to the dump. Wife took one look and said she wouldn't be living there unless it was ALL gone.

Leaving the cavity open to allow circulation risks that moist air circulating up to the very cold exposed area at the top. Even fiberglass does not prevent this circulation. If you have any sign of moisture or suspect it may be there one option would be to apply a layer of rigid foam against the concrete, one inch or more, and then fill in front of that with a fiber insulation.

Bud
04-05-17, 05:53 AM
Join Date: Apr 2015
Posts: 22
Received 0 Votes on 0 Posts
The open cavity is still inside the basement, just above the suspended ceiling. Although last year we did have a problem with mice in our attic and in the basement. Never did find the exact point of entry but did put out traps and poison in suspect areas and haven't had mice again.
The suspended ceiling is actually open to the utility room so it does have access to the conditioned air above the ceiling so it shouldn't be too cold above the ceiling.
Even though I haven't had water come through the crack in the last 3 years it's probably not a bad idea to go ahead and remove more drywall and have the crack fixed before patching. I was really just wanting to avoid more work
04-05-17, 06:16 AM
Giving advice for you to do more work is easy for me
.
Even patching on the inside has its risks. Making changes to the outside is always best (see how easy that was).
Seriously, opening up a wall becomes easier every time you do it and bigger is not that much more difficult than smaller.
Roxul is better when installed against the concrete but it sounds like you don't have a serious moisture issue other than the leak. The patch idea you suggested sounds good for now, with or without insulation. Warmer weather you check the landscaping outside.
Best
Bud
04-05-17, 06:27 AM
Join Date: Apr 2015
Posts: 22
Received 0 Votes on 0 Posts
It always easier on the giving end than the doing end. One thing for sure is that it the crack isn't getting fixed from the outside. I'd have tear out the concrete patio and that isn't happening for a hair line crack that's only leaked water once. The wife would shoot me if I suggested that method of fixing it.
04-05-17, 09:03 AM
Leaving the cavity open to allow circulation risks that moist air circulating up to the very cold exposed area at the top
No, the rim joist is insulated and the opening above & behind the wall is open to the conditioned space. You do not get a lot of air movement but what is not happening is trapped moisture, that is when you have issues.
Posting Rules
You may not post new threads
You may not post replies
You may not post attachments
You may not edit your posts
---
HTML code is Off
---