Repairing basement concrete holes
08-12-20, 11:06 AM
Repairing basement concrete holes
---
I bought a house at the end of May, and we recently had asbestos tiles removed from the basement. Now bare concrete is exposed and I'd like to put a subfloor for insulation and vinyl planks for new flooring. The issue is that a previous owner has removed some walls which were secured to the concrete floor with concrete nails or screws, and this has left a number of large divots in the concrete slab.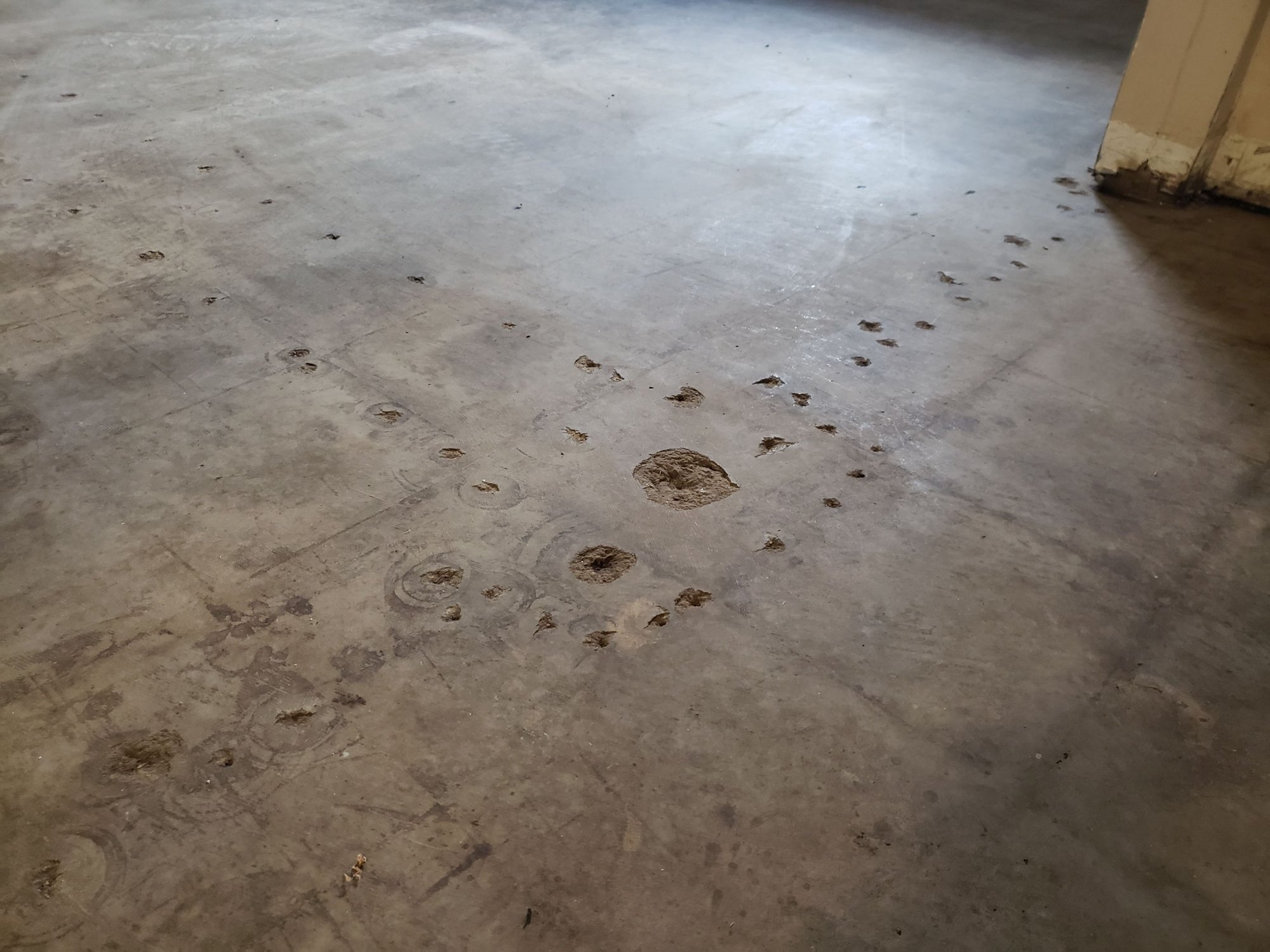 Bare concrete floor with divots
I'd like to repair these holes before putting a subfloor down. How do I do this properly? I bought some Vinyl Concrete patcher, and I'm wondering if that will be appropriate here. Since I will probably secure the subfloor to the concrete slab with concrete screws, any patcher I put on top should resist being drilled through as well. I don't want the patches to come up when putting the screws in. I'll also epoxy the basement before putting the subfloor in.
Sponsored Links
08-12-20, 11:50 AM
any patcher I put on top should resist being drilled through
Anything you put down, if drilled in the right/wrong spot will have the possibility of poping out.
My first thought was a latex fortified mortar, that's what they patched the holes in my walkway whey they did a foam lift and it's held up for years, not sure how the vinyl patch compares!
08-12-20, 08:22 PM
Has there ever been any moisture issues in this basement?
Yes, we had some water leak in from a storm which destroyed the existing carpet. This is causing us to get an interior drain put in along the perimeter of the foundation. In addition to this, we're getting a moisture barrier as well tied into this drain system. Hopefully the combination will trounce our moisture problems for good.
I wanted to put a subfloor in because when I saw the house in the winter when we were shopping, the carpet they had was very cold. If you have a better way to put good insulation down under a vinyl plank floor I'm all ears. I was thinking of doing a DMX 1-step layer on the slab, then 5/8 in OSB over top. Then the vinyl planks.
---
Last edited by krafczyk; 08-12-20 at

08:28 PM

. Reason: Added quote
08-12-20, 08:26 PM
I would just leave the holes.
I've considered not patching them, but I worried I wouldn't be able to get all the screws sunk into the slab equally. Is it a problem if some screws are burried 3/4 in while others are 1/2 in?
---
Last edited by krafczyk; 08-12-20 at

08:28 PM

. Reason: a
Posting Rules
You may not post new threads
You may not post replies
You may not post attachments
You may not edit your posts
---
HTML code is Off
---