Insulating under part of house that isn't on the cinderblocks
01-09-23, 08:29 AM
Insulating under part of house that isn't on the cinderblocks
---
As much as I think I am pretty handy, kinda embarrassed about having a frozen hot water radiator pipe on the first floor of our 50? year old 2 story house a couple times in recent years. We've been in the house 25 years.
As people said in another post, I'll keep the 1st floor temp higher overnight.
But in the process, I am still finding air leaks and things I could insulate.
The living room juts out a bit in front of the house (see pic of front 'porch'. This rectangular area with the bay window is not resting on the cinderblocks). I guess this is a crawl space? But no way to crawl into / through it..
It's dirt under there and it seems the 1st floor joists are resting on the cement of the front portch? A long time ago I threw some insulation in there, but realistically,....
1) what's the right way now to do it right?
I envision having to run some wires / mesh, stapled on the bottom of the joists , then put insulation on there?
2) Kraft / foil up or down?
Needless to say, it's a pain to get in there - each opening is about 14 1/2 wide by 9" tall.
3) Is / was this typical that part of the house is built over dirt / they don't build the cinderblock walls to go under the whole house?
Thanks!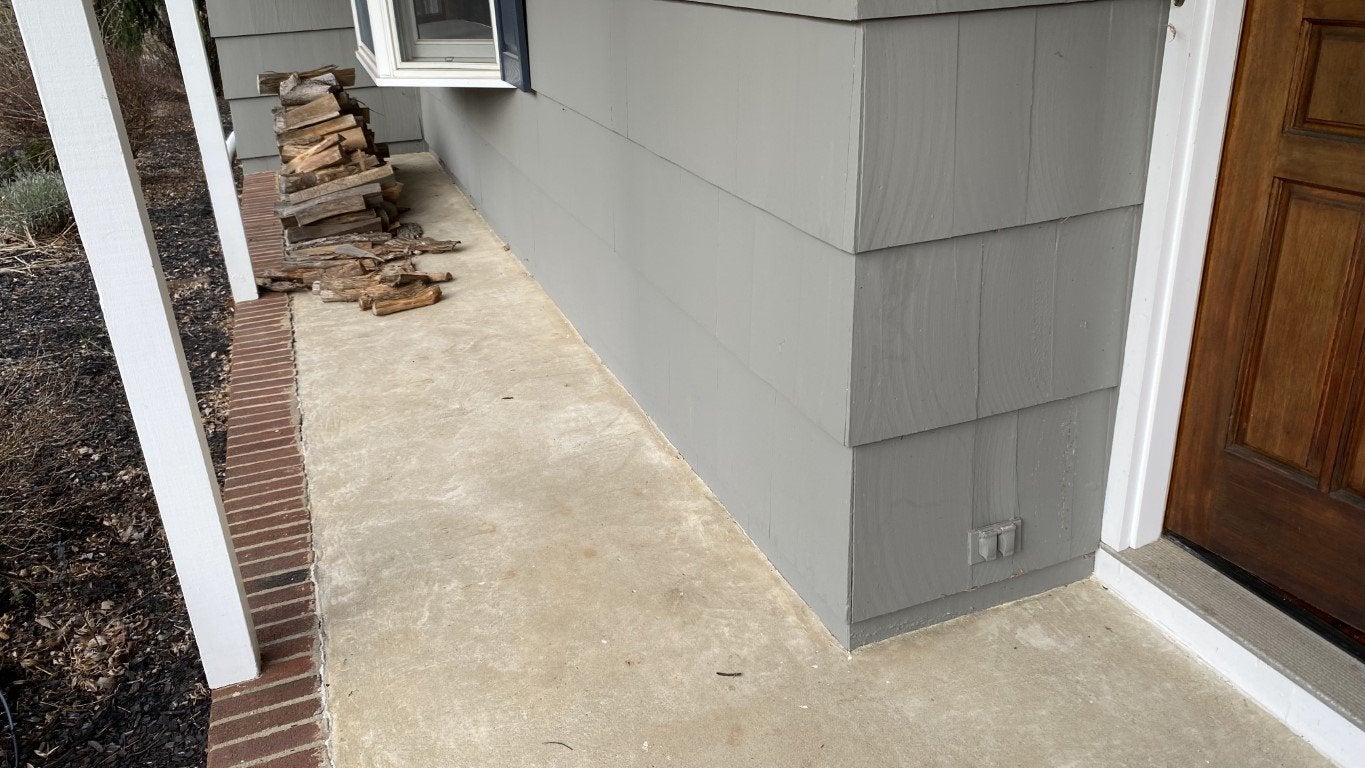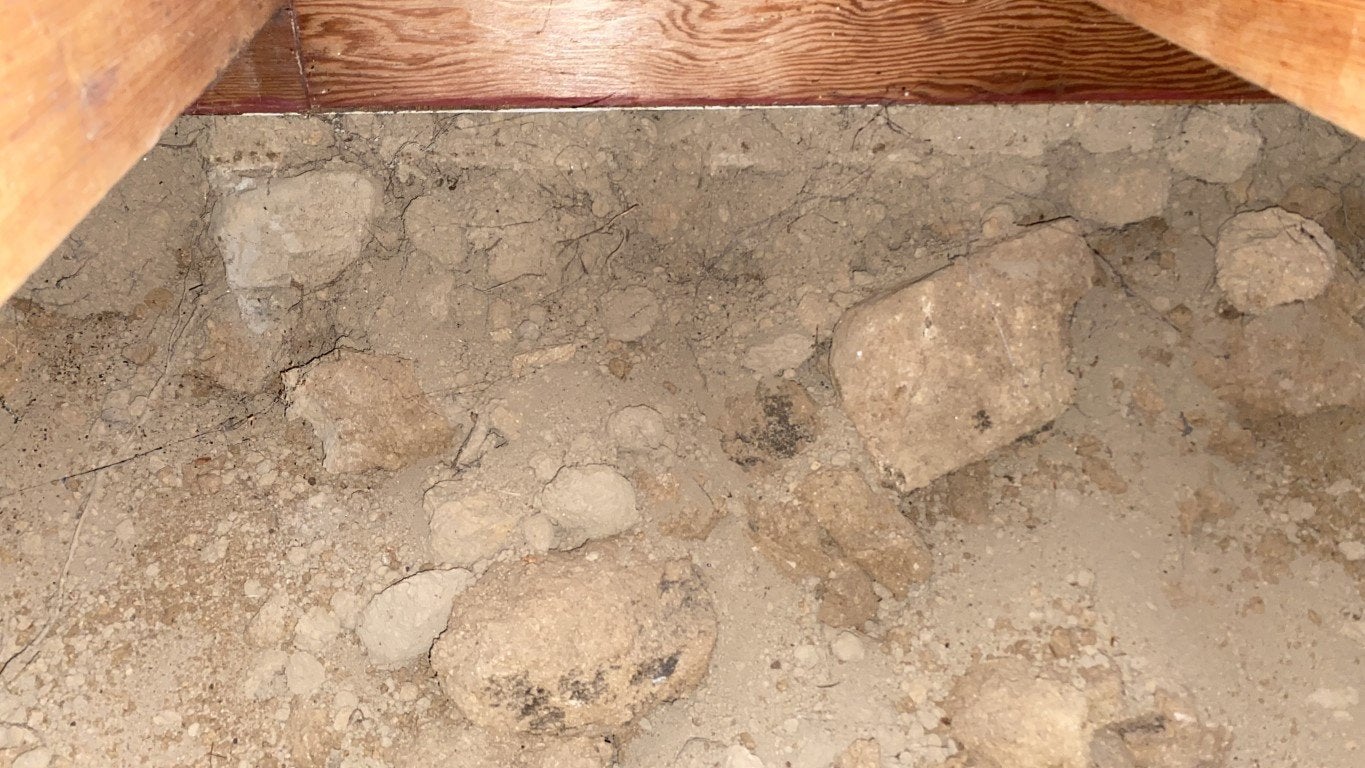 01-09-23, 08:40 AM
Join Date: Mar 2003
Location: NC, USA
Posts: 27,105
1. One method is to get in there and insulate the top of the crawl space, floor of room above. I've found having a helper and some rope handy. I get a flat tray to carry all my tools. Then crawl in bringing one end of the rope with you. Measure how long insulation you need. Have your helper cut it and use a big spring clip or clamp to attach it to the middle of the rope with the helper holding onto the other end. Now you can pull in and install the insulation and your helper can pull the clip back to send in the next piece. Wire supports or mesh stapled in place may be needed.

2. I would put the vapor barrier on top facing the heated room.

3. There was a time before building codes. Some parts of the country still don't have codes so older homes were often built with some creativity to keep costs down.
01-09-23, 11:08 AM
@pilot dane as always, THANKS!

That space is small and completely enclosed with dirt. I'd have to dig down beyond the small front porch to get in there.

and then potentially change support for the concrete slab of the front porch and it cracks : )

I'm starting to learn to be on guard to breaking something else trying to fix something : )

01-09-23, 11:41 AM
Join Date: Mar 2003
Location: NC, USA
Posts: 27,105
I've had to dig "tunnels", well more like trenches between joists to get under some homes. If you have to dig an old Army entrenching tool is helpful. There are also some folding shovels online that work well but sometimes a garden trowel is the biggest tool that will fit.

A children's sled can be helpful. On it's own the flat plastic type are great to pile tools on and drag behind you or shove in front. You can also tie a pair of ropes onto it. One for the person under the house and one for the helper outside so tools and materials can be sent in and out without having to make the crawl.

And of course. Always have at least two sources of lighting. I like setting up LED floodlights in a couple locations. The LED's are cooler when you bump into them and having multiples means less shadows. I always keep a flashlight in my pocket. You never know when the power will go out or if you accidentally unplug your work light it's good to have a light source you can quickly find in complete darkness.
01-09-23, 12:45 PM
Join Date: Jan 2014
Location: USA near Boston, MA
Posts: 2,191
Spray foam by a professional is a viable option. They usually have small installers and long wands that can get into tight spaces. If you have enough small areas to get into you could look for a company that does a minimum call-out charge and will do them for you. When I had under the floor of a greenhouse foamed (<14 inches above the ground) it was less than the minimum charge so I had a small attic space and all the rim joists in the basement foamed as well. Total cost $1,275 in 2014.
01-09-23, 07:42 PM
2john02458
spray foam?! How about DIY kits? I know - that'll turn into a mess. But partly the feeling of accomplishment. Partly because I don't have to worry about someone (else) damaging something trying to get in there. partly because of my lack of faith in paying someone to do a job I'll take issue with. If I'm going to complain about the quality, I might as well do it myself : )
01-10-23, 06:16 AM
Join Date: Mar 2003
Location: NC, USA
Posts: 27,105
I've used spray foam kits with great success. You have to prepare yourself for the cost but when you compare it to hiring a professional it isn't that bad. Most kits come with relatively short (10-15') hoses so make sure you have room to get the cylinders under the house standing upright. Or, look into longer hose kits so you can leave the chemicals outside.

Unlike the single aerosol cans of spray foam DO NOT put a hose or tubing on the end of the nozzle to extend your reach. You must either move the cylinders closer to the job or get longer hoses between the tanks and spray gun.