Rear sprocket does not spin backwards
08-07-12, 11:20 AM
Rear sprocket does not spin backwards
---
Yesterday the rear sprocket on my 17 year old Trek mountain bike stopped spinning backwards, i.e. will not freewheel. Is this something that can be disassembled and repaired? How would I do that? Thanks.
08-07-12, 12:24 PM
Greetings,
Some can be overhauled, with patience, but if the 17 years includes lots of riding, then a new chain and rear cluster would not be unreasonable. One risk is too much wear and the front rings can be in trouble as well.

The first step is to confirm it is the fw and not just something jammed in between the sprockets and the wheel. Next, identify the brand sprocket and see if you can find a breakdown on the internet. Point me to that and I will see if my experience can help from there.

Bud
08-09-12, 07:16 AM
Sounds like the rear hub is shot (the center of the rim).
The cassette/cog (sprokets) has no moving parts in it. It's all in the hub which most are not serviceable unless you have an aftermarket hub and paid a lot for it.
You will have to replace the rim or pay a lot for someone to rel-ace a new hub into his existing rim.
Here is a site that will show you what is involved in removing the cassette and what is under it.
Removing and Replacing the Cogs
08-09-12, 09:49 AM
Hi Mike.
17 years ago doesn't reach back to my departure from bikes so I was unsure whether he had a freewheel or cassette hub. Here is another link showing the difference and explaining some of the challenges.
Shimano Cassettes & Freehubs
Now, although my experience on cassette hubs is limited, if that is what beamhillrd has, it had to go together somehow. As to whether replacement parts are available, TBD. Let's see if he posts back. I sure wish I had the internet way back when.
Thanks for the help Mike.
Bud
08-09-12, 11:08 AM
I miss read the OP. 17yrs old would likely make it more then likely a freewheel. I think the cassettes where available then, but freewheel was more common then. My old Rally (~14-15yrs old) was a freewheel in the back. This is back when Rally was making high end bikes. I'm not sure where Trek stood back then.
A quick google search proved me incorrect. Here is a picture I found with a side by side comparison. The left is a free hub, the right is a cassette.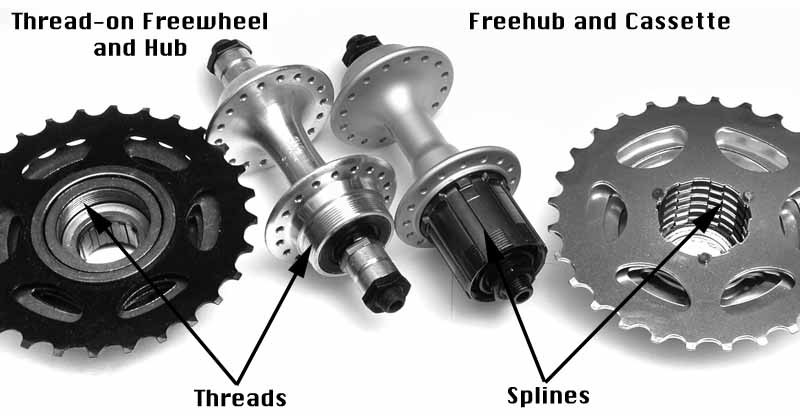 It should also be noted that there was a few known trial systems back in the 80's and 90's. I don't think that is the case here.
In the end, the OP would probably be looking at replacing his hub if it's a cassette style, and hub and purchase a cassette if it's the freewheel style.
Trying to find a freewheel sproket will be hard and probably costly.
08-09-12, 11:30 AM
Actually, depending on the mechanical ability of the op, a freewheel can be overhauled. It simply has inside and outside raceways and two spring loaded cogs that we hear clicking as it freewheels. Besides getting it apart and needing parts, the trick is to tie down the cogs so they can pass by the inside bearings. The bearings are held in place with some thin grease. I used some thread and a slip knot that allowed me to remove the thread once all was together. BUT, frequently there is something jammed between the freewheel and the spokes which prevents the freewheel from rolling backwards. Mountain bikes are prone to picking up weeds and branches as well, depending upon where he has been riding.

Bud
08-09-12, 11:50 AM
Good chance you are correct Bud, but at it's age, it could be a done in bearing as well. Hope it's just dirt or grass in a freewheel.

All depends on how the OP rides and how many miles on the bike.
08-13-12, 07:40 AM
update from op
---
Sorry for not responding sooner. Thanks for all the replies.

The bike would go backwards if you pedal backwards, likewise if you coast, the freewheel keeps turning, pushing chain forward. It is a cassette freewheel, Shimano Interactive glide 3 it says on the lock ring holding on the cogs. More years than miles on this bike. So I guess the question is can I get into the hub to fix it?
08-13-12, 09:25 AM
beam, here is some reading.
Shimano Cassettes & Freehubs
They are talking about replacing freehubs with different models, but down near the bottom they mention servicing a freehub. "Shimano Freehub ® Body Servicing".
As they state, rarely done as replacing is easier, but it implies it can be done, similar to overhauling a standard freewheel. There are special tools involved as well.
Replacing your freehub is also an option, if you can find one.
See if any of this helps.
Bud
08-13-12, 03:48 PM
I've never overhauled one of these, but down near the bottom of that link above, there are some pictures that show the cassette hub as a separate part. The spokes attach to the center hub. Then the cassette hub is assembled onto, I'll call it the axel hub. Then the axel passes through the center of all.

Here is where we get into how deep you can and want to go. Have you ever overhauled a rear axle. There are thin cone wrenches to allow you to loosen the lock nut and then remove one cone. With that out of the way, the axle bearings will probably fall out. Then we will look to see how the cassette hub comes off.

I assume you have confirmed there is nothing jammed in between the spokes and the sprockets. You can also dribble some oil down in between the spokes and the sprockets to try to work it into the hub bearings. If the pawls are stuck, sometimes it will free up. The risk is it may be noisy afterwards, which tells you you need to overhaul it. But getting it moving at least tells you something. I'll keep looking to see if I can find a breakdown on that specific hub.

Bud
08-14-12, 12:55 PM
beam,
I couldn't come up with that specific hub, but other than some listed on that link, they state that most hubs are interchangeable. At this point I think you will need to communicate with a source to either discuss tools or a replacement hub, which will also require some tools. If you have a good shop close by, they may have the tools and can advise on replacement. If a replacement is interchangeable, then your sprockets will fit and the wheel will be set up as it has been. If you change hubs and sprockets, you should recheck the dish on the wheel.

luck,
If I can help more, just ask,
Bud