How to store a bike carrier (and bike and trainer for that matter)
06-21-13, 10:29 AM
How to store a bike carrier (and bike and trainer for that matter)
---
Any ideas about storing the carrier when not in use? I have this one...
http://www.swagman.net/wp-content/files_mf/xc2folds.png
Garage has no available wall space really. And hooks on the ceiling would work for me, but not for short wifey.
Also...any innovative ways to store a bike and this type trainer...
Trek Store
Oh...and is the rolling surface of the trainer supposed to be slightly dished in the center...or is it just from wear (which is hard to believe). We got it used...so I dunno.
Just looking for any out of the ordinary things people have tried.
Sponsored Links
06-21-13, 10:35 AM
Your short wifey would have no problem with a system like this:
Racor 1-Bike Ceiling Mount Bike Lift-PBH-1R at The Home Depot
Saw it on ATOH and looked pretty slick. I have not tried it though because at 6'4" tall, I don't need to.
I would think you could modify it or rig some other pully system for the rack as well
06-21-13, 10:59 AM
Unfortunately, I forgot to mention I only have 8ft ceilings in my 25 x 20 garage, so any pulley system with the bike vertical will be a royal PITA as a head banger and storage blocker. I have benches, cabinets, and racks on all 3 walls.

I'm hoping for something really out there in design so I don't have to put away my portable workbench and clean up the garage....lol.

She's buying a brand new $1200 Trek road bike in her planning for a 1/2 Ironman, so scratches and falling over are out of the question (unless she does it on the road).
06-21-13, 11:23 AM
Join Date: Jan 2012
Location: Canada
Posts: 2,542
I have the system Tolyn Ironhand mentioned. Changed the ropes and use it for my kayak. At the old house, I could roll the van into the garage, and drop the kayak onto the J-hooks. Get home, hook the hoist up and remove it from the van.
Vic, is the roof open or finished in your garage? Could use a pully system but mount it so the bike gets pulled up between the trusts (upside down). Only the seat and handlebars would be below below the roof line.
As for the trainer, a center grove is common on most models (mine as some sort of grove in the middle)
The legs on mine fold, but it's still a awkward PITA to store.
At the old house, I had a single shelf built in the corner where I stored the bikes in the winter. Had a couple of wheel mounts to hold the bikes in a row. In the winter the bikes where on the shelf. In the summer, they went under it and the snowblower was moved up on top (don't ask how I got it up there).
This is similar to the clamps I used.
Alternatively, bikes to make a nice center piece in the living room or man cave.
I had all our bikes mounted on the walls in the basement this past winter (my 3 bikes, the wife's bike and the kids bikes).
06-21-13, 11:31 AM
Join Date: Jan 2012
Location: Canada
Posts: 2,542
How about something like this?
Google Horizontal bike storage.
06-21-13, 12:04 PM
NOW that is interesting! Had never seen something like that. Not too expensive either.
06-21-13, 12:11 PM
Join Date: Jan 2012
Location: Canada
Posts: 2,542
NOW that is interesting! Had never seen something like that. Not too expensive either.
Figured that would fit your outside the box requirement.
Doesn't look complicated either, so if price, availability or lead time gets in the way, it's an easy build.
06-21-13, 12:18 PM
IF I had a cheap source of material and IF I had a welder and IF I was all that motivated....lol.
Looks like there is a supplier in Phoenix if we get down that way. Even with shipping it's only about $170.
07-16-13, 10:16 PM
Join Date: Oct 2010
Location: USA
Posts: 563
I know that this thread is approaching a month old...

For storing the carrier I'd probably buy a bumper-mount hitch adapter for a pickup step bumper, bolt it somewhere, and slip the bike carrier into it.
07-17-13, 06:17 AM
Thanks T-W-X...good thought. I also know a guy who is a first rate fabricator at a local company. Prob be easy to just make one out of square tubing and plate.
07-17-13, 06:24 AM
Join Date: Jan 2012
Location: Canada
Posts: 2,542
I just used bike hooks on the wall to hold my bike trailer (double child unit).
Depending on the style of trailer, something like this could be a good solution as it folds away when not needed.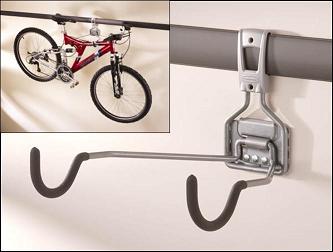 07-17-13, 09:31 AM
Must be the pain meds Mike. No trailer involved.

I really don't have any clear wall space big enough for the bike...but with some finagling I could probably put a fake receiver hitch somewhere.
07-17-13, 10:11 AM
Join Date: Jan 2012
Location: Canada
Posts: 2,542
Sorry Vic.
Too much on the go at once, and the leg is still reminding me it's mad for what I did Saturday.

If you do ever get a bike trailer, these work
Posting Rules
You may not post new threads
You may not post replies
You may not post attachments
You may not edit your posts
---
HTML code is Off
---