8124 OIL BURNER SETTINGS effiecnt
01-14-08, 03:00 PM
Join Date: Oct 2007
Location: islip ny
Posts: 150
Upvotes: 0
Received 0 Upvotes on 0 Posts
8124 OIL BURNER SETTINGS effiecnt
---
i have been changing the setting on my boiler the last few days and seeing witch burns more oil. i was wandering has anyone else tryed the same and what settings did you find to be the most efficent. i have tryed 3 setting on my peeless oil burner with 60 gallon water tank. i have an 8124 aqustat.
i have my low at 120 and high at 170 i kept the low and high the same for my test. i did 3 days each day was about the same tempature.
day 1 10DIFF burned for .10 hours an hour
day 2 15DIFF burned for .08 hours an hour
day 3 25DIFF burned for .12 hours an hour
has anyone else tryed anything similar to this with this aqustat.
01-14-08, 03:18 PM
For starters, you cannot have the HIGH and the LOW at the same setting.
If you do, you might as well use a single aquastat instead of a double.
Also, there is a possibility that if the LOW is adjusted a smidget higher than the HIGH, your circulator will not come on at all (assuming that everything is properly wired through the aquastat) and you'll never get any heat!
TRY for starters:
HIGH: 180*
LOW: 140*
DIFF: 15*
Get back to us and let us know.
Also, it would be helpful if you tell us the temps. outside. VERY, VERY cold? 20-32*?
Cold? 30-50*
If is very cold you may want to push the HIGH up to 185-190*.
What is your indirect WH thermostat set at?
Charlie
01-14-08, 05:29 PM
Join Date: Oct 2007
Location: islip ny
Posts: 150
Upvotes: 0
Received 0 Upvotes on 0 Posts
my low and high arent the same.
high: 170
low: 120
water heater: 120
Diff: 15
i changed the DIFF settings when i was keeping notes i did not touch anything else. i have a 4 section peerless with riello burner and 1.25 nozzle. 60 gallon peerless indirect water heater. my house is about 3500 sqft 3 zones. my windows are leaky as hell , i shrink wrapped them. i just bought the house and installed the new burner. next year i will be re insulating the house, for now just trying to get the most efficency out of the boiler.i alos live on longisland in islip! so around 40's for tempature. the house heats right up and i never run out of hot water. but im going through about 200 gallons every month and 1/2.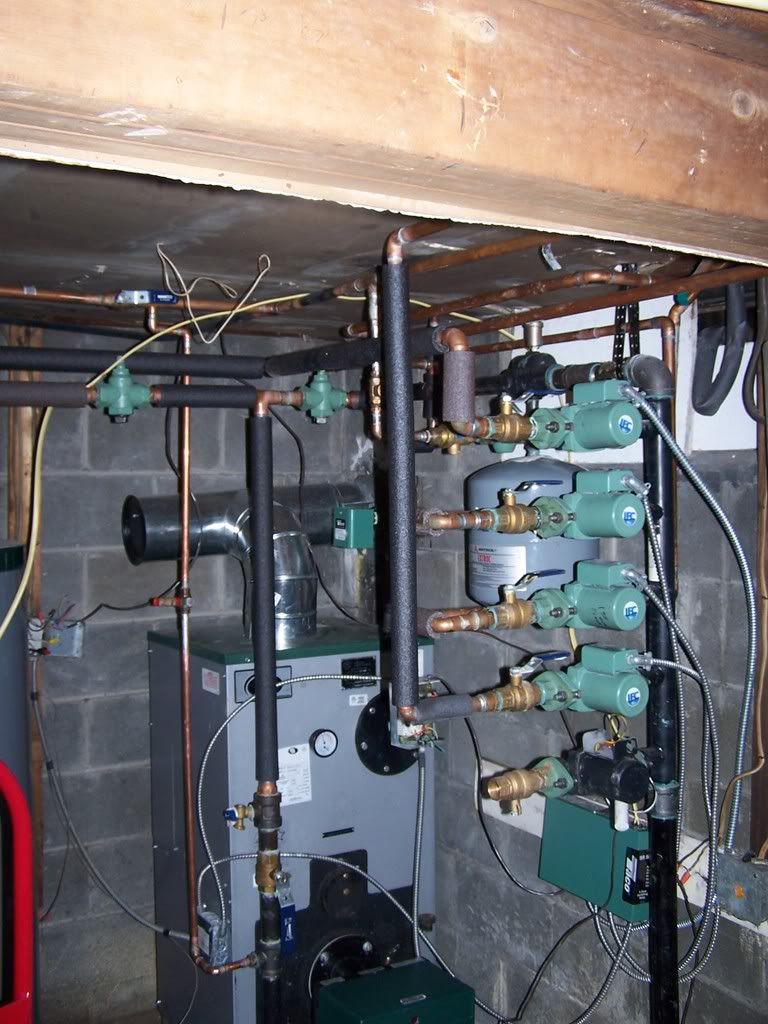 here is an older picture, i did fix the flue and redid the wireing. I was thinking of installed a cold start aqustat, but i wanted to install a bypass valve. any commenbt i would appreciate good or bad thanks. i ment by keeping the low and high the same by not adjusting them i only adjusted the DIFF for the test. the low and high i kept at 120 & 170.i also have the taco switch set on priority for the water heater.
---
Last edited by tony45power; 01-14-08 at

06:20 PM

.
01-14-08, 06:59 PM
Tony that test you did ain't tellin' ya nuthin' really ...

And I doubt that diddlin' yer diff is gonna do anything you can notice anyway. You can't just say that the temps are 'about the same' ... you need to know how much oil you used per degree day ... and wind and sun come into that too, there's just too many variables going on.

Change out the aquastat to a cold start like Peerless told ya when you called them. You'll probly save on oil in one month what you spend on that part. Hey, if ya wanna get real adventurous, go for the L7224U for only a few bux more than the 8148 . It's got a pretty LED display, buttons to push and stuff. Grab a bottle of chianti, pull up a chair and make a night of watching the boiler run !

Oh yeah... I wanna see some new pics, you keep posting the same old ones. (not that i don't believe you didn't correct the flue pipe, but I'd like to see it anyway!)
01-15-08, 09:13 AM
Can I come over for the Chianti too?
Just kidding!
The way I read it I thought you meant that you kept them SET at the same.
(as in same temperature=same numbers --both the same)
You really meant kept them at the same. (as they were -- not touching them)
Sorry for the mis-interpretation of the English!
Charlie
01-15-08, 02:06 PM
Join Date: Oct 2007
Location: islip ny
Posts: 150
Upvotes: 0
Received 0 Upvotes on 0 Posts
lol, i had to re read my post and then i seen why you understood it that way. i dont always type excatly whats going on in my head then i go back and proof read and see where i messed up
i am going to purchase a new aquastat this week and keep the 8124 as a back up. yesterday i changed the low setting to 150 and high to 170 and the boiler ran for 2 hours longer in a 24 hour period, thats a huge difference. so my best results so far are
high: 170
low: 120
diff: 15
i dropped my high setting to 160 tonight and will see what the results are tomarrow.
Hey boilersrus, where a good store to purchase an aquastate around on long island?
trooper what i did was hooked up an hour timer to the boiler. so now i was keeping notes for 4 day increments but keeping track of my results everyday to compare them for ever 24 hours. they avaerged out pretty good every 24 hours then every 4 days i changed the DIFF setting and got my results. im not worried about how much oil i am burning just how much the boiler turns on. then basically hours the boiler is running multiplied by my nozzle 1.25GPH.
01-15-08, 02:45 PM
Tony

The savings will vary by degree day. What you gain one day, you will lose the next when the temps change.

The only conclusive way to save is to go with an ODR, like the Tekmar 260 or 256; or at a minimum the Beckett Heatmanager.

Pete
01-15-08, 02:51 PM
Join Date: Oct 2007
Location: islip ny
Posts: 150
Upvotes: 0
Received 0 Upvotes on 0 Posts
can you give me some links about the heat manger systems so i can read up, ive asked peoplea around me even boiler guys and not too many people deal with them locally by me.
01-15-08, 05:09 PM
Hi Tony
Here is some info on the Beckett unit. It just
senses supply temp and plays with the diffential
accordingly; but it is not a true ODR since it
doesn't monitor outdoor temps. They guarantee
a pretty decent savings, however..
http://www.becketthm.com/
01-15-08, 07:27 PM
Join Date: Oct 2007
Location: islip ny
Posts: 150
Upvotes: 0
Received 0 Upvotes on 0 Posts
just quickly looking between the 3 models, the beckett heat manager is 157$
tekmar 179$ and tekmar 260 is 312.
the beckett heat manager has gotten good feedback and is pretty cheap and looks very simple to install. the tekmar 260 seem way more complicated, and i think i should stay away from that one.tekmar 256 is in the middle si im just gonna go ahead and purchase a beckett heat manager and i already ordered the honeywell 7224. hope full i will deff. have some oil savings now.
i need to purchase 3 new thermostsats. witch is an easy to use and easy programmable that you guys would reccomend?
01-15-08, 08:24 PM
For controls I can refer you to a place in Hauppauge, NY if that is close to you. The prices are great on controls, but other things like boilers, expansion tanks, plumbing, are about the same as anywhere else.
Charlie