Weil-McLain gas, induced draft Boiler aquastat
09-29-08, 02:42 PM
Join Date: Aug 2003
Location: USA
Posts: 33
Received 0 Votes on 0 Posts
Weil-McLain gas, induced draft Boiler aquastat
---
I have a Weil-McLain CGI-3 Residential Gas-Fired, Induced-draft. Boiler with a Honeywell L4080 b 1386 Aquastat from the factory. (L4080 replaced the older L8148) We are in a summertime setting.

The aquastat is working properly as it was made to. My questions is why does the boiler fire up when it is not calling for domestic hot water?

The Amtrol Hotwater maker is not calling for heat as I turned the setpoint down to 100 just before my tests and the internal temp is reading 130.
The High limit switch is set for 160. The house thermostats are off. The temp inside the furnace closet is 90. When the temp in the boiler itself goes down to 130, the unit fires up and cuts off at 160, just like the Aquastat was made to do. (Mfg set for 30 differential)

Why is my model Aquastat made to do this?

Isn't this a gross waste of propane-gas? Nothing is calling for heat but the uninsulated boiler maintains a temp between 130 and 160 degrees 24 hours a day. Cycling on and off and on.

(Circulator does not run during these tests)
Sponsored Links
09-30-08, 07:09 PM
Join Date: Aug 2003
Location: USA
Posts: 33
Received 0 Votes on 0 Posts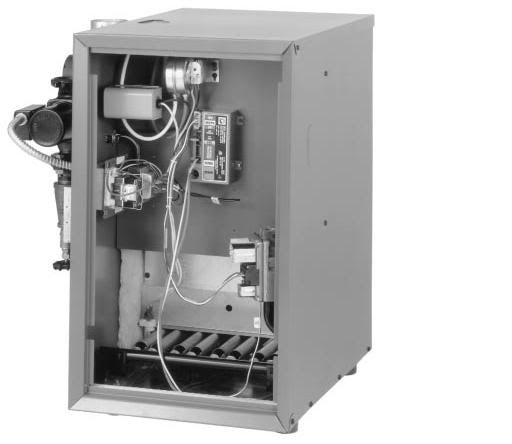 Thank you Grady for pointing out I have a separate Transformer and relay from my High limit switch. (You are a very smart man.)
My owners manual says: High limit, 30 deg Diff, w/well, case, cover HW L4080B1836 or WR 11B83-17
It also says: Transformer HW R8285K1004 or WR s84A-85
_ Relay HW R8222U1006 or WR 112006-11000
(Complete Assembly HW R825D1000)
Where else would there be a control making it fire up, other than the one in the High Limit Box at the top left, as I do not see one with my eyes, nor does it show up in my installation manual?
09-30-08, 07:27 PM
Boiler hot
---
Unless either the BoilerMate or room thermostat is calling for heat, that boiler should not fire.

The boiler pictured only has one circulator. Yours should have one for each thermostat & one more for the domestic tank. Is this the case?

Some pictures of your system would be helpful. You can post them on photobucket.com or similar photo hosting site & provide a link here.
10-01-08, 05:10 AM
Join Date: Aug 2003
Location: USA
Posts: 33
Received 0 Votes on 0 Posts
I believe I have one circulator attached to boiler and have 3 zone valves. Here are pictures you requested.
http://s482.photobucket.com/albums/r...Boiler%20Pics/
Neither Amtrol Hot water maker or the two House Thermostats are calling for heat on my tests and the boiler does fire up.
Test results:
I manually set the high limit switch to 160 deg.
When observing brand new combination Thermostat and pressure guage (mounted on outside left above circulator) goes down to 130 deg, boiler fires, then goes off at 160 deg. Circulator does not operate because it is not sending the water anywhere.
I then upped the limit control switch to 180 deg. Boiler now cycles on at 150 deg and off at 180 deg. Again with no circulator operating because hot water maker is turned off and digital house stats are switched to off.
I does not make any sense to me.
10-01-08, 08:32 AM
Join Date: Dec 2007
Location: A Galaxy From Afar
Posts: 421
Received 0 Votes on 0 Posts
The HW L4080B1836 aquastat is a single function, which is a high limit cutout with an adjustable differential. All it is supposed to do is to stop the burner once the water temperature reaches the high limit, and allow the burner to run once the water is below the low limit (high - differential).

On oil burners this is done by controlling the 120VAC hot feed to the burner. Not sure about gas burners.

So either the thermostat/zone-valve controls to the burner are wired incorrectly, or a relay elsewhere is stuck closed. I'm not that familar with gas burner controls, are there TT terminals on the burner control? If so, see if they are jumpered.

If they are jumpered that is the issue. If not jumpered then trace those wires back to whatever control they are going to. Then see if that control is holding the wires shorted via a relay.

Al.
10-01-08, 06:26 PM
Boiler stays hot
---
I'm not sure but I think the problem is in the zone valve wiring. I noticed the left zone valve to have three wires while the middle & right valves each have five. Four wires on a Taco is common but five? I suspect you have a circuit wired as closed when it should be "normally open" with closure on a call for heat. With no call for heat from anywhere, is the circulator motor hot?

Thanks for the pics. How about a few of the controls?
10-01-08, 09:29 PM
Join Date: Aug 2003
Location: USA
Posts: 33
Received 0 Votes on 0 Posts
Yes, the circulator and pipe below and above are hot all of the time.
See new pictures with discriptions below the pics:
http://s482.photobucket.com/albums/r...Boiler%20Pics/
Left Zone Amtrol Hot water has 3 wires
Middle Zone Bedroom has 5 wires
Right Zone Livingroom has 5 wires.
The three thermostat wires that come from the house and Hotwater tank are wired as follows.
Left Taco white wire on Top screw
middle Taco White on 2nd screw
Right Taco White on top screw - - with all three red wires wired together.
Jumper wires are connecting all three Taco together.
Just for ****s and giggles I turned Thermostat on in Bedroom zone. Circulator ran till temp in boiler went down to 140, Blower on, then fired up. I immediatly turned heat off in Bedroom zone. No more call for heat, Boiler still stayed fired up until boiler temp reached high linit of 170.
I really appreciate everyone help! Thank you Grady and Thank you OldBoiler!
10-02-08, 06:47 PM
Here's a link to Taco's web site about their zone valves. At the bottom right of page 3 it shows a wiring diagram.
http://www.taco-hvac.com/uploads/FileLibrary/100-3.pdf
Instead of going to T-T on the burner control you would be going to a pair of terminals on the relay. I cannot find a wiring diagram for a CGI-3 on Weil-McLain's web site but I can almost guarantee you have a low voltage wiring problem.
Posting Rules
You may not post new threads
You may not post replies
You may not post attachments
You may not edit your posts
---
HTML code is Off
---