Oil fired Boiler Seasonal Start
10-05-08, 01:36 PM
Join Date: Jan 2008
Location: Rhode Island
Posts: 116
Received 0 Votes on 0 Posts
Oil fired Boiler Seasonal Start
---
Well the fire dept just left after they extracted the air that set off my smoke alarms. Oil fired, 63 year old boiler that has been off since May...lost 4psi on the gauge since the beginning of summer. I suspect the water leaked into the combustion chamber, dampening what ever debris was in there. The firemen said it was steam. Sure burned the throat. After 3 on cycles, the chimney smoke is still a little blue/black. Will this clear soon? System was cleaned last winter and has been off all summer. I guess you pros suggest I have my annual cleaning real soon
Sponsored Links
10-05-08, 04:16 PM
Yeah, you're probably best to bring in the professional. Grady may have something else to add if he gets a chance to log in. I suspect he's answering a lot of emergency calls lately.
10-05-08, 05:06 PM
Blue/Black Smoke
---
How much total run time has elapsed? If more than 10 minutes, shut 'er down & make the call.

Grady's been busy as a one armed paper hanger replacing equipment he's condemned. Why do people wait until now to have their equipment serviced? They've had since April or May.
Now all of a sudden it's a big emergency. Sorry 'bout your luck. Take a number & I'll get to you when I can.
Sorry guys, I'll get off my soapbox now.
10-05-08, 05:30 PM
Join Date: Jan 2008
Location: Rhode Island
Posts: 116
Received 0 Votes on 0 Posts
I turned up the thermostats to get the burner to run a few more cycles and the smoke has seemed to clear in the exhaust and all seems back to normal. I have a question relating to the throat burning steam that set off the smoke detectors. Furd made a note of the condensing that occurs if there is not a boiler bypass. Is this similar to the condition that occured while I was heating my monster boiler up from 65F to 180F? I did notice a small puddle of water near the rear of the boiler that was never there before. It has not reoccured since I wiped it up. Was that condensate? I still intend to call my boiler guy for service.
Thanks
10-05-08, 05:36 PM
Smoke/Water
---
The steam created when firing an oil burner into a wet chamber will be acrid & burn your throat if it all doesn't vent up the chimney.
It is quite common upon initial seasonal firing to get a little water out of the relief valve. How much pressure is on the boiler now that it's hot?
10-05-08, 05:58 PM
Join Date: Jan 2008
Location: Rhode Island
Posts: 116
Received 0 Votes on 0 Posts
The pressure before start up was 15 @ 65F and is now 20 @ 180F. The water on the floor leaked from behind the metal jacket and not from the relief valve.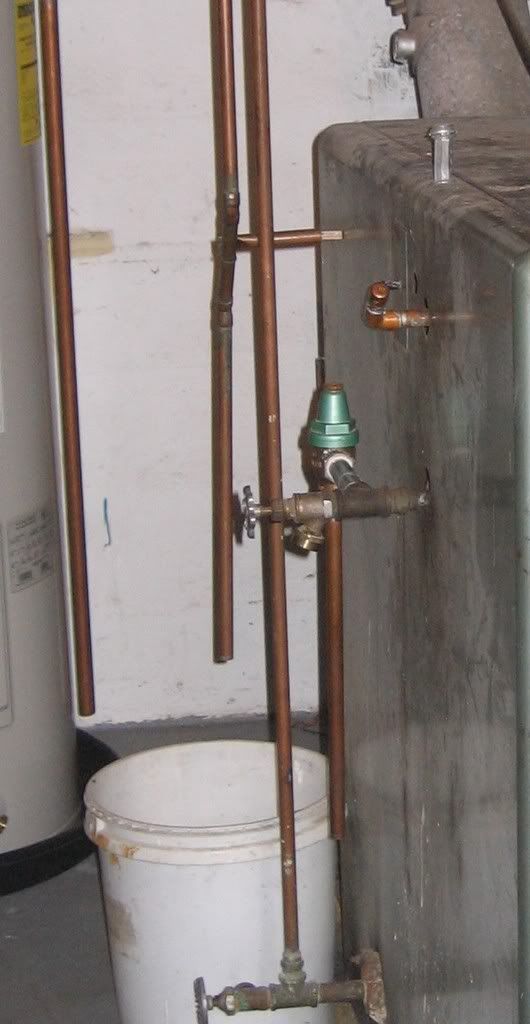 The water was behind the bucket.
---
Last edited by NJT; 10-05-08 at

06:56 PM

.
Posting Rules
You may not post new threads
You may not post replies
You may not post attachments
You may not edit your posts
---
HTML code is Off
---